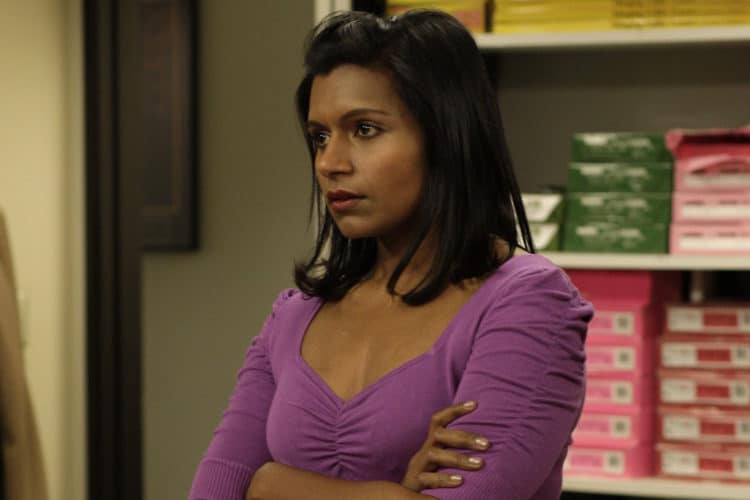 The Office hasn't aired an episode since its finale in 2011, but the show continues to be very popular, with newer audiences discovering the sitcom on streaming platforms. In 2020, Nielsen announced that The Office was the most-streamed TV show, having been streamed for a total of 57 billion minutes. Grey's Anatomy follows at a distant second place, accumulating 39.4 billion minutes, according to Variety. The Office stars Steve Carell as Michael Scott, the idealistic, incompetent regional manager of a midsized paper company called Dunder Mifflin. Alongside Carell, the show also features John Krasinski, Jenna Fischer, Angela Kinsey, Rainn Wilson, and many other actors, in an ensemble cast that portrays the boring, repetitive lives of white-collar workers in a dying industry.
One notable performer who worked both as an actress and writer in The Office is Mindy Kaling. In front of the camera, she was Kelly Kapoor, the vapid, popular-girl customer service representative who works at Dunder Mifflin. Behind the camera, she wrote 26 episodes of The Office, more than any other writer in the series, including "Diversity Day," "The Dundies," "Diwali," and "Niagara." Kaling also directed two episodes of the series, "Body Language" and "Michael's Last Dundies." Mindy Kaling says The Office remains to be one of the greatest creative experiences she's had in her career, but her tenure in the writer's room wasn't exactly smooth sailing. According to Variety, she had to "fight" to be listed as one of the producers of the show by the Television Academy. "They made me, not any of the other producers, fill out a whole form and write an essay about all my contributions as a writer and a producer," she said. "I had to get letters from all the other male, white producers saying that I had contributed, when my actual record stood for itself." Still, her work in The Office continues to be one of her greatest writing and acting accomplishment. Mindy Kaling has gone on to do things outside the iconic show, having been involved in major film and TV productions. What has Mindy Kaling been up to since she last appeared in The Office?
Mindy Kaling's personal life
Mindy Kaling has two children, Katherine and Spencer. Oddly enough, Mindy has never revealed the identity of her children's father. "She is not telling anyone, not even close friends, who the father is," according to People. She is very close to another Office alum, B.J. Novak, whom she dated on and off throughout their time working for the show. In an interview with People, Kaling said that her relationship with Novak has always been complicated and that it's always been hard to use a label to describe it. "I will freely admit: My relationship with B.J. Novak is weird as hell," she says. "He is not my boyfriend, but he is not my best friend. I guess you could describe our relationship as a 'romantically charged camaraderie with loud arguments,' but I don't think Facebook would accept this as a new status." Kaling is considered one of the richest cast members of The Office. While she's nowhere near as wealthy as Steve Carell, Kaling comfortably boasts a net worth of $35 million, according to Celebrity Net Worth. She is a co-owner of the football team Swansea City, owning 1 percent in shares, according to Wales Online. "I was inspired by Oprah, who invests in things she believes in, I believe in this team, and I think it is a smart choice. I don't think it [my interest] is going anywhere. I could have picked something a bit closer to my home, but I think it is an adventure."
Mindy Kaling's post-The Office projects
Kaling's been very busy after leaving The Office, creating, writing, and starring in multiple TV shows as well as major films. She played leading roles in A Wrinkle in Time, directed by Ava Duvernay, and Ocean's 8. The all-female reboot of Ocean's Eleven attracted criticism from fans of the original movie, and according to Yahoo! News, Kaling says that white male film critics have been unfair to the movie. "If I had to base my career on what white men wanted, I would be very unsuccessful. There is obviously an audience out there who want to watch things like [Oceans 8] which I work on. And the thing about so much of what this movie is, I think white men, critics would enjoy it, would enjoy my work, but often I think there is a critic who will damn it in a way because they don't understand it, because they come at it at a different point of view, and they're so powerful, Rotten Tomatoes."
Mindy also starred in Late Night, opposite British actress Emma Thompson. a movie that she says loosely parallels her time as a writer in The Office, according to Cinema Blend. She considered herself a "diversity hire" at the writer's room of The Office, and her experiences being one informed her writing for Late Night. "I thought it was fun to actually talk about diversity hires in a really open way, because I was a diversity hire for The Office. I came up through the NBC diversity hiring [program]. And I used to be so embarrassed about that. I was so embarrassed that people would know about it. And I wouldn't tell anyone. … The other writers will think that was the only reason I was hired. What I didn't realize then was that it wasn't something to be ashamed of, that this really great organization was giving me something that other people have born access to, and I won't ever be embarrassed about it again."
Currently, Mindy is working on two TV shows, Never Have I Ever and The Sex Lives of College Girls, both of which are coming-of-age stories. The Sex Lives of College Girls has been critically lauded, with Time writing that the series is "surprisingly wholesome," despite the racy title. "True to Kaling's stated vision, we discover what the characters are passionate about besides dating, whether it's sports or academics or their future careers. The show can be remarkably insightful on matters of class in higher ed, from the gulf between students with work-study jobs and students whose parents pay off their hefty credit-card bills each month to the unfair graduates of elite private high schools enjoy in the classroom."
Tell us what's wrong with this post? How could we improve it? :)
Let us improve this post!