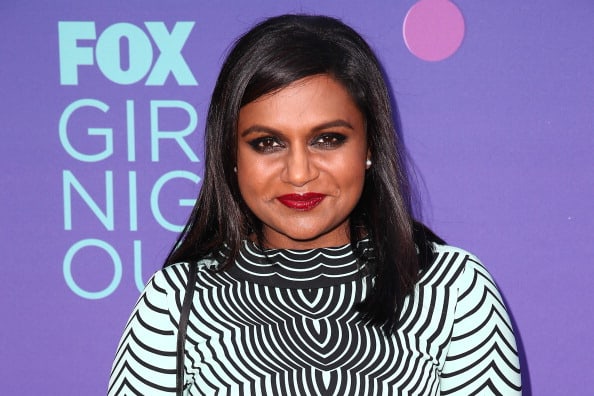 The Mindy Project may have moved to Netflix, but people are still talking about Mindy Kaling. The actress/writer got her big break by producing, writing, and starring on the popular NBC sitcom The Office. At the beginning of the comedy's ninth and final season, Kaling vacated the role of the ditzy Kelly Kapoor to work on producing and starring in her own FOX comedy The Mindy Project. The series premiered in September 2012 and has been praised by critics for its humorous take on a 30-something woman trying to find love in all the wrong places.
Dr. Mindy Lahiri was eventually able to find love with her co-worker Dr. Danny Castellano and the show continues to roll at its new home. Here are 8 things you didn't know about Mindy Kaling.
1. You have been calling her the wrong name
Yes, she does go by Mindy Kaling. However, that is not her real name. Mindy Kaling was born Vera Chokalingam. She picked out a more Americanized name when she decided to become a writer and actress. Her middle name is Mindy, which is from the main character of the 1970s comedy Mork & Mindy. Her mother would watch episodes of the series when she was pregnant with Kaling in Nigeria. Mindy would get her last name Kaling by shortening her actual last name.
2. She was a late bloomer
Mindy Kaling has admitted that she had had only four boyfriends by the time she was 33 years old. She did not start dating until her senior year of college. One of her boyfriends was her The Office co-star B.J. Novak, who played Ryan Howard. Their characters actually began dating before they decided to give it a shot. Their relationship would at times mirror their TV counterparts, because no one really knew if they were dating or not. Unlike Ryan and Kelly, B.J. and Mindy are still close friends and have not ended up together. At least not yet.
3. She came up with some great ideas on The Office
Mindy Kaling was part of the writing staff on The Office from the very beginning. She even contributed to some awesome character traits that we know and love today. One of those was for the character Kelly Kapoor, who she played for eight seasons. At first, the character sort of blended into the background and wore drab clothing. By Season 2, Kaling gave the character depth and personality traits that the other producers did not agree with at first. Kaling also came up with the idea of Michael having a man-crush on Ryan. B.J. Novak claims this is because Mindy wants her characters to love something. In this case, it was the manager loving the temp.
4. She likes to steal
Well, she likes to steal props from the set of The Office. Mindy Kaling bought her home from Michael Shur, who was a writer on the series and now is a part of Brooklyn Nine-Nine. Her house is decorated with set pieces she swiped from the comedy. She claims to have picture of her and Ellie Kemper dressed in their Subtle Sexuality clothing in her laundry room.
5. She can thank Ben Affleck for her success
In 2002, Mindy Kaling decided to write a play with one of her close friends about the relationship between actors Matt Damon and Ben Affleck and how they developed the film Good Will Hunting. It was called Matt & Ben, and Kaling would take on the role of Affleck. The play was an instant success and was named as one of 2002's Top Ten Theatrical Events by Time magazine.
6. She went to an Ivy-League College
Mindy Kaling is a 2001 graduate from Dartmouth College. At first, her plan was to major in Classics and focus on Latin. However, she would end up earning a degree in Playwriting in 2001. While at Dartmouth, Kaling was a part of the "Dog Day Players" improvisational group and sang a cappella with the group "The Rockapellas." She even found time to create a comic strip for the school's newspaper called "Badly Drawn Girl" and wrote for the school's humor magazine called The Dartmouth Jack-O-Lantern.
7. She will use a fake name
Mindy Kaling has no problem using her name for the title of her current series The Mindy Project, but she will change her name whenever she orders food. She was told by Linwood Boomer, who created Malcolm in the Middle, that is is necessary to change your name when ordering food, because if someone hates your show, they may do something awful to the order. Kaling admits that she uses the name Peggy, which a writer's assistant on The Mindy Project came up with from watching Mad Men. This is because Peggy is a woman working in an all male world, much like Kaling has done for a majority of her career.
8. She is a fan of another FOX series
Mindy Kaling currently stars on The Mindy Project, which used to air on FOX, but she is a fan of another popular series on the network. In an interview with Glamour magazine back in 2012, Kaling admitted how much she loved watching The Simpsons growing up and even dressed up as matriarch Marge Simpson for the photo shoot. During the interview she admitted, "Growing up, I remember my parents feeling a little wary of The Simpsons. This was in the late eighties and there was a wave of articles about TV shows that were bad for America. Then we all started watching it and loved it. Marge Simpson is the one who's really funny. Her character looks so crazy, but then she's supposed to be totally demure. I think Matt Groening is a genius for giving her that hair."
Do you know any fun facts about the amazing Mindy Kaling? Let us know about them in the comments section below.
Photo by Imeh Akpanudosen/Getty Images
Tell us what's wrong with this post? How could we improve it? :)
Let us improve this post!