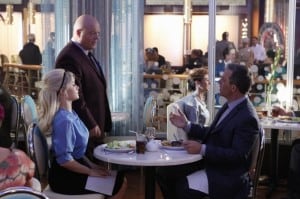 Last night's Vegas yet again emphasized Sheriff Ralph Lamb's decency and commitment to others while also stepping on the gas pedal of our mob story arc. Now far more comfortable in his role as a lawman, Lamb tactfully and successfully navigates a case, while Savino is thrust into eye of his boss from Chicago.
Lamb's newest case comes at the murder of Tommy Carol, an Olympic Gold Medal boxer. Seen in the opening credits, Tommy had rather controversial beliefs for 1960; he unabashedly and passionately defends his African-American teammate, Ray Humphries, during a press conference. It's only natural that Lamb suspects the young man's murder was because of those progressive ideas about equality, but when it's uncovered that Tommy needed money, Lamb is pushed to find other leads.
As it turns out, the money Tommy so desperately needed was to help the wife of a fellow boxer, a victim of domestic abuse. Husband Ronnie caught onto his wife's mysterious phone calls, and suspected an affair, though his attack on Tommy with a pipe was not the cause of death. No, Tommy's murder was no vicious act, but rather an attempt by his friend Ray to get him to stay out of the ring to save his health. Ray, in concern for his friend after a dangerous blow at the Olympics, slipped asthma medication into Tommy's drink, only to make him too sick to fight.
But the dose was too much and caused Tommy to have a heart attack.
Vegas gets a little rougher for Savino when the Chicago mob bosses arrive to check on things at The Savoy, especially considering that one of those mobsters just happens to be Johnny Rizzo, father to Savino's newest employee, Mia Rizzo. The senior Rizzo happens to have a lot of pull with the bosses, and Savino is very interested in keeping him happy to get his plan for The Savoy green-lit. However, Rizzo is banned from gambling in the casino, as Sheriff Lamb so gruffly warned Savino. But even though Savino sets Rizzo up with his own private casino, things turn ugly.
Rizzo just cannot keep his temper under control, and ultimately gets himself arrested by Sheriff Lamb for gambling. Once he's out on bail, he takes his anger out in a new way, threatening in front of the mob bosses that Savino is not fit for his job and that Lamb needs to be taken out — tonight. Savino, on the other hand, is able to keep a level head, and explains to a very godfather-esque table of mobsters that it is most certainly not in their best interest to kill two sheriffs in a month. Thankfully for Savino, head mobster, Angelo, curtly questions Rizzo's behavior before walking away from the table.
The episode leaves Savino visibly uneasy. His bosses may have some confidence in him, but there's a looming sense of uncertainty when the sleek black cars drive away. Meanwhile, Lamb confidently tips his hat to Ronnie's soon-to-be ex-wife, and leaves her with the comfort that she has his number should she need help again.
Vegas has gotten off to quite the exciting start. There's plenty of action so far, but we have yet to see any fleshing out of the supporting characters. History of Lamb's brother Jack or ADA Katherine O'Connell, for example, would be great storylines in coming episodes. Or how about Savino's family, as Angelo alluded to in the final moments? Surely there is more to these characters, and more excitement in growing Sin City. I'm very interested in seeing more in the show's future.
How about you?
Vegas airs Tuesdays at 10/9c on CBS.
Tell us what's wrong with this post? How could we improve it? :)
Let us improve this post!