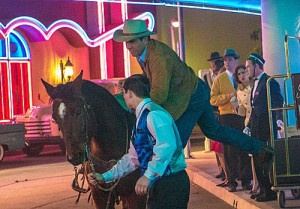 Due to coverage of the news in Boston, this week's episode of Vegas was pushed back to air Saturday night.
Here's a recap in case you missed it!
The episode's opening reminded us exactly who Sheriff Ralph Lamb is — a rancher. When a bull gets lose on Freemont Street, the Sheriff was forced to rope him in with Dixon's help. Now, this would seem rather irrelevant in the grand scheme of things, however, it brought us back — more or less — to Ralph's roots before what was to come in the episode.
The big issue in "Scoundrels" was the implication of Dixon having beat up actress-slash-girlfriend Violet Mills. Violet showed up in the Sheriff's office with a black eye and a split lip, claiming that when she met with the deputy the night before to break up their relationship, he got violent. Ralph certainly didn't believe her story, and neither does Katherine, but the ADA believed that the best thing for Dixon was to investigate properly.
Up until this point, Dixon and Yvonne had intentionally neglected telling Ralph about what really happened in Los Angeles with Violet's director, Barry Silver. Though, Yvonne was forced to come clean to the Sheriff and Katherine, unfortunately further suggesting that Dixon maybe could have committed the crime. When Katherine had Dixon formally arrested, we got to see Papa Bear Ralph Lamb burst through, and fight with the help of his brother to track down evidence of what really happened. The two went asking around The Savoy for a honeymoon couple that took a picture of Dixon at the scene. Things started to look fishy, however, when a receptionist told them that the "newlywed" couple spent most of the night apart — sound like a couple of actors to the Lamb boys.
The truth (and sweetness) came out when Yvonne visited Dixon at his holding cell. Apparently, Dixon went to see Violet with the intention of ending the relationship, because he has feelings for someone else — Yvonne.
Meanwhile, Ralph and Jack had noticed something in the photo of Violet's injuries and stopped Silver from leaving town to bring the girl in for more questioning. Ralph played it soft, trying to get Violet to admit her fear of Silver. Yet again, Violet fell to her argument that if she says anything Silver will ruin her career, but Lamb got her to confess and led her safely away from the abusive director before going to release his son from custody.
Elsewhere in the hour, Savino and his boys, along with Mia and her mother, worked their own investigation after a dead body was found in one of The Savoy's rooms. The case was relatively simple — a hotel guest taking advantage of high-rollers to steal valuable personal belongings — but it was rather entertaining to watch the group investigate. If anything, the amount of sarcasm just made the episode, and it was very interesting to watch Mia and her mother actually work together.
The episode also gave hints of the still lingering romance between Jack and Mia. When Jack was looking into his nephew's case Mia even offered to call in a favor from Chicago, anything he needs, and the looks from early in the season were certainly still there. And then there's Mia's mother, not so subtly pushing her estranged daughter back into the cowboy's arms.
I rather liked how this episode brought back the family man that Ralph is. We've seen hints throughout the season, and with the news of what the finale entails, this was a great set-up for the personal conflict that is sure to come. The B-line with Savino's "investigation," though seemingly an amusing side-plot, could also be looked at as a bit of a finale preview. And I enjoy how the mother-daughter tension with Mia and Lena is being played so casually – surprisingly, a nice change from other dramas' emotional explosions in such situations.
The only thing in this episode that didn't sit right with me was Dixon's sudden desire to break up with Violet. While I'm glad to see some forward motion on the Dixon/Yvonne front, after episodes of Dixon running after the actress like a lost puppy, with little proof of his feelings for Yvonne outside of beating up Silver, the sudden shift felt just a bit off for me.
There's only three episodes of Vegas left this season!
Don't forget! The show now airs on Friday nights at 9PM on CBS.
Tell us what's wrong with this post? How could we improve it? :)
Let us improve this post!