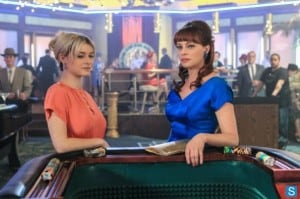 Last night's episode of Vegas led us further into the close of the season with new twists and suggestions of what is to come in the next few weeks.
The crux of the episode revolved around the tap on Savino's phone, and Jack, Ralph and Katherine trying to decode the messages to find evidence for the case. After coming up with very little past "the avocado" and "the sandwich" the bunch is left with only theories as to where the skim is going, and with whom.
Things seemed to have stalled, and the trio turn their attention to the release of Eddie Bade, a man once convicted by DA Reynolds who's out for the man's blood. When Reynolds goes missing all signs turn to Bade as the kidnapper, until they find him in a hotel room with a prostitute — paid off by Reynolds to buy a car and leave it at his hosue. So what of Reynolds?
When the tap reveals Savino's declaration that "the towels were never delivered," and FBI Agent Byrne notes that Reynolds was at The Savoy just before his "kidnapping" our lawmen determine that Reynolds must be involved with the Chicago operation, and he must have staged his own kidnapping. Reynolds' plan comes to a screeching halt when he exits a bank to find Sheriff Lam waiting for him: "Hello, Counselor!"
Agent Byrne, against Ralph's wishes, offers the now ex-DA a deal to deliver information on Savino. Once again Reynolds stages his capture, letting Savino break him out before having him move the skim once again. He does as he's told, of course planning on passing on information to the Feds, however, Reynolds is in for a surprise when Savino meets him at the designated meeting spot — a mausoleum — for the exchange. Savino and Cota bring him Eddie Bade, whom Reynolds had said kidnapped him and tied him up, and force him to kill the ex-convict. Reynolds gets gutsy though and turns the gun on Savino…only to find it empty.
Needless to say — "the avocado" did not make it out alive.
Mia Rizzo also got a surprise visitor last night, in her mother who was presumed dead. Though Mia initially refused to believe her, "Lena" attested that Johnny had once believed that she was cheating on him, forced her to leave and stay away from Mia. Now, she's back, to warn her daughter that she has to look out for herself, because the mob sure as hell won't. I actually enjoyed this B-line, as it helped crack the wall Mia has put up for the past few weeks, as the pressure from her mother, and warning from Katherine let us see her possibly doubting her boss — even copying down names from the operation's ledger.
The episode also visited Los Angeles, where Yvonne seemed to get completely shafted in all aspects of the trip. Not only was she forced to witness Dixon chase actress, Violet Mills like a lost puppy, her dreams of singing big-time were tarnished when Barry Silver — Violet's director/boyfriend she had previously attempted to escape from — attempted to come onto her, cornering her before a fight breaks out. When Dixon noticed the mark on Yvonne's cheek he goes after Silver, effectively beating the man up to the tune of Sinatra's "I've Got The World On A String".
Last night's episode was also directed by actor Michael Chiklis, and I must say, he did a great job. There were some excellent, beautiful camera angles, and the acting was really highlighted in this episode. Though this episode felt light on Sheriff Lamb's role, there is no doubt in my mind that we're in for a great performance by Quaid next week (promo below).
With four episodes left in what could be the show's only season, "Hollywood Ending" helped yet again to lead us into some explosive storytelling. Check out the blurb released by CBS:
"All bets are off when Sheriff Lamb, determined to get revenge, teams up with Savino to take down Porter Gainsley (Michael Ironside), the man who killed Lamb's wife and attempted to murder Katherine. Meanwhile, Jack is devastated when he catches Mia in a compromising position."
And the promo for next week's episode:
http://www.youtube.com/watch?v=i8e6MPckBr0
…Let's just say, when the last line is "I'm more than ready to die for my son," s***'s goin' down.
Vegas airs Fridays at 9 PM on CBS.
Tell us what's wrong with this post? How could we improve it? :)
Let us improve this post!