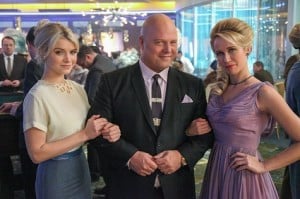 "Never trust a man sellin' diet shakes," as Vegas taught this week.
When the body of Bert Lattimer is found on the side of the road, shot straight in the forehead Sheriff Lamb dives into his investigation. According to Bert's wife, whom Bert was supposed to take to receive a pacemaker, he was on the road for half the year at a time as a traveling salesman for, you guessed it, diet shakes. Though the trail leads Ralph and Jack to Lattimer's second (hidden) wife, and her angry brother, it turns out that those diet shakes were responsible for Bert's death.
After Bert made a less-than-favorable discovery about the company's business structure, he demanded money from the company to finance his wife's heart surgery, leading the company's president to kill him.
Skim's On The Move
Tuesday night's episode also marked the arrival the FBI in Las Vegas, officially, to work on the continuing case of Johnny Rizzo's death, which of course ties into an investigation of Savino and The Savoy's front for the Chicago mob. Though calm and cool as always when facing an agent, Savino is no doubt shaken by the insinuation that no more money will be getting out of Vegas to Chicago.
As he tells Mia, they need a way around the FBI.
His plan becomes clear when he mysteriously summons Jack Lamb to his office, attempting to blackmail him into being his inside man or else he'll tell Mia what really happened with her father. Savino hands the deputy a "tip" on what car the casino skim will be leaving Vegas in. But Jack's no fool, and knows the whole thing is yet another set-up, that the skim will really be going in an entirely different vehicle. Savino made the mistake of revealing a visiting Chicago-based sports team to the man, with whom Ralph and the FBI find the real skim money.
How Long Have You Known?
Jack's plan to hide the truth from Mia finally falls at the end of the hour after further indulging her own speculation that Savino was the third shooter on that fateful night. Once Jack crosses Savino, he's left with no other option but to tell her himself, and pray for the best.
But of course, as horrible as Mia knows he was, Johnny was still her father, and when Jack reveals to her that he was the shooter, she tells him to get out.
Unsure of what else to do, Jack goes to his big brother, who already knew the truth via a scan of the fingerprint found at the scene. The scar from an injury Jack got as a boy stuck out on the print and caught Ralph's eye. However, I firmly believe he knew before finding the print — Ralph's a sharp Sheriff.
In a very loving-brother way Ralph assures Jack that they're going to get him out of all this trouble.
Overall I enjoyed this episode. Sure, not the most high-stakes and exciting, but it had important story movement helped supply some meat to the relationship between Ralph and Jack. There is even some potential for romantic conflict, as Katherine somewhat hesitantly accepted a drink invitation from their resident FBI agent — and really? We all know that there's something between she and Ralph.
The only thing that really felt out of place in the episode was Dixon's assignment to be young actress Violet Mills' personal bodyguard. However, it appeared that this may not be the end of the storyline, especially considering a warning was made to keep Dixon away from her by Violet's agent (who also appears to have more of an "interest" in her). But only the next episode can tell us for sure.
Speaking of the next episode, Vegas fans — we have to wait three weeks for a new episode. CBS is loaning out the timeslot to new show Golden Boy for the next two weeks.
But keep tuning in!
Tell us what's wrong with this post? How could we improve it? :)
Let us improve this post!