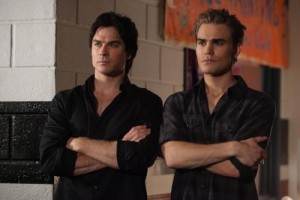 The Vampire Diaries will never have a slow, boring episode. There. I said it. But a show of hands for those who cringed in pain as Caroline changed into a vampire? It was the most excruciating thing to witness since seeing Vicki get staked or Grams dying in front of Bonnie. It was tragic, poetic, and entertaining all at once. Meanwhile, the Lockwoods get closer to letting their inner beast rage.
Brave New World – Caroline's Story
After waking up in the hospital after her death, Caroline doesn't put two and two together yet at first. But after taking her first taste of bagged blood and realizing that she burns in the sunlight, Caroline understands loud and clear that something is up and it has nothing to do with the medication she's on. After vamping out for the first time and witnessing it in the mirror, Caroline attacks a nurse and compels her to release her out of hospital care.
Meanwhile, Bonnie, Elena, Stefan, and Jeremy prepare for a high school carnival and discuss recent events like Katherine and Jeremy's' death'. Stefan gives Jeremy a vial of vervain to keep on him at all times, but the main theme in both conversations is that Damon is to be forgotten. As if that is even a possibility…
Later as the carnival is underway, Jeremy has another run in with Damon, who shows up to spy on Tyler and Mason Lockwood. Jeremy, feeling a bit invincible, challenges Damon, making the bad boy vamp remind Jeremy of how quick that ring Jon gave him can be removed, leaving Jeremy vulnerable to die. This shakes Jeremy's core a bit. Yea, Jeremy, don't get too damn cocky. That's how Jon ended up fingerless and nearly gutless.
Caroline later shows up at the carnival and sniffs out Damon, telling him that she remembers everything he did to her, which clues Damon in of Caroline's transformation. She delivers Katherine's message of game on before throwing Damon down a hall. "You suck," Caroline retorts. I can get to like Vamp Caroline! Afterwards, Caroline meets up with Matt and the two try to snuggle, but Caroline's blood lust is a monster in itself. She pushes Matt away, making the guy wonder what the hell is up with his girlfriend. He goes to Bonnie about it later, but she brushes it off as Caroline being Caroline. But she's not Bonnie.
Caroline runs off to stave the hunger, but can't. Her first poor victim is Carter, a guy who was eyeing Bonnie earlier. As Caroline takes her first kill, Damon rounds up Elena and Stefan to tell them what's up. Devastated, Elena and Stefan are too stunned that Katherine would stoop so low. Damon, on the other hand, vows that Caroline needs to be destroyed before she blows their cover. Elena demands that he backs off, with Stefan backing her up. Damon retorts that they will have to a repeat baby vamp killing since Vicki also died at a high school carnival as well. Ouch!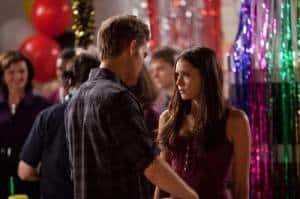 The trio goes to look for Caroline, but Damon reaches her first and is ready to stake her, but Caroline pleads for her life, begging Damon to help her. But this is Damon, and he attempts to stake her anyway. Luckily, Stefan and Elena show up and protect Caroline, with Damon almost staking Elena instead. Damon backs off, telling Elena that anything that happens will fall on her shoulders. As if this girl doesn't have enough baggage to lug around. Then the inevitable happens as Bonnie walks in on the situation and freaks out when she sees her best friend as a vampire, who just killed the guy she was crushing on. Fed up, Bonnie's powers are summoned and she tries to set Damon on fire, making good on her promise to take him out if someone else died. What? Bonnie, you were the one who suggested Damon give Caroline some vamp blood. I love you to death, girl, but you had a hand in this, too! Elena stops Bonnie from finishing the deed, reminding her friend that they are better than Damon. Damn skippy yall are!
Stefan has a bonding session with Caroline and you can clearly see that this is Stefan's chance to make up for losing Vicki. He promises to help her adapt. Later that night, Caroline gets a visit from Matt, who reveals that he is falling in love with her and since he almost lost her, that feeling has become more and more prevalent. Aww, crap. The two make up, but as they hug, Caroline vamps out again. Only this time, she controls it. Atta girl, Caroline!
Back at the Salvatore mansion, Damon finds Jeremy there waiting. Jeremy had initially come to kill Damon, lacing the vamp's bourbon with vervain so Damon can become weak enough for Jeremy to stake him. But as Jeremy told Damon, he didn't want to be like his father or his uncle, who were driven by hate. Damon reveals his father's hatred of vamps. Do I see some bonding in these guys future? Who woulda thunk it?
Stefan takes Elena back to the carnival to make up for not having "a normal teenager day." He begs for he and Elena to take these moments when they can, because things are about to get even murkier and deadlier. After he flies Elena to the top of the Ferris wheel and they kiss, Elena wonders if it will ever get easier. Stefan says it's not. Wow.
Brave New World – Tyler's Story
Damon is deep into finding out the secret with the Lockwoods, but isn't prepared to be named the head of The Council by interim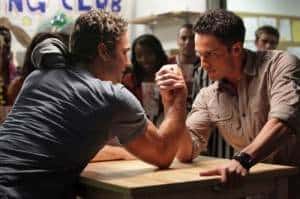 mayer Carol Lockwood. Wow, the possibilities with that one! When Mason and Tyler return home, Damon eavesdrop on their conversation, which consists of Mason asking Tyler about his rage tantrums and if they occur a night at certain times of the month. Clue #1 for Damon.
Later, Mason is rummaging through Mayor Lockwood's office, looking for something intently. Tyler catches him, but Mason doesn't get too suspicious. He asks his nephew if he has seen a moonstone that is an old family heirloom. Tyler claims that he hasn't seen it.
At the carnival, Damon watches as Tyler and Mason demonstrate their brute strength and enlists Stefan to see just how strong the guys are in an arm wrestling match. Stefan reports back that while it might've looked like he didn't put his all into it, he actually did. Wow. Damon is really intent on getting to the bottom of this mystery and compels Carter to pick a fight with Tyler. Stefan watches from some bushes as the fight happen, but Mason steps in and does some crazy acrobats, his eyes giving off a golden ember that both Tyler and Stefan witness.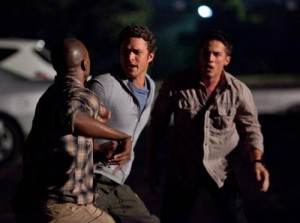 When the Lockwoods get home, Tyler demands to know what the hell was up with the glowing eyes and the crazy moves Mason put on in the fight, but his uncle plays Tyler for stupid. Later that night after Mason goes to bed, Tyler goes to a secret floorboard containing a safe, opens it and retrieves the moonstone Mason was looking for earlier. He pockets it. YOWZA!!!!
From the Journals of The Council
Poor Caroline, I am afraid that I initially agreed with Damon in the staking her department, because let's face it: Caroline could've been a problem. However, she proved (to me at least) that she is capable of maintaining her bloodlust. Could it have anything to do with her feelings for Matt? Let's talk about this guy for a minute. Two of the women he has cared about have both been sired into vampdom under one school year. I feel that he will need a padded room once the truth is revealed to him.
I don't know, but I have a hard time believing that Stefan and Damon have never ran across a werewolf in all their years. Hell, you would think even Katherine and Emily would've told them about the beasts at one time. Oh well. In Jevin (Julie Plec + Kevin Williamson) I trust.
I could say more, but I don't want to still Emma's thunder. So what else do you guys think about tonight? I'm dying to know!