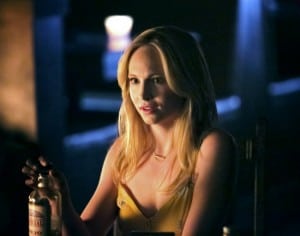 On a show like The Vampire Diaries there are plenty of characters who have been killed and so when there is an opportunity to bring back some people from the dead emotions are going to run high. "The Walking Dead" didn't disappoint with those that it returned and it looks like Graduation Day might not be the fun celebration that Caroline is hoping it will be.
Elena's grieving process has been rather unconventional and because everyone is so concerned with "fixing" her all the time, it's not surprising that she is focusing all of her energy and emotions on rage. Elena's obsession with killing Katherine in this episode gets a little repetitive, but that is the point. This cycle isn't going to achieve anything in the long run but Elena is scrambling for an anchor and the attempts to distract her all fail because they have no purpose; she has no family to send letters to (way to go Caroline) and who wants to break cinder blocks?! Damon is avoiding her and Stefan's attempts to use himself as a guiding example fall short because he had the same killing compulsion with Klaus as Elena has with Katherine.
When Kol attacks Elena at Jeremy's grave it looks like she really is ready to give up, there's nothing here for her. This is the perfect time for Jeremy to appear and while it wasn't a surprise to see him, it was a good moment nonetheless. Elena thought that if she killed Katherine then she might be able to feel positive things again, but really what she needed was the goodbye with her brother that she didn't get first time. Elena might not have to bid farewell to her brother after all, as Bonnie's spell to keep him around might have worked. Unfortunately as a side effect it has killed Bonnie in the process.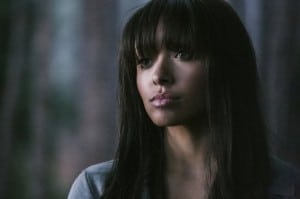 Bonnie got to be the central player in this episode and as I've said before this show sometimes has problems with fitting Bonnie's witch story into the main narrative. This has meant that at times her story has felt tacked on or magic is a convenient way to move the plot forward, so I'm glad to see that Bonnie got to display her badass self once more.
This includes the tethering of Katherine (who endlessly whines about it of course), facing Silas and turning him to stone and the scene where Grams reminds her of how powerful she is. It doesn't end well for Bonnie and her realization that she is dead means that things are more than messed up in Mystic Falls as it looks like the veil in the triangle is still down; does this mean that Bonnie will be able to help from beyond the grave? Is there a way for Bonnie to come back or will she remain on the other side if/when the veil is put back up?
While Damon and Stefan will always have each other, they both have someone who completes them and no I'm not talking about Elena. The first dead person who returns is Alaric and this was one reunion that I was hoping for. There is obviously whiskey drinking and Alaric's first duty is to take the stake out of Damon that Elena has put there (and of course he has to look out for his "idiot best friend"). Alaric talks to Damon about his girl problems and encourages him to after Elena. Alaric gives Damon the cure that Silas had on him; what will Damon do with it? If they could bring any character back full time from the dead, Alaric is the one I would really like to see as the chemistry between Ian Somerhalder and Matt Davis is so good that it makes me want to use the word "bromance" (a word I normally dislike).
The other person who I am always glad to see return is Lexi and like Stefan my face lit up when she showed up in the Mystic Grill. Stefan rarely smiles, but Lexi and her teasing is sure to bring out this expression. Lexi thanks Caroline for looking out for him and then jokingly remarks later that Stefan has replaced her with another blond (something that has been remarked upon in these reviews). If the veil is still down it means that Alaric and Lexi will both be on hand for whatever hijinks will be coming their way with the reappearance of all the hunters.
Other thoughts
– Of course Katherine would be wearing $500 boots when she has to walk through the woods and of course she will complain about getting mud on them. You can't mess with her look.
– Elena isn't too impressed with Jeremy's tomb; "Brother and Friend? What genius came up with that one?"
– Rebekah slapping Caroline back into reality was brilliant as was Caroline's subsequent reply.
– Locker number 42 holds all of the whiskey.
– When Sheriff Forbes utters "I have no idea what that means" it felt like it could apply to some of the more vague aspects of the Silas story this season.
– Damon reminding Elena it's not all about her is perfect "Do you not notice all of the end of the world crap going on right now?"
– Matt doesn't want any of Rebekah's blood because he's worried he'll die and end up as a vampire. This episode did a nice job of building on this relationship that has been becoming friendlier and more flirtatious over the recent weeks.
Watch a preview here for the May 16 season finale of The Vampire Diaries at 8:00 p.m. ET/PT on The CW. You can also browse through photos for the episode here.
Visit our Vampire Diaries page for spoilers, reviews, sneak peeks and more.