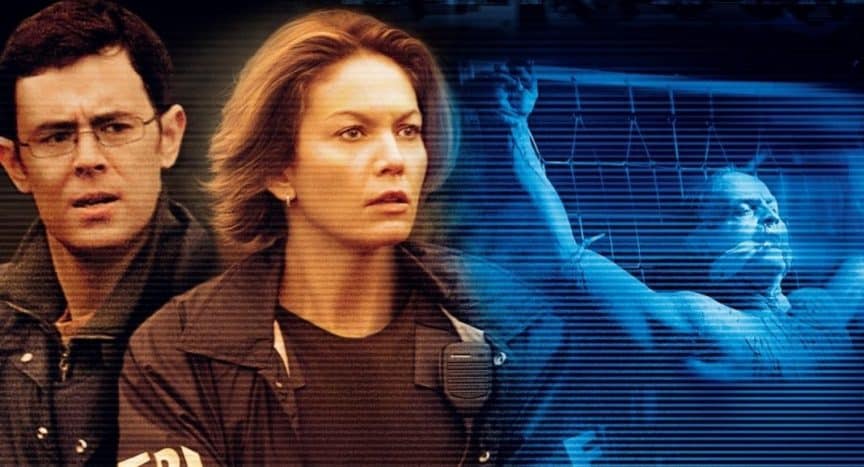 If there's ever a time to be afraid of technology and what can be done with it, the current era would be it. One has to remember that this movie, Untraceable, came out in 2008 when much of what we see as commonplace was still fairly new and still developing. The opening of a killer torturing a kitten is creepy enough since it indicates that the person behind the atrocity is someone that has a mind that isn't balanced and has little to need for such things as mercy and compassion. The funny thing is that the killer is introduced fairly early on in the movie, but even worse is that finding the killer is insanely tough, even for FBI computer crime experts such as Jennifer Marsh, played by Diane Lane, Griffin Dowd, played by Colin Hanks. The two are among the best in their division when it comes to ferreting out online criminals until they come upon a site titled KillWithMe.com. What they quickly discover is that the IP and domain are much harder to lock down than they would have originally thought, and when the site cues up the live execution of a local news reporter, they realize that they have a very real problem.
The way the site works is that the more people log on to see the execution, the quicker the process will go. A helicopter pilot and a newscaster are the first victims, as the pilot is forced to bleed to death as the killer proves to be highly intelligent, rigging an anticoagulant to be injected into his system, as the more people that log will increase the dosage that's being pumped into his body. In the case of the newscaster, the man has been placed on his knees, his arms sunk elbow-deep into a pail of cement that has already hardened, keeping him in place as he's surrounded by high-powered heat lamps that continue to turn on as more and more people log on to the site. Eventually, the man is baked to death under the intense heat of the lamps, and all because more and more people were prompted to log in to the site, thereby making thousands, if not millions, liable for the death of the individual.
Another major problem that Marshall and Dowd have is that the criminal is highly intelligent and knows his way around the internet and is able to stay at least a few steps ahead of them the entire time. The next execution is Dowd, who is tricked by the killer, who is using the voice of a date that Griffin was meant to meet up with. Luring Griffin in, the killer seats him in a vat of water that grows increasingly acidic as more and more of the harmful liquid is pumped into the vat as people continue to log on. What tips Marshall and the others off as they watch the execution however is that Griffin starts blinking in Morse code, which one of their staff knows how to identify. Because of this, they learn the identity of the killer and why he's doing this, as his father's suicide was broadcast live and covered in such depth that the man's son, Owen, was admitted to a psychiatric hospital, where he decided to take his revenge before being released. Owen sought to prove that the suffering of others was something that people couldn't help but watch, and thus he created his site.
When Owen starts coming after Marshall, however, he begins by setting up a camera directly across from her home, making a point that he can get to her. When he does finally kidnap her, Owen suspends Marshall above a lawn cultivating tool to show her how many people are willing to watch her die as the device lowers her toward the whirring blades of the machine is operated by the number of views that the site is receiving. When Marshall seeks to free herself, Owen attempts to stop her but fails as she outsmarts Owen and eventually ends up shooting him before the police can arrive. She then shows her badge to the camera, and only seconds after people start logging out, as some express their gratitude that the killer is dead, while someone actually thinks that Owen was a genius.
Imagining something like this happening today is why this movie is inherently creepy since there's no telling how far some will go to get the attention of others, and how a person would go to get their revenge. Many people say that something like this could never happen, but one has to wonder if that's an honest statement or something that's being said because a person can't think of what might actually happen if someone that had the knowledge of how to make this work came up with such an idea.