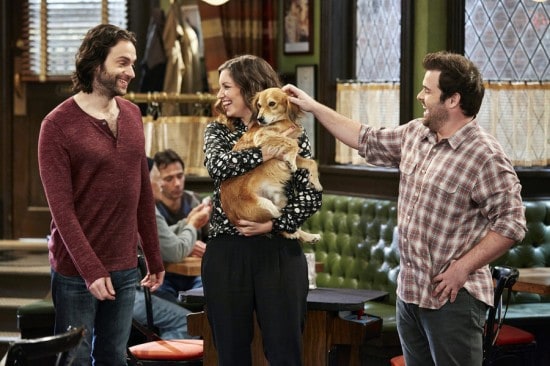 Undateable's hit a new groove this season; it hasn't really changed its week to week formula, either, which is the impressive thing. There's really been one big tweak to the show's narrative construction that Undateable is benefiting from: instead of pitting Danny and Justin's quirks against each other for the entirety of an episode, Undateable's second season is using Justin's unique (and sometimes frustrating) traits as an avenue to explore all characters on the show, with Danny's Odd Couple-esque clashes in philosophy with Justin providing the foundation to explore the damaged psyche of Danny.
There are certainly hints of this in the show's first season, but they mostly used Justin as proxy to try and humanize Danny's behavior. This season has doubled down on the reverse of that formula, with Danny pushing Justin to new, ugly places, where Justin's empathetic character is reinforced, and Danny's off-putting tendencies get some much-needed depth – Chris D'Elia's performance as Danny does a lot of this leg work in early episodes, but shining a light on the character's past has brought Danny's character to life in new dimensions.
"A Stray Dog Walks Into a Bar," which features Danny trying to influence Justin to the dark side once again, exemplifies this formula beautifully, opening in a similar way to Season 1's "Let Their Be Light," with Rory Scovel appearing again as the annoying neighbor who takes advantage of Justin – but then, instead of proceeding like "Light" with the two battling over their different approaches, "Stray Dog" swings the pendulum towards Justin, with Danny constantly pushing him to be a little bit more of a jerk, for his own sake. The conflict is obvious and one-sided – and knowing that, "Stray Dog" is able to really put the ugliness underneath Danny's cool leather jacket on display for a few scenes, subtly becoming a character piece about what happens to a stray dog that's been abandoned one too many times (by the way, I really hope Moe stays around for future episodes. Then again, I'm the guy who misses Animal Practice).
Heck, "A Stray Dog" even draws parallels between its A and B stories, something most CBS comedies don't even bother with in 2015. Brett teaching Candace how to lie reaches across the proverbial booth at the Black Eyes and connects itself to Justin's story with the simple realization that both Danny and Brett are trying to form a human being around their own personal regrets. Brett – unlike Leslie, Bursky, or Candace, if we're being honest – isn't a character that needs a lot of depth, yet Undateable continues to offer it to us one piece at a time, and makes it count each and every time. Brett coming to terms with his own ability as a liar is an easy avenue for slapstick material, but "A Stray Dog" recognizes its most important moments, allowing the well-constructed script to build off the jokes, thus really creating a connection between characters (and by extension, with the audience).
Sure, these things are really kind of lightly laid over what is a typical episode of Undateable, but that slight change is more than enough to help elevate the show's charming brand of hang out comedy into something a little more rewarding than the average sitcom. And what makes it impressive is how effortlessly Undateable does this, entwining simple stories, endlessly familiar comedic rhythms, and improv bits (like Ground Floor before it, Undateable really embraces the "semi-live" nature of multi-camera comedy) into a show more coherent than it has any right to be, another fine example that the studio sitcom is alive and thriving, if placed in the right creative hands.
[Photo via NBC]