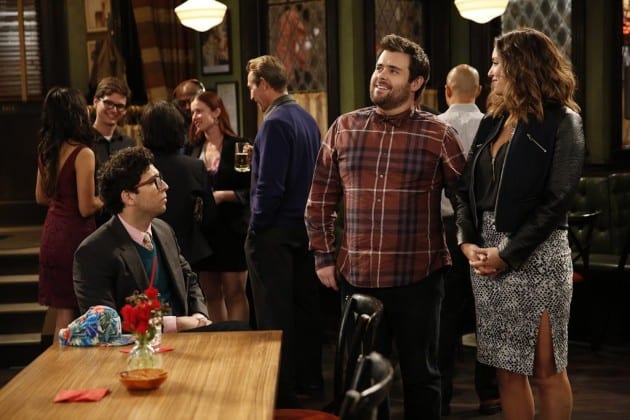 Friends. In this day and age, we have so much trouble finding good comedy shows. The networks are ripe with comedy shows that aren't funny, or ones that no one cares enough about. However, if you're looking for a good comedy series to pick up, I would look no further than NBC's Undateable.
This week on Undateable: Burski upsets Leslie with his words. Justin's ex-girlfriend, Nikki (Briga Heelan), returns to town to announce her engagement, so Danny and the rest of the guys try to keep him from doing something stupid.
Undateable has many strong qualities. First of all, it makes me laugh. That, of course, is my number one criteria for a comedy series. If I stop laughing, I stop watching. But Undateable brings something that is very rare on today's comedy spectrum. They bring a multi-camera sitcom (which is rare enough in this day and age), and they give it material you can relate to, along with quirky but fun characters. While there's nothing new about a sitcom set primarily in a bar, Undateable's particular crew of crazies is both hilarious and endearing, making the perfect combination for a good comedy show.
Perhaps the greatest strength Undateable has is in its characters. Brent Morin plays a quirky, lovable Justin. Chris D'Elia is the perfect cynic with a heart of gold. The supporting players are all great, as well, but some stand out above the rest. For instance, I laugh every single time that Ron Funches opens his mouth. He could recite Shakespeare, and I would find it absolutely hilarious. Shelly is definitely my favorite character.
Since I'm not the usual reviewer, I wanted to give some background on my opinions of the show. But, this episode was also the perfect opportunity to talk about those characteristics. Justin's bout with his ex-girlfriend (I love Briga Heelan, so I was rooting for them) and Burski's slow burn relationship with Leslie are perfect reasons to love this show. It's easy in today's comedy spectrum to see the narcissist (Danny, in this case) take center stage (see: Sheldon Cooper). However, Danny cares about Justin and thinks of him as a real friend, and you can tell by the way he handled himself in this episode. He still did it in a hilarious, cynical, "I love myself more than anyone else" sort of way, but it was perfect for the character. Sitcoms, to be beloved, have to have heart. Perhaps all hope is not lost for NBC's comedy lineup after all.
Here are some of my favorite quotes/moments from the episode:
– "Sometimes, you can just think things!"- Justin
– The uncomfortably long "pop" session when Justin attempted to play it cool with Nikki.
– The way that Justin saw his meeting with Nikki going down. Bi-racial baby and all.
– "I didn't catch that, I was busy making one of these foosball teams black."- Shelly
– I love Chris D'Elia's bits. Like flying an imaginary airplane, handing over an imaginary torch, or conversing with the person he loves: himself.
– "I can't keep saying this to you: Your life is not a romantic comedy!"- Danny
Undateable is funny because you can relate to it. Who hasn't wanted to make a romantic gesture to win an ex back? It's real, and the characters could be real people in our lives. It's funny, but it also knows how to relate to humans, and that is so important for a sitcom. This show is one of my favorite comedies on TV, and it was an honor doing this week's guest review.
What did you guys think? Did you enjoy this episode? Let us know in the comments!
[Photo via NBC]
Tell us what's wrong with this post? How could we improve it? :)
Let us improve this post!