BEST ACTRESS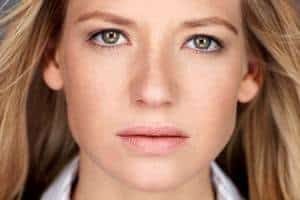 Emma Fraser – Nina Dobrev, Candice Accola
I'm going to have a tie here as both of these ladies have been stellar this season on The Vampire Diaries. Dobrev has been playing Elena and Katherine so well that at times I forget that the same actress is both women and she has been excellent in both roles (it seems I have a thing for actors playing two parts on here). Accola has been a revelation since becoming a vampire; playing both fearless and vulnerable and now being a character that I want to see a lot more of. These two women have both rescued the Salvatore brothers from a few scrapes this season and hopefully they will get to show this powerful side for the rest of the year.
Luciana Mangas – Jane Lynch, Anna Torv
In a comedy series, my vote definitely goes to Glee's Jane Lynch. Honestly, the show wouldn't be half as funny without her. For drama, my vote goes to Anna Torv of Fringe. I never thought she was a particularly good actress up until this season. Maybe it was because they finally gave her some good material to work on, but she's pulling off playing two versions of the same character brilliantly.
Crit Obara – Julie Bowen
Before I got into Modern Family, Julie Bowen was just Jack Shephard's ex-wife from LOST to me. Nothing more, nothing less. That is to say that I didn't have any expectations for her in her role as Claire Dunphy. Her work on the show, especially with Ty Burrell, has been phenomenal.
JT Vaughn – Anna Torv
There are more obvious choices on many other shows, but I picked Torv because of how much she's improved over previous seasons on Fringe. She's gone from playing one fairly bland character (regular-Olivia) to playing two far more interesting ones (evil-Olivia and conflicted-regular-Olivia).
Ian McDonald – Mary-Louise Parker
Weeds' Nancy Botwin hasn't been the most careful drug dealer on television since the show began, but that seems to be changing. Nancy, now on the run with her family from her drug lord husband, finally seems to be learning from past mistakes. Parker's portrayal of Nancy has gone from funny and cute to funny and somewhat frightening. She finally knows what she's doing and is not afraid to eliminate others to protect her family.
Michael Mahoney – Kelly Macdonald
It may be a bit too early in Boardwalk's first season to make this call, but Macdonald's portrayal of Maggie Schroeder as the poor Irish immigrant who becomes Nucky's lover and begins to assert herself into his base of power has been nothing short of marvelous to watch. As her steady transformation from wilted flower to woman to be reckoned with continues, she embodies the arc from innocence to corruption with the perfect notes of grace, humility and beneath-the-surface anger that make it impossible to take one's eyes off her. Her facial expressions are a marvel as she manages to communicate both fierceness and tenderness simultaneously. Boardwalk may be about Steve Buscemi's Nucky Thompson, but its heart and soul resides in Maggie.
Michael Salerno – Busy Philipps
Yes, this is another unconventional choice, but Philipps is doing some of the best comedy on television on Cougar Town as 'Laurie.'Flat out, she is a funny, funny woman who effectively brings nuance to what could be a one-note, 'blonde bimbo'of a role. But to think she is all-comedy all the time, is to ignore the real pathos that makes Laurie a three-dimensional character. Specifically, her portrayal of Laurie's breaking up with her boyfriend gave the character some real depth that most comedic actors blow right past. Philipps is giving a uniquely manic, yet balanced performance that makes Cougar Town one of the best comedies currently on the air.
That's it for us. Now it's your turn to let us know what you think! Let us know in the comments or in our forums.
Tell us what's wrong with this post? How could we improve it? :)
Let us improve this post!