BEST ACTOR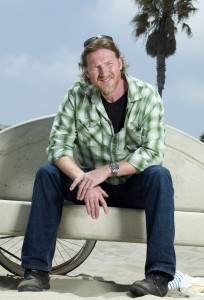 Michael Salerno – Max Burkholder
I know many of you are saying, 'who?'but Burkholder plays Max on Parenthood, the best show you're likely not watching. Max is a 12-year old kid with Asperger's Syndrome, a mild form of autism, but one with a number of unique challenges. Burkholder is incredible in his ability to play all of the tics, tantrums, and distractions that characterize a child with Asperger's. He is no doubt being coached well by series creator Jason Katims, whose son also has Asperger's, but for a child actor to be able to pull the role off this seamlessly is truly a tribute to this young stars talent.
Emma Fraser – John Noble
John Noble has been excellent as Walter in Fringe since the pilot, playing all the aspects of this character that has made him the MVP of the show. This season he has taken that further, with his performance of '˜original'Walter and Walternate from the other reality being so different and so sublime. I'm looking forward to what the rest of the season might bring, especially if we get a showdown between the two.
Jordan Cramer – Scott Caan
Scott Caan has really shined this year. Going from comedies to a'¨serious role is tough, but luckily Hawaii Five-0 lets him still get his'¨funny in while keeping the story and dialogue flowing.
Crit Obara – Donal Logue, Danny McBride
I've always been a fan of Donal's, but every week he impresses me more on Terriers. One minute he's a happy, joking guy and the next minute you can feel the deep emotional ride he's on in his body language, facial expression and in his voice. He probably won't be nominated for any awards being on a low-profile show, but I'd put his performance this season up there with anyone. Kenny Powers from Eastbound and Down is one of my favorite characters on television, and Danny McBride is just perfect in that role. Always vulgar and rarely using common sense, his diatribes and misguided thinking is a great recipe for laughs.
JT Vaughn – Donal Logue
Terriers has become a fantastic showcase for its two leads, but Logue especially has knocked it out of the park this season. The way he, and the show, balances the light with the dark has been nothing short of spellbinding.
Ian McDonald – Andrew Lincoln
Lincoln plays Rick Grimes on The Walking Dead, a small town sheriff's deputy who is shot in the line of duty and wakes up from his coma months later to find that things have changed dramatically. His performance is subtle and believable when it could easily be played as the biggest, most one dimensional cliche.
Michael Mahoney – James Badge Dale
In a show that built slowly and derived its tension from the smallest of moments, Rubicon needed an actor who could master the art of subtlety, someone who could convey entire worlds of angst, sorrow, confusion, and fear in a single look or expression. It found that man in James Badge Dale, who carried us on a unique ride like no other on TV this year. Simply put, if it wasn't for Dale's masterful ability to let us feel the subtext behind every surface, the show might not have had a chance. Instead, it became one of the best shows on television thanks in great part to Dale's nearly silent, yet exceptionally powerful, expressionism.
Next: Best Actress
Tell us what's wrong with this post? How could we improve it? :)
Let us improve this post!