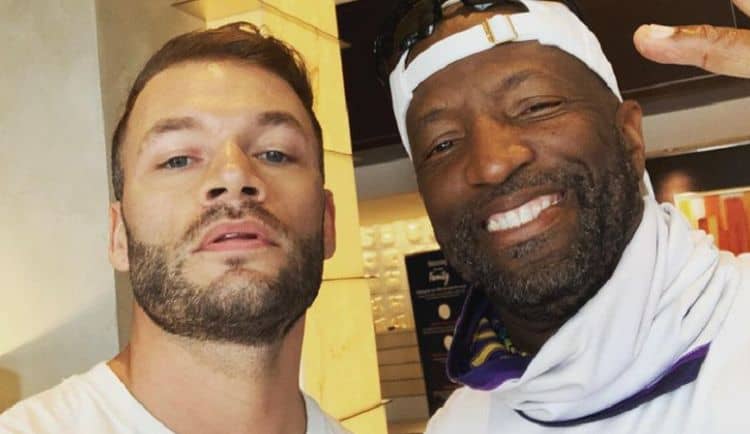 If there is one thing we know for certain about Trinity Whiteside, it's that he is insanely talented. From his work in "The Hunger Games: Mockingjay," to his first role in "The Game," as a football player to his role in "The Originals", there is not one thing that he's done in terms of his acting career that has failed to impress the world. He's a major talent, and we adore every moment of the work he is doing. He's making hit after hit, and the world wants to know more about the man who is exceptionally intelligent, and who led one of the most interesting childhoods imaginable because of his intelligence.
1. He is from North Carolina
Born but not raised, he's a child from North Carolina. His mother is from the lovely area of Asheville, home to the iconic Biltmore Estate. His father is from Lake Lure, a beautiful area near the mountains of North Carolina that bring so much beauty throughout the year. He was born in Asheville, where his mother is from.
2. He's an 80s Child
He was born in the heat of summer in the early 80s. His mother gave birth to him on July 17, 1982, and we imagine she was happy to be finished with that pregnancy. There is nothing quite so miserable as being in the last few weeks of pregnancy in the heat of the summer (trust me…my first arrived July 24).
3. He's Academically Gifted
As a child, he was a gifted student. Typically, this means that he is one of the smartest in his grade level, but he actually scored in the top 8 percent of his entire grade level in the entire nation when he lived in California as a child. He's that smart, and he did well anytime he put his mind to something.
4. He is Also an Artist
While growing up, he had a passion for illustration. He was also a gifted student in that aspect of his life, and it's something that we can see clearly followed him throughout his adult life. Being talented, smart, and gifted is something that not many can handle without being frustrated often, but he handles his intelligence with grace.
5. He is a Married Man
Whiteside is a man with a wife, and he is happy with his wife. They wed on September 13, 2002. Together, they have three lovely children over the course of their 19-year-marriage. Their kids are Makaiya, Nikolas, and Skye. They have such a beautiful family, too.
6. His Wife Encouraged Him
He was not an actor until 2013, which is 11 years after his marriage to his wife. He opened up to his wife about his passion for acting and the fact that being an actor was something that he wanted to try for a long time. She encouraged him to try it out and see if he could make his life's passion a reality, and he did. He landed his first gig in "The Game," that year.
7. He is Adaptable
If there is something that he is happy about as an actor, it's how adaptable he is. He is someone who can do what needs to be done despite the circumstances surrounding his work. He knows that from going into one season to another, from going to normal filming to COVID filming, and to doing what he does on a daily basis in between. He can make it work.
8. He Does Not Believe in Time Restraints
As far as advice goes, he's telling anyone who has a dream of acting to do it, go for it, and forget about the many excuses they might have. For instance, he was already in his 30s when he began his acting career, and he advises those who want to do the same to forget the timing or the 'deadlines' that so many have for themselves and just go for it.
9. Playing a White Man is a Challenge
His father is black, and his mother is white, and he is very honest about the fact that his role in "Tyler Perry's Sistas" is something that challenged him not because he was part of a biracial couple on the show, but because he was playing a white man. He always considered himself 100% African American and only white on the outside.
10. He was Recruited
His elementary school teachers sent his artwork to North Carolina's School of the Arts when he was a child, and they recruited him to join their programs the entire time he was growing up. He chose not to do it, however, because he wanted to be home and not leave.
Tell us what's wrong with this post? How could we improve it? :)
Let us improve this post!