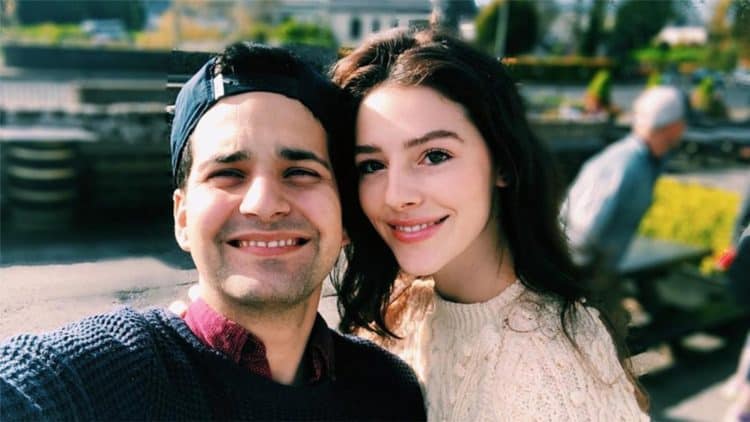 When reality TV fans were introduced to Evelyn Cormier back in 2017, she was a cast member on the TLC series 90 Day Fiance. At the time, she was in a relationship with a man named David Vazquez Zermeno who was living in Spain. David came to the United States on a K1 Visa which meant that the couple had to get married within 90 days or he would have to go back to Spain. Compared to many of the other couples who have been featured on the show, Evelyn and David's relationship appeared to be relatively normal. However, the fact that he was 27 and she was just 18 was a huge red flag to many people. Despite the odds being somewhat stacked against them, the couple tied the knot in the fall of 2017. However, their love story came to a not-so-happy end in 2021 when news broke that the couple had gone their separate ways.
Evelyn claims that David was emotionally abusive and that leaving was in her best interest. Now that she's on her own, Evelyn is excited to get back to herself, and her fans are looking forward to being reintroduced to her. Keep reading to learn 10 things you didn't know about Evelyn Cormier.
1. She's Getting Into Acting
As of now, reality TV is what Evelyn is best known for. However, that may not always be the case. According to her IMDB page, she is currently in the process of filming a movie called Eagle Rock which is set to be released in 2022. It appears that her role in the film will be minor.
2. She Was A Contestant On American Idol
Being on 90 Day Fiance isn't the only reality TV experience Evelyn has. In 2019, she was a contestant on American Idol. She made it all the way to the top 14 before being eliminated. Even though she didn't win the show, things in her singing career seem to be going well.
3. She Has An Account On Cameo
If you're one of Evelyn's fans, you'll be happy to know that you have the chance to connect with her in a personal way. She has an account on Cameo where she records and sells personalized video shoutouts for $30. She even has the option to have the video delivered within 24 hours.
4. She Enjoys Spending Time Outdoors
Don't let Evelyn's pretty face fool you into thinking that she's scared to outside and enjoy nature. Evelyn loves to spend time outside doing things like riding horses, biking, and hanging out by the water. Not only does being outside allow her to tap into her adventurous side, but it's also a great way for her to relax and decompress.
5. She Has A YouTube Channel
Turning on your TV isn't the only way you can see Evelyn on your screen. She also has a pretty successful YouTube Channel. On her YouTube channel, Evelyn mostly uploads content related to her music career. Her channel has nearly 9,000 subscribers and more than 915,000 views.
6. She Plays The Violin
Music has always been an important part of Evelyn's life. She grew up in a musical household and it didn't take her long to realize that she wanted to be involved. She learned to play the violin when she was four years old and by the time she was 10 she started singing.
7. She Would Love To Work With Julia Michaels
Collaboration is one of the most important elements of creativity, and Evelyn has a good idea of who she wants to work with. During an interview with Louder Than the Music, Evelyn said, "I think if I could work with any songwriter I would want to work with Julia Michaels. I really like her song writing and she has even written songs that you have probably heard but wouldn't necessarily think that she has written. She writes for a lot of people on the radio right now but she also for herself."
8. She Loves To Inspire Others
Music is Evelyn's favorite form of self-expression, but her goal is to ultimately do more than just express herself or to keep people entertained. She hopes that her music can inspire all of the people who hear it. So far, it looks like Evelyn is well on track to accomplishing that goal.
9. She Loves To Read
Thanks to the success she's found through music, Evenlyn's schedule can get pretty hectic. However, when she does get the chance to sit down and relax, reading is one of her favorite things to do. On occasion, she even shares photos of the books she's read on social media.
10. She Has A Great Sense Of Style
Music may be her main thing, but fashion is another way that Evelyn likes to express herself, and she has an awesome sense of style that allows her to bring all of her looks together. No matter what the occasion is, you can bet that Evelyn is going to show up looking like a million bucks.
Tell us what's wrong with this post? How could we improve it? :)
Let us improve this post!