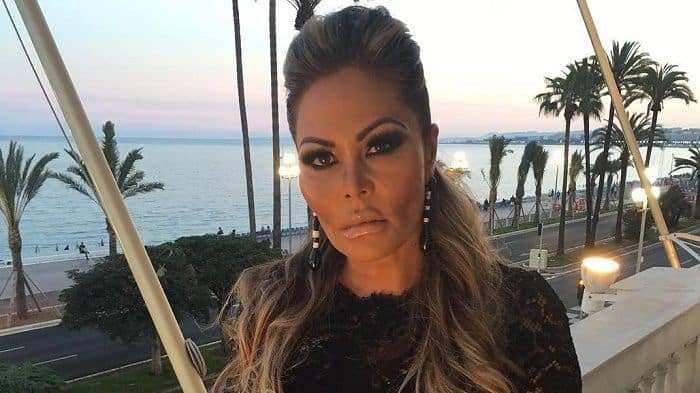 You may not know Orianne Cevey by name, but there's a very good chance you've heard of her famous ex-husband, Phil Collins. The two were married from 2008 to 2017 and share two children together. She also has another child from her first marriage. After her marriage to Collins, Orianne got re-married to Tom Bates. However, after just a year of marriage, the two decided to call it quits which has resulted in Orianne being thrust back into the spotlight. But while her marriages are what she is best known for, there is so much more to her than that. Orianne is a strong, independent woman who has lots to offer the world. Continue reading to learn 10 things you didn't know about Orianne Cevey.
1. She's From Switzerland
Orianne Cevey was born and raised in Switzerland, but unfortunately, there isn't much information about her upbringing. One thing we do know, however, is that she is very proud of her roots. These days, it appears that she is living in the Fort Lauderdale area.
2. She Says The End Of Her Third Marriage Is Due To Quarantine
The COVID-19 pandemic has been hard on lots of people's relationships because quarantine forced people to spend more time together than they ever have before. Sadly, it looks like Orianne's marriage is a casualty of that time. In an Instagram post, she claimed that her divorce from Tom was a result of the "emotional stress of the COVID quarantine".
3. She Has A Jewelry Line
As mentioned earlier, there is a lot more to Orianne than her relationship status. She is an entrepreneur and the proud owner of a jewelry company called OC Jewelry. According to the business' website, "OC Jewellery spans 16 collections ranging from luxury pieces to affordable staples, including men's and children's lines.".
4. She Was Once Told She Would Never Walk Again
From the outside looking in, it may look like Orianne is living the dream. In reality, though, things in her life haven't always been easy. Several years ago, she suffered a neck injury that left her paralyzed from the neck down. Doctors told her that she would never be able to walk again, but she managed to defeat the odds and regain her mobility.
5. She's a Black Belt
Don't let Orianne's pretty face fool you, she definitely isn't someone you want to mess with. She has been practicing martial arts for years and she is a black belt. Not only has martial arts provided her with a way to keep herself in shape, but it's also something she's done competitively.
6. She Loves To Travel
In addition to having lived in both Switzerland and the United States, Orianne has also gotten the chance to travel to lots of places all over the world. Some of the countries she's been to include Saint Barths, Greece, and France. She will likely be adding even more places to the list in the years to come.
7. She's A Dog Person
While people continue to debate over which pet is better: dogs or cats, Orianne has already chosen her side. Orianne is definitely a dog person and she takes lots of pride in being a dog mom. Her fur baby makes frequent appearances on her Instagram profile and he's definitely a fan favorite.
8. She Has A Master's Degree
If you thought that Orianna was nothing more than another pretty face, you might want to think again. She also has the brains to go along with her looks and education is something that has always been important to her. She has a master's degree in International Management and she once owned a communications company.
9. She's Passionate About Helping Others
There are lots of wealthy people in the world who believe that it is not their responsibility to look out for others. That isn't the case with Orianne, though. She is all about using her platform as a way to help others, and philanthropy has been one of her main focuses over the years. In fact, the things she's done for others certainly haven't gone unnoticed. In 2017, she won the Global Gift Philanthropist Award at the VII Global Gift Gala in Paris.
10. She Loves To Inspire People
Many would agree that there is nothing more powerful than leading by example, and that's exactly what Orianne Cevey plans to do. Orianne hopes that her success can inspire and empower other people to go after the things they want in life. So far, it looks like she has definitely inspired lots of people from all over the world.