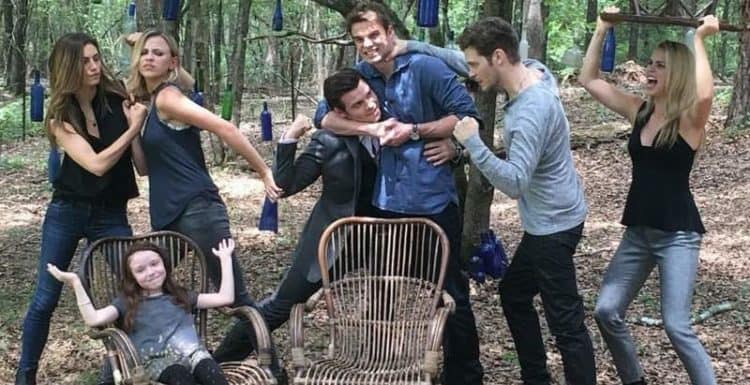 If you haven't seen the television show on the CW called The Originals yet, you might want to give it a try. It first aired in 2013 and it's been making waves ever since. It's actually a spin-off of another show called The Vampire Diaries. In the series, Klaus returns to New Orleans, a city that's filled with history for him. You see, Klaus is actually a werewolf and vampire hybrid and his family is responsible for building New Orleans in the first place. He had long since left, but then started to hear rumors circulating that someone was out to get him so he decided to come back, find them and face them head-on. If that sounds like an interesting scenario, you can rest assured that it only gets better with each episode.
1. Season 5, Episode 12
The title of this episode is "A Tale of Two Wolves." You know things are about to get interesting from the title alone. The episode doesn't disappoint. Klaus is in a position where he feels like there's very little hope left so he makes the decision to travel to a place called Mystic Falls, hoping that Caroline can help him. However, he ends up running into Alaric Saltzman. This creates more than a few problems for him, to say the least. In the background, things start to unravel between Elijah and Hope as he comes to his senses and realizes something that breaks his heart. This is an episode that will keep you riveted to your seat but you might want to have a box of tissues nearby as well. By the way, if you think you have the plot figured out, you might want to think again. You just might be in for a shock by the end of this episode.
2. Season 5, Episode 13
This episode is called "When the Saints Go Marching In" and if you thought that episode 12 was emotional, you'd better get ready for a real roller coaster ride. You have Rebekah in this episode and she decides to take the Cure, of course from Damon. However, an even more riveting part of the episode involves Klaus and Elijah. It would be inappropriate to tell you exactly what happens because it would take all the fun out of it if you haven't already seen it. Suffice it to say that you really need to see this episode and it just might rock your world if you've developed a certain fondness for some of the characters. We'll leave it at that.
3. Season 5, Episode 6
This episode, saddles with the rather odd title of "What, Will, I, Have, Left," has a lot that's going on so you better get ready to keep up. For starters, Declan wants to know what's going on and is getting ever closer to finding out secrets that some people don't really want to divulge. It causes some friction between Freya and Vincent, to say the least. Things really ratchet up when Hope decides to go get Haley back, knowing that the entire mission is fraught with dangers and completely ignoring them anyway. This causes Klaus to ask for Caroline's help as a means of trying to protect Hope from all the potential danger she's facing.
4. Season 5, Episode 8
This one is called "The Kindness of Strangers." Elijah remembers some disturbing things and it seems like everything in New Orleans is going even crazier than usual. Eventually, it all comes back to thoughts of Haley and the fate of family members. It's hard to divulge any more information without giving away the plot for the entire episode, but if you really want to understand what the show is all about, this is one that you definitely need to see.
5. Season 5 Clips
This gives you a better idea of what season five is really all about. There are plenty of pivotal moments but if you want to see the majority of them in one clip, this is the place to go. It's also a good idea for anybody that hasn't seen season five and is looking for an idea of what the whole season is about. Take fair warning though, if you end up watching the clip you'll probably end up binge watching the whole season.