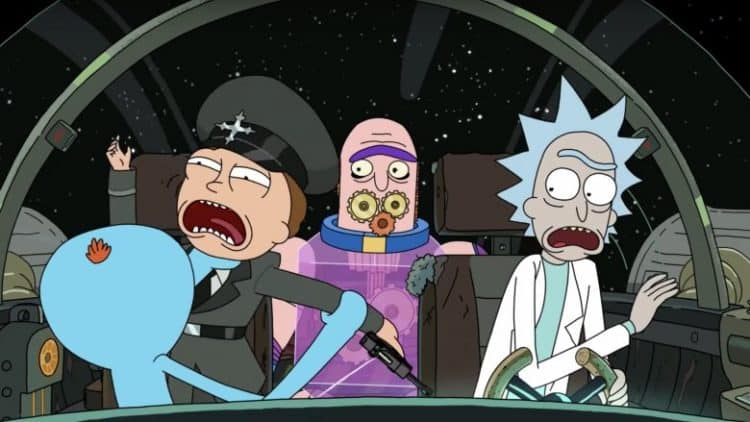 Ian Sandwell and David Opie of Digital Spy have made it clear, along with everyone else that's reporting on this, that Rick and Morty will be back to the same old thing as they've been doing, which is jumping from one crazy situation to another as they attempt to simply navigate the nuttiness that their lives seem to revolve around. From the trailer it's pretty obvious that Rick hasn't changed and is bound to be the same troublesome individual that has been seen throughout the past three seasons and is bound to be just as abusive as ever. Morty, it's hard to tell which Morty is which sometimes, is also going to be subjected to Rick's many different machinations as usual and will be seeking to make sense of anything and everything that's going on around him. After a two-year wait it would seem that people might want something different, but then you might not know Rick and Morty fans as well as you think since they know full well that when it comes to this show, repeating certain things is kind of necessary every now and then to keep them fresh in mind since there's a good number of ideas that are constantly being brought up only to fade off into the background again so that other ideas can come back and be recognized. It's a regular smorgasbord of ideas that are in a continual cycle that will come around again and again as Rick and Morty continue to travel through the varied universes.
It's kind of funny to note that Twitter almost exploded after finding out that only five episodes are currently on the way, as you can imagine that fans want to see as many episodes as possible and might have thought that they were being shortchanged with only five episodes in a single season. As of November 10th the show will be back, but as Heather Snowden of Highsnobiety has made clear the first half of the season will be spread over the latter months of this year while the second half will be airing sometime in early 2020. This isn't the first show to do this obviously and it's bound to keep people interested since splitting seasons in two different sections tends to foment a great deal of ideas and theories concerning what will happen once it returns, which has been great for other shows like The Walking Dead, in previous years at least. The reaction of the people thinking that they would only get five episodes for another two years was kind of amusing really since it's enough to make you face-palm and remind yourself that some, not all, of Rick and Morty fans are those that simply react and don't seem to think and read further into the articles that are published. Keep in mind that some of these folks are those that actually threw a fit when the special 'Mulan' sauce was discontinued at McDonald's at one point, so they're not all the brightest bulbs in the pack. Those that are able to think past the headline however are those that have come to understand that splitting the season in two actually makes a good deal of sense.
Even better for fans is the news that Hannah Mylrea of NME and several others have been repeating, that Rick and Morty have been approved for another 70 episodes, meaning that they could be around for a very long time to come. You can just imagine how many more insane ideas are going to be coming from this duo and how many more adventures they're going to be going on since honestly, 70 episodes makes it seem as though the creators have just been given a godsend and are still salivating at this moment. If that's the case then you can imagine that the fans are going into convulsions every time they think about it since as nutty as this show gets you can just imagine how insane it makes the people who really love it. To each their own and all that but this show takes crazy beyond the known limits of animation and into the psychotic in a way that so many people seem to have locked on through the years. Some people don't understand it, some people just don't get it, and comprehension is slow in coming to those that don't tend to like the show. But in terms of craziness and mayhem there is a certain order to the show that waits to be found if you have the patience to look.
The fans of this show are definitely going to be pleased once Nov. 10th comes around, and you can bet that we'll be writing more on this subject as the episodes begin to air. How crazy it's going to be has yet to be seen.