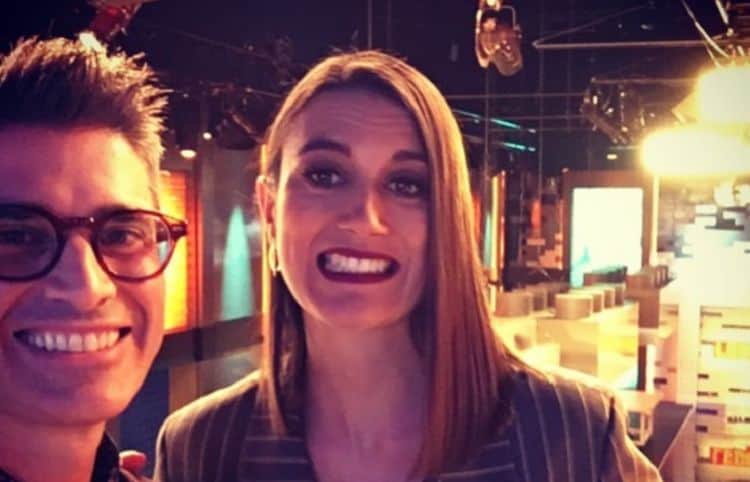 Amy is a 32-year-old product designer from Glasgow, Scotland. She is currently the Senior Design Manager at LEGO Corporation, Product Lead at the LEGO Group, and a judge on the hit TV series LEGO Masters. On the personal side, not much is known about this amazing woman as she keeps her private life close to her chest. However, we have managed to uncover a few interesting tidbits for those of you who wish to know more about this well-traveled, talented, and fascinating woman. For example, did you know that her favorite LEGO set is Olivia's House from LEGO Friends? To keep up with Amy on social media, you can visit her Twitter and Instagram accounts.
1. She Loves to Re-Invent the Old
One thing that Amy truly enjoys doing in her spare time is creating something smart, intelligent and fun, from something old, worn and discarded. It can certainly be said that she enjoys the process of re-invention. For this reason, Amy visits thrift or charity shops wherever and whenever she can, to find something discarded and turn it into a project. In fact, when she remodeled her flat, she crafted much of the decorative items this way.
2. She is Active and Enjoys Fitness
Not only does she create craft items in her spare time, but she also keeps herself fit and trim. Her activities of choice include visiting the gym and working out one day, and then stepping outside in the brisk Scottish air to take a run around the neighborhood. Surprisingly, they even have surfing in Scotland, and Amy admits to braving the waters from time to time to surf!
3. One of Her Greatest Passions is to Travel
Amy is highly esteemed among those she knows and meets. She has an honest, vibrant, and kind personality which seems to draw people to her. Meeting new people is an exciting experience for her, especially when she is working on a Lego product line, as she enjoys collaborating with a new team to see what they can achieve. Her role in the company often requires her to travel and meet new designers, all of which has given her a unique perspective on problem-solving.
4. Amy is a Songwriter
In 2015, a video titled Elevation Worship: Wake Up the Wonder was released. This live concert film focuses on the Elevation Worship Experience. According to her IMDB page, Amy is credited as an uncredited songwriter, as well as for providing backup vocals! While she is credited on her IMDB page as uncredited, there is no information regarding which songs she composed, or what other duties she had.
5. Engineers Without Borders, UK
As a product designer, Amy felt it was time to give back. She took time off in the summer of 2011 to work with Engineers Without Borders, helping civil engineers construct processing stations. This organization holds a vision of making the world more sustainable by raising the standard of living in low-income areas. The processing stations Amy worked on were used to help village coffee growers process their own crops, sourcing both materials and labor locally. She found this experience invaluable, as it gave her the opportunity to apply her textbook engineering knowledge of product design to real-world applications.
6. She Was Involved in a 2011 Spiritual Documentary
According to her IMDb page, Amy is credited as a core team member and songwriter for the documentary, This is How We Change the World. This documentary chronicles the lives of 8 families as they strive to find their spirituality amidst times of trials and tribulations.
7. She Volunteered in Botswana
In 2008, Amy spent 3 months volunteering with an NGO to create and implement sustainable projects. For instance, she helped the Kalahari Bushman appreciate the value of their crafts and learn to market them for a profit. Amy not only found her experience as a volunteer rewarding, but she was also able to visit settlements deep in the Kalahari.
8. Buggage!
Baggage is a product that she is currently designing in her spare time. As a product designer, she noticed that there was a lack of interactive travel bags for moms and kids. Buggage is a travel bag that is designed with modular storage compartments, known as pods, to help keep children entertained while their parent is busy, out shopping, or on long road trips. The objective of the design is to keep children, aged 2 to 6, occupied while the parents engage in various activities. Buggage is still in the development phase, but it sounds like a great concept and we are excited to see the final results!
9. Her Most Challenging Theme on Lego Masters
Lego Masters is full of brand new themes every show, but some are more challenging to Amy than others. Even though it's the contestants who do the building, the judges also feel the joys, pains, and distress of the contestants. So, when it came to the Smash Challenge, Amy found it to be a bit on the distressing side. She is a creative builder, after all, so it's only natural for her to empathize with those who had to smash their creations and watch them spill onto the floor. A close second would be the Bridge Challenge, as both judges felt the stress and apprehension of the contestants when weights were loaded onto their Lego bridges.
10. What do Legos Mean to Amy?
During an interview with the Decider, Amy discussed what Legos meant to her as a product designer for the company. She emphasizes the infinite creative choices that people, both adult and child, have with Legos. The possibilities to create and solve design problems are only limited by the number of bricks in one's collection. If one doesn't have the piece they require for their project, they can solve the problem by finding an alternate way to complete the build. In fact, this is what Lego lovers do all the time during their play – they might buy a Star Wars Lego set one moment, then turn around and construct a gas station from it.
10. How Tall is She?
This driven and creative product designer from Scotland has become a household name for those who adore Legos. When she appears on the show, it's almost impossible not to notice that she towers above her co-hosts, Jamie and Will. If you've been watching at home and tried to gauge her height, then try no more, as we're here to tell you that she is a statuesque 6 foot, 2 inches tall, while Jamie is 5 feet, 10 inches in height.
Tell us what's wrong with this post? How could we improve it? :)
Let us improve this post!