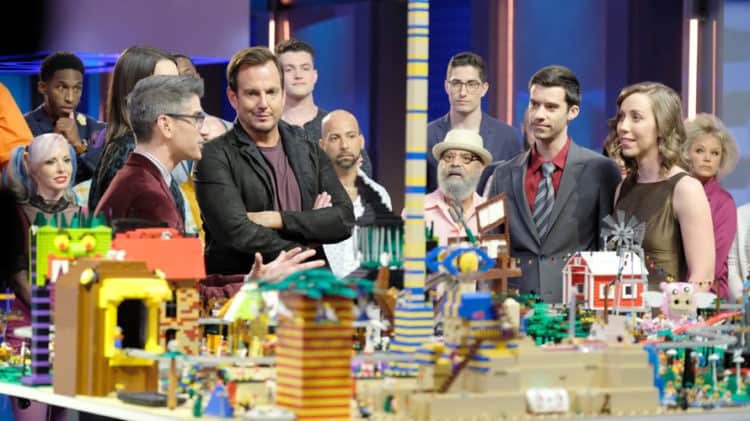 What's the first thing that comes to mind when you hear the word Lego? I can almost guarantee that it's not Brad Pitt. That, however, might change by the time you're doing reading this article. Although lots of Brad Pitt's work in the entertainment industry is pretty well-known to the public, one thing many people aren't aware of is the fact that is he a producer of Lego Masters. The show, which debuted in February of 2020, is a competition series in which people go up against each other to see who can build the most impressive structures from Legos. Contestants have to work within specific guidelines which forces them to really put their skills to the test.
Now, you're probably wondering how Brad Pitt became affiliated with the show, fortunately, you've come to the right place. Keep reading to find out how Brad Pitt became a producer of Lego Masters.
The History Of Lego Masters
Even though Lego Masters is a relatively new show in the United States, the show has actually been around for a few years. The show debuted in England in 2017, but it only aired for two seasons before being canceled. The American version of the show essentially follows the same format. During each episode, constants are given a time limit and a theme they must work within. Their creations are then reviewed by a panel of judges and the losing team is sent home. The team to make it all the way to the end earns a $100,000 prize, a trophy, and the highly sought-after title of Lego Master.
Now in its second season in the United States, Lego Masters has already built a pretty devoted following. As a result, it's also drawn some very talented Lego builders who are excited to show the world what they can do. Producers are hoping that the show has better luck in the States than it did across the pond, and so far the odds are looking good.
How Brad Pitt Got Involved With Lego Masters
As we established earlier, Brad Pitt and Legos aren't two things that people usually think about in the same thought. Brad Pitt hasn't personally spoken about his involvement with Lego Masters, however, his involvement with the show makes a lot more sense than people realize. Brad actually has his own production company called Plan B Entertainment, so he's always looking for solid opportunities to produce projects. Over the years, Plan B Entertainment has produced several well-known movies and TV shows. Some of the companies credits include the Academy Award-winning movies, Moonlight and 12 Years a Slave.
Lego Masters marks the first time the company has produced a competition show, and chances are they were just looking to add something new to Plan B's portfolio. So far, the move has shown to be a good one. Lego Masters has gotten a lot of people excited, especially Lego builders. On top of that, the series been nominated for several awards including Primetime Emmys. Since Lego Masters has been so successful, there's a chance that Plan B could decide to produce other game/competition shows in the future.
Is Brad Pitt Done With Acting?
Now that you know about Brad Pitt's production company, you may wonder if this means he's going to retire from acting. The answer isn't yet – but it's not entirely no either.
Over the last several years, you may have noticed that Brad Pitt has taken on fewer acting opportunities. That is partly because he has been putting a lot of his attention on the other side of the camera. He doesn't plan on being done with acting entirely, but he does acknowledge that being in front of the camera is more of a young man's thing.
According to Indie Wire, Brad told The New York Times that there are other things he wants to do now and he's using this time to pursue them. After all of the hard work he put into his acting career, most people would agree that he deserves the opportunity to pursue other interests.
The Future of Lego Masters
As of now, Lego Masters hasn't been renewed for a third season, but that doesn't mean the announcement isn't coming. Although COVID-19 caused some setbacks with the production process, season two has gotten off to a solid start. If Lego Masters does end up getting renewed viewers can rest assured that the competition will continue to get more intense. In fact, it'll be very interesting to see what kinds of creative ideas the team comes up with for future builds.