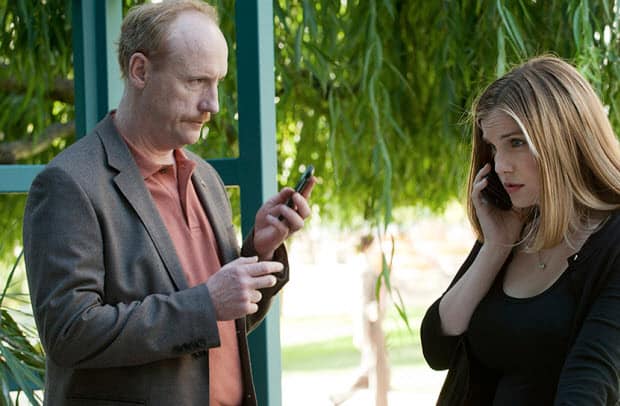 It seems that HBO is hell bent on ridiculing Silicon Valley this year. Veep is adding to the pile with tonight's episode set at the Clovis headquarters. Selina Meyers, excuse me, Madam Vice President … is off on her campaign trail and hitting up Palo Alto to interact with Stanford's Computer Science geeks. After shouting that she loves Silicon Valley, Selina confesses to Mike that,"this is what DC must have been like under Jefferson." She's invigorated by the fresh California scenery until she starts shaking hands and literally holding babies on the press line.
Cassie, a young mother, tells Selina that she campaigned for her and questions her on her pro environment stance. Mike and company can't react quickly enough and Selina is left bouncing a baby and claiming that she still cares. After the team escapes, Kent assesses the damage, "Woman in her 30s. You alienate them and you'll be dead somewhere before New Hampshire." It's clear that Selina and company are out of their league.
Back in DC, Dan's brain is exploding over the new Jonah video on Ryantology. Jonah is capitalizing on the Cassie/fracking disaster with a Jib Jab like cartoon video. Apparently that burrito to the face didn't do enough to deter Jonah from making a fool of Selina. After work Dan and Ben grab a drink, giving Dan an opportunity to plead his case for campaign manager. Ben, who seems much more interested in drinking than office politics, smiles and nods. He gives Dan the intel that Chung may be linked to torture in Iraq. Dan seizes the opportunity to take down Chung and advance Selina's standing in the race at the same time. He leaks the information to Jonah at a poker game, who is all too eager to publicize half truths and innuendos. Jonah constantly alludes to the fact that his tactics are Journalism 101, which is sadly not too far off from our current state of affairs.
On the campaign, Selina and company head to a Google-like Clovis Campus. Selina is greeted by a line of software engineers holding tablets. Mike, ever the negative Nancy, announces, "poor kids, they don't realize that they're all going to be executed by the time they're 30." Selina has never been more out of her element as employees in jeans zoom past her on scooters. She gets schooled on how to pronounce Clovis' CEO's name (hint: it's not how it's spelled). She's also asked to wait for him which she immediately gets miffed about. Considering that she never gets a call from the President and seems to have to wait in line for other political players, why is she surprised?
The Veep team gets the last laugh when Clovis CEO Craig introduces Selina to their newest product, the smarch. Selina asks the smarch to show her campaign website and what follows is a series of parody websites and adult entertainment sites. Selina's team asks Craig to pull down the parody sites to which he smirks that he's not going to pull content. He claims that he's not into politics but grills Selina on the repatriation tax. Gary mentions Jonah's website and in the blink of an eye Craig and his finance guru make Jonah an offer of $4 million. Mike realizes that if he had joined Ryantology when Jonah offered that he'd be rich right now but "handcuffed to a prick."
At the Clovis town hall, Selina addresses the Danny Chung torture issue that has now gone viral. As she talks about how Chung is in no way connected to torture, the wordle graphic behind her grows larger. She's essentially linked the two by claiming that the two are not connected.
Clovis, sensing that Ryantology is a bad venture, pulls their offer. Jonah is back at ground zero, where he belongs.
Bulleted Observations:
– Selina captures perfectly why I live in California, "this sun is unbelievable, I want to move the government here."
– Gary, the bag man, is increasing incapable of actually carrying the bag.
-Apparently Craig is "wipe out the deficit rich."
– Sad but true on the state of affairs in the Bay Area for tech jobs, "people want to work for us more than they want to make money.
-Amy balks at Melissa's offer to join Clovis but is flabbergasted by the salary. I know she can't be rolling in dough working for the government but she does have a very nice apartment in DC.
-Isn't Jonah exactly the kind of guy who would be clamoring to work for Clovis?
-At the next town hall at Clovis: Rupert Grint from Harry Potter.
[Photo via HBO]