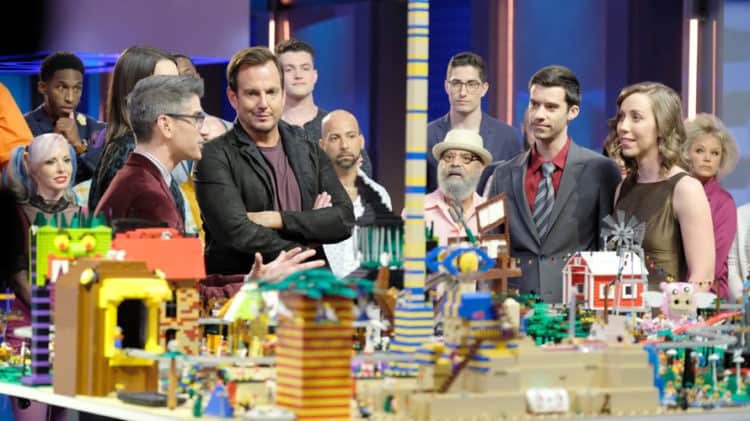 LEGO Masters is a new Fox show. Given its name, it should come as no surprise to learn that it is an unscripted show in which participants compete to see who can build the best LEGO creations. Something that has enabled it to secure a fair number of viewers within a short period of time. Here are 10 things that you may or may not have known about LEGO Masters:
1. Based On a British Show
This show is the American version, which is based on a British show of the same name. For those who are curious, the British version of LEGO Masters started up in August of 2017 before proving to be a success. As a result, it wasn't too long before a number of international adaptations started up as well, with the U.S. version being one of them. Suffice to say that this isn't particularly uncommon for unscripted shows because if a basic premise works well in one country, it has the potential to work well in other countries as well.
2. The Participants Compete in Two-Person Teams
It is interesting to note that the participants on LEGO Masters compete in two-person teams. This has presumably had a huge impact on how the show has turned out. After all, one person would have total control over how their creation turns out. In contrast, a two-person team must cooperate on the matter lest the team members' competing visions cause problems for one another. Having said that, it seems safe to say that two-people teams can be a source of strength as well, not least because having two heads make for twice the creativity.
3. Hosted By Will Arnett
LEGO Masters is hosted by Will Arnett, who should be relatively familiar for people who watch a lot of comedies. Generally speaking, Arnett is known for a couple of roles. One would be the washed-up anthropomorphic horse actor BoJack Horseman in the Netflix show of the same name. Another would be Gob Bluth on Arrested Development, a stage magician with a very complicated relationship with his younger brother Michael Bluth thanks to a sense of rivalry, a sense of jealousy, as well as a sense of genuine love that is not reciprocated to the same extent by the latter.
4. Judged By Two LEGO Experts
However, it should be mentioned that the LEGO creations featured on LEGO Masters are not judged by Arnett. Instead, they are judged by a pair of LEGO experts from the LEGO Group. One of the two experts is Amy Corbett, who serves as a senior design manager at the corporation. The other is Jamie Berard, who is responsible for overseeing the LEGO Creator Expert line as well as the LEGO Architecture line.
5. The Judges Provide Suggestions Midway
Besides judging, the two judges are also responsible for making suggestions to the participants when they are mid-way through their builds. Something that serves to inject an additional element of drama to the whole thing. After all, said suggestions create tension, thus making the viewing that much more exciting for interested individuals. Furthermore, said suggestions can cause the participants to deviate from their original plans, which can produce frenzied bursts of activity that can make for very watchable television.
6. The First Episode Handed Out the Golden Brick
The first episode of the show had no elimination. However, this isn't to say that it wasn't important. For instance, the first episode handed out what is called the Golden Brick, which is an important trump card of sorts. Basically, the Golden Brick can be used to enable a team to move on by skipping the current competition once and no more than once. However, it must be used between the building and the judging, meaning that interested individuals can never be sure that its use will have been worthwhile. In fact, it should be mentioned that the use of the Golden Brick is pretty much an admission of defeat because it means that the team isn't confident that they won't be eliminated by coming in last in the current round of competition.
7. There Is a Prize
Of course, there is a prize to make the prospect that much sweeter. For those who are curious, the prize consists of $100,000, the title of LEGO master, plus a trophy to support that title of LEGO master. Beyond that, it seems safe to say that participants will gain some notice for their LEGO creations, particularly if they are responsible for some of the most memorable results.
8. Not Related to LEGO Master Builder
The title of LEGO master doesn't seem to be related to the job of LEGO master builder. For those who are unfamiliar, LEGO master builders are the ones who have been entrusted by the LEGO Group with designing the LEGO creations for their public events as well as the most prominent of their other public displays. As such, it is a job with considerable appeal as well as considerable competition for LEGO enthusiasts, seeing as how the number of LEGO master builders can be measured using the double digits.
9. Family Friendly
Unscripted shows can get pretty nasty. In fact, a lot of unscripted shows are deliberately set up to encourage drama between their participants, which makes for more exciting viewing for interested individuals. Having said that, that kind of content can get exhausting, so it's not a bad idea to switch it up with something friendlier from time to time. For instance, LEGO Masters doesn't have any of the cutthroat competition seen in a lot of other unscripted shows. Instead, it is very much focused on the joy of its basic premise, which is as it should be.
10. The Judges Spend a Lot of Time Watching the Building
Perhaps unsurprisingly, the judges spend a lot of time watching the building process, which takes hours and hours. Sometimes, the judges do the watching in person. However, they tend to be careful with that kind of thing because it makes the participants nervous, thus increasing the chances of something going wrong for them. As such, the judges do much of their watching behind the scenes through the use of screens.