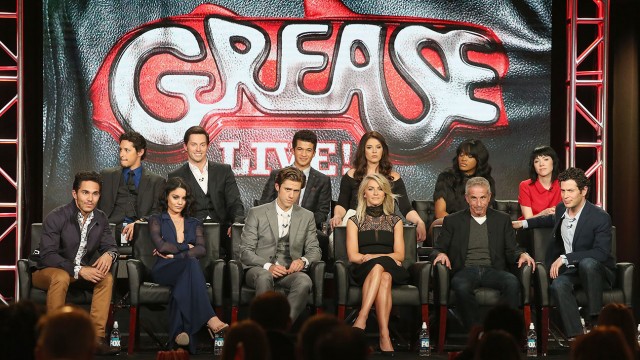 You've seen the promos and now it's finally happened! Grease: Live brings back fond memories of the classic movie musical starring John Travolta and Olivia Newton-John. I was humming along to "Grease" performed by Jessie J and though I preferred the movie version of the opening song, Jessie's rendition of it wasn't too shabby either.
This live version of Grease is similar to the movie in some aspects like when Sandy (Julianne Hough) was hanging out with the rest of the Pink Ladies at Frenchy's (Carly Rae Jepsen) house and Rizzo (Vanessa Hudgens) was performing "Sandra Dee" and when Danny Zuko (Aaron Tveit) and Sandy were performing "Summer Nights" at the school cafeteria/gymnasium. Only difference for the latter was that it was inside while the movie was outside. The same for the pep rally scene.
I also noticed while watching is that the drag race scene was done at nighttime rather than daytime like in the movie which was interesting. Maybe the directors thought it would be better/more dramatic to do the scene in a night time setting rather than daytime.
Another part of this live TV movie that's different from the movie is the casting. Wendell Pierce, most recognizable from shows like Suits and The Odd Couple reboot with Matthew Perry, is playing the role of Coach Calhoun. In the movie version, it was Sid Caesar who portrayed the high school coach. Both did a great job with the character, no question as both bring a sense of authority and a bit of a condescending personality to the character.
In all, this TV version of a classic musical wasn't too bad. It paid homage to the movie and all of the cast members did their characters justice. I think I will re-watch the movie just because. Who's with me?