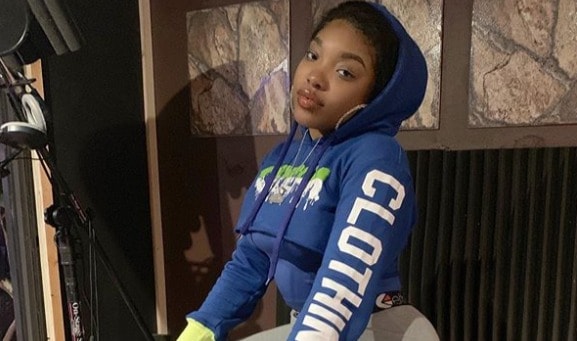 Did you like the album 'Talk That Talk' by Rihanna? If you did, then Kamillion is among the people you need to thank for that. Kamillion has been in the music industry longer than we care to admit. The only twist to this tale is that she was always working behind the scenes as a songwriter. The newest inductee to the Love and Hip Hop franchise has a lot of work under her belt and with her newest addition to the cast of the drama reality show, it seems that Kamillion has her eyes set on success and there is no taking that prize away from her.
Here's a quick recap on who Kamillion is
Alja Kamillion was born on June 26th, 1989 in Jacksonville Florida in a family of 4 male children and 2 female ones. Kamiliion is known for her racy lyrics and raw image and the rapper isn't shy to rub a few elbows with her rawness. Kamillion's sound is a mix of R&B, heavy bass and gritty production. She has worked with notable names in the music industry such as Missy Elliot, Trey Songz, P Diddy Jordin Sparks, and Rihanna just to mention a few.
Here are 10 facts about Kamillion you probably didn't know
1. She was born and raised in Jacksonville
Kamillion was born in Jacksonville in the Northside on Pearl Street. This area as she says, helped shaper her and provided a basis for her musical career to thrive as she has a rawness that she wouldn't have otherwise had if she had grown in a different place. She was brought up in the Blodgett homes and her mother always told her that where she came from didn't matter, what mattered was where she was going. This was the advice which she has found to be relevant as she progresses with her career
2. She is actually quite tall
Standing tall at the height of 6 ft., Kamillion is among the tallest women in music. Other notably tall women in the industry include Taylor Swift, Dua Lipa etcetera.
3. Big break
At some point in everyone's career, we get the big break that we needed to push our careers to the top or the place we wanted it to be. For Kamillion, the push she needed came when she got invited to work together with Usher as a songwriter for his track with Esmee Denter. Later on, Jimmy Iovine, the chairman of Interscope offered the songstress a recording contract and invited her to join the team to write a number for the Pussy Cat Dolls who were a huge deal at the time.
4. She is a reality TV star
Love and Hip Hop has been around for over a decade now and from the drama and ratings the show rakes in per episode, it is clear the show can withstand another decade. Love and Hip Hop has helped to boost the careers of some notable acts in the music industry such as Cardi B, K Michelle, and Remy Ma. These acts began their music careers while on the show and used the platform to advance themselves. It seems Kamillion has heeded to the Love and Hip Hop call. She announced that she would be joining Love and Hip Hop Miami via her Instagram feed.
5. She'll be the first act from Jacksonville
Kamilion's induction to VH1s franchise is iconic, to say the least. Until Kamillion's appearance on the show, no one from Jacksonville Florida has ever been on the show. This gives the singer a good chance to represent her hometown and do it proud.
6. She has brushed elbows with some famous names
When a song becomes a hit, it is obvious the singer gets all the credit. However, the team that came up with the lyrics to that song deserves some bit of appreciation as well as it can be quite tricky coming up with lyrics that will keep an artist on top. Kamillion has written songs for famous artists such as Rihanna and Jordin Sparks and her songs have been chart-toppers.
7. Awards and nominations
So far Kamillion is a Grammy award-winning songwriter. She received a Grammy award in February 2019 for her songwriting work on the R&B artist H.E.R's self-titled album. She is credited as a songwriter for the song 'Rather Be' in the album.
8. She is a giver
According to First Coast News, Kamillion expressed her love for her city by giving out food just days before Thanksgiving 2019. The songstress bought 50 turkeys and gave them out in a food drive in downtown Jacksonville. She ensured that every canned food and turkey was given to those in need of it. She hopes to inspire more girls from Jacksonville to chase their dreams and strive for their goals.
9. She opened the 2019 BET Awards
According to Jagurl TV, Kamillion together with her fellow hometown buddy Lil Duval opened the 2019 BET awards hip hop awards with a show-stopping performance. The duo performed their hit song 'City Boy' that also features Tom G. The performance gave Kamillion a chance to represent her hometown and show the world what Jacksonville Florida has to offer.
10. Net worth
Kamillion's net worth is estimated to be around $500,000 to $2,000,000. This sum of money she has earned from her music while in her 30's. Her net worth, however, seems to be growing significantly and she is considered as one of the richest rappers from Florida.
Final Thoughts
Kamillion is among those few celebrities and artists who are in the business to stay as her work speaks for itself. She has been around for quite some time and knows the ropes of the game. Her songwriting skills even helped her meet the singer turned business mogul Diddy in 2011 when she wrote a track for him and Rick Ross. Alja Kamillion stands out from the pile of ordinary upcoming musicians not only with her tall and well-built physic or platinum blonde hairstyle but also for her strong work ethic and her firm belief in representing her hometown.