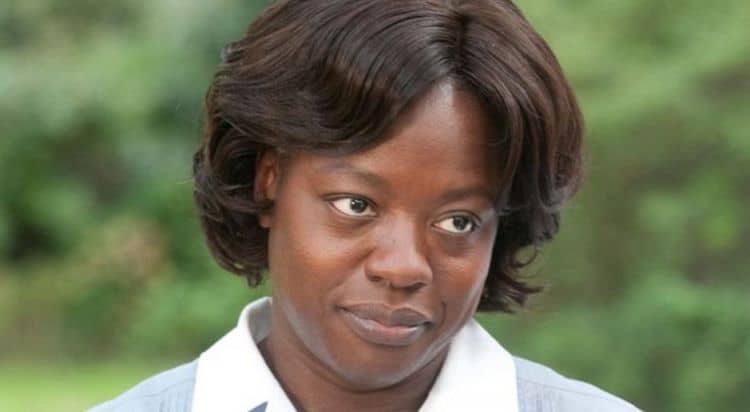 Every so often, an artist comes around whose craft is transcendent. These actors are in it for the artistry, and not necessarily the fame. The days spent on set spark more fire in them than those spent doing press. They channel bits of their souls into the characters they play. They do it for the love it, and, when their interpretation of characters or their work ethic lands in the hands of the right person, a new actor is born. If the latter is lucky enough, many years down the line, they may find themselves working alongside their hero, and the cycle goes on. These ten actors revealed those who helped them mold their careers:
1. Maura Tierney (Sally Field)
Time and again, Maura Tierney has insisted on how much of an impact Sally Field has had on her career. According to Tierney, Sally Field, who she worked with on ER, gave her permission to take herself seriously. " Working with Sally had a profound effect on me as a human and as an artist," Tierney said when she honored Sally Field at The Kennedy Centre in 2019. Tierney cited Field's ability to 'take herself out of her surroundings and give herself the space she needs to do the work' as one of her most admirable qualities.
2. Viola Davis (Cicely Tyson)
Viola Davis' point of entry into acting was through the late Cicely Tyson. As accounted in Tyson's memoir, Just As I Am, Davis watched Tyson play both the older and younger version of Jane Pittman in The Autobiography of Miss Jane Pittman, and was wowed by the artistry. She set sights on the craft, and the moment would come full circle when she got to act alongside her idol. Davis' love for the craft eventually landed her an Academy Award. In her acceptance speech, Davis said she was glad she chose to be an artist.
3. Julianne Moore (Meryl Streep)
Asked who she thought was royal in the acting industry, Julianne Moore did not hesitate to give a name. " Acting royalty? I think certainly Meryl. She was on the cover of Time Magazine in 1977. She had just broken out. Time Magazine was the only Magazine that we got. And I picked it up, and I showed my father and I said, ' I want to be like her.' Meryl kind of broke out in a big way and was doing a kind of beautiful acting; completely modern. She was…gorgeous." Moore said.
4. Thuso Mbedu (Viola Davis)
It's interesting to know that inspiration flows from generation to generation. Just as Viola Davis was inspired by Cicely Tyson, she too is an Inspiration to South African actress Thuso Mbedu who made her Hollywood debut on the Barry Jenkins directed Amazon Prime Series, The Underground Railroad. In the same spirit, Mbedu will star alongside Davis in the upcoming production, The Woman King.
5. Jennifer Lawrence (Josh Hutcherson)
The chemistry between Josh Hutcherson and Jennifer Lawrence is hard to ignore. This is perhaps because, long before Lawrence decided to pursue a career in acting, she stumbled upon an article about a boy who left Kentucky to take over Hollywood. The boy in the article was Hutcherson, and it so happened that their paths would cross. Talk about serendipity. The stars do align sometimes, and it's only a matter of time.
6. Kerry Washington (Jennifer Lopez)
Karry Washington and Jennifer Lopez grew up in the same neighborhood in The Bronx and went to the same Boys & Girls Club of America. Sometimes, Lopez would step in for the teacher, and give dance lessons. In a past interview, Washington said that she and others were inspired by how Jennifer made it out. It showed that they could make it too. Make it she did, giving us one of the most iconic lead female characters of our time, Olivia Pope.
7. Keke Palmer (Queen Latifah)
Keke Palmer does it all; she sings, she acts, and when it comes to hosting a talk show, she's up for the job too. The closest person she's always modeled a career after is Queen Latifah, who didn't allow herself to get boxed in one form of art. As a rapper, Latifah certified her name amongst the best femcees, as an actress, she's bagged terrific roles, some of which she's appeared in alongside Keke Palmer. Latifah, just like Keke, tried a hand in the world of talk shows, hosting The Queen Latifah Show, which ran for two seasons.
8. Salma Hayek (Willy Wonka)
Just like Viola Davis watched and fell in love with Cicely Tyson's role in The Autobiography of Miss Jane Pittman, Salma Hayek had her moment when watching Charlie and the Chocolate Factory. " I was so young an I saw Willy Wonka and the Chocolate Factory, and I remember when I saw this film, something clicked in my brain and went,' Whoa! There is actually a universe within this life, where anything can happen. There can be a river made out of chocolate, you can chew gum and levitate, then burp and come back down to earth.' I realized that, through filmmaking, you can create so many different realities." Hayek told Kelly and Ryan.
9. Matthew McConaughey (God, Himself In 10 Years)
When Matthew McConaughey won Best Actor at the Oscars, he made it clear in his speech, who his hero was: the person he will be ten years from now. He also let us know who he looks up to; God. "He's graced my life with opportunities that I know are not of my hand or of any human hand. He has shown me that it's a scientific fact that gratitude reciprocates. When you got God, you got a friend. And that friend is you."
10. Kevin Hart (Dave Chapelle)
Through the years, Kevin Hart has given names of some comedians who've had a big influence in his career; Keith Robinson, Bill Cosby, Richard Pryor, and Chris Rock, to name but a few. Two of his inspirations, Chris Rock and Dave Chapelle, would go on to become his mates in the industry. However, even Chris rock agrees that Dave Chapelle is one of the greatest people to ever do it. Chapelle's artistry, even back in the day, was way ahead of its time.
Tell us what's wrong with this post? How could we improve it? :)
Let us improve this post!