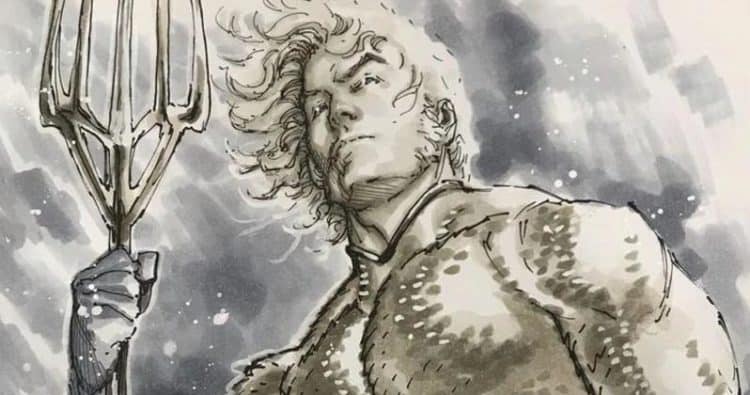 It's sad to see anyone pass away when they're still young enough that they should be able to look forward to the decades to come, not wonder about what the next few days will bring. DC artist Robson Rocha, who started up with the company as an aspiring artist back in 2010 has passed away from complications due to COVID-19. 41 is still too young to leave this world in such a manner, especially when there was so much that Robson could have continued to accomplish. The why of any passing is hard to figure out since many would claim that it's not fair, especially for a person that has so much going for them. Sadly, nothing makes a person immune from the end, but Robson's passing is a reminder that despite vaccinations, the pandemic is not gone yet, no matter that people are starting to get back to their lives. There isn't much more on how Robson contracted the virus or what conditions he might have been dealing with before he fell ill if there were any at all. But the known fact is that those that have certain risk factors that can contribute to the virus are at greater risk.
Robson was well-liked by his coworkers, who have each contributed something they enjoyed about the artist. He was apparently quite skilled and was the kind of talent that only comes along every so often. His inclusion into the DC family was advantageous to everyone since he was apparently quite easy to work with and was an artist that knew how to convey a great deal of feeling in his work while composing pieces that were breathtaking and definitely helped to push the story of each character he was attempting to depict. The kind of talent that Robson was capable of tapping into is something that many of us can only hope to come upon since this is more than just drawing, it was about creating masterpieces that were enjoyed by a wide number of people.
One thing that can be said is that those at DC were given the chance to get to know Robson, no matter that a decade can fly by before one knows it. The pandemic has hit so many people in so many different ways that it's a common thought that COVID simply needs to go away at this point and become a thing of the past. It's a thought that many people might echo, even if it's not bound to happen as most want it to. Since the pandemic came on people have been greatly divided about the virus, the masks, the state of the nation, and pretty much everything. Entertainment has been one of the only ways for people to come together and enjoy something without feeling the need to fight incessantly over virtually nothing. Robson was proud to work at DC since he'd been a fan of the comics since he was a kid, which is easy to see with the kind of artwork he put up. To think that he was only 41 is pretty unnerving since a while ago the only people in this age group that were really at risk were those that had conditions that contributed to the virus.
It's hard to talk about someone you don't know that well, and even harder to talk about them when you don't know them at all. But from the glowing words that his coworkers offered it's fair to say that Robson was a dedicated artist, a family man, and a hard worker since it's not just anyone that can make their way into the DC family as an artist. That takes skill, dedication, and likely several years of proving that one can meet the deadlines can produce the type of work that the company wants, and can deal with a high volume of work. The type of individual that can find their way into the type of business that will demand much of them but end up giving them the satisfaction of a job well done and a place where they feel like they belong is beyond rewarding, and for a while, one can say that Robson had definitely achieved his dream.
From the standpoint of another artist, meaning myself, this world is a hard place when it comes to proving oneself, especially considering that there are so many other talented individuals that find their way to the same fields and attempt to make a living while building their reputation. Were he still around, it's easy to think that Robson would have become a big and very well-respected name in the DC camp, even more so than he already was. It's a sad day when anyone with a bright future passes, but we can only hope that his family will find a way to cope with their grief. Rest in peace sir, you'll be missed.
Tell us what's wrong with this post? How could we improve it? :)
Let us improve this post!