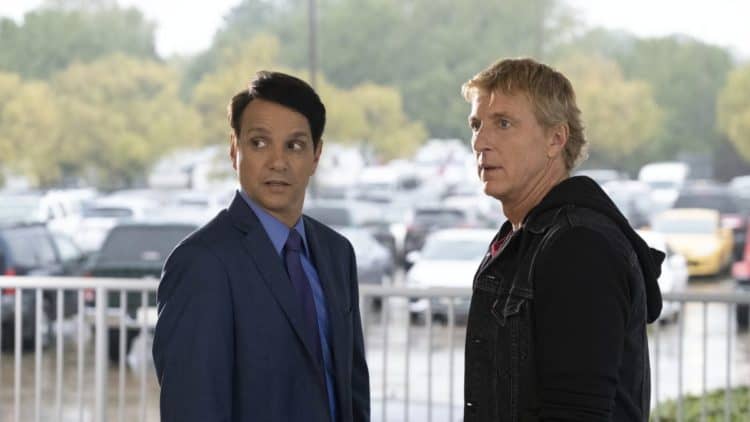 In 1984, the world was introduced to The Karate Kid, starring Ralph Macchio, Pat Morita, and William Zabka; The film would go on to be a huge hit and it spawned two more movies featuring Daniel LaRusso and his teacher, Mr. Miyagi. The Netflix series picks up 34-year-old later and follows former Cobra Kai student Johnny Lawrence. The Netflix original has been a success thus far, with three seasons already in the can and a fourth on its way. This list will revisit the five best episodes of season two. Let's get started.
Mercy, Part II
So the evil bastard is back. Despite tearing his relationship with Robby even further, Johnny and Cobra Kai won the All-Valley tournament. That huge win brought back Martin Kove's John Kreese. Naturally, a fight between the student and master breaks out and this was a great way to start off season two. With John Kreese back, it ups the tension of the Cobra Kai series and reintroduces a compelling character. By the end of the episode, it's clear that Kreese has an ulterior motive of his own; however, the episode does a good job of not making Johnny look like numbskull by easily taking him back. the premiere smartly set up what's to come in future episodes while still advancing some of the stories back in season one.
Take A Right
Easily the most emotional episode of the season. Cobra Kai isn't afraid to tackle death in their series and writers pulled off another strong episode surrounding the subject. More importantly, Kreese's plan to overstep Johnny in Cobra Kai advanced even further by undoing all the lessons that Johnny had been teaching. However, Johnny hanging out with his buddies was a fun ride that saw them beat up a couple of douchebags at a bar, ride motorcycles, and have a tender moment with Tommy before his unfortunate passing. The emotional montage showcasing his death and both Cobra Kai and Miyagi-Do training was perfectly edited.
Lull
One of the funnier episodes that managed to jam-pack a ton of karate since the season one finale. Before we got to the action, the episode started off with a great back-and-forth between Kreese and LaRusso. The show got better once both dojo's did their special training. The battle in the creek was easily the more entertaining of the two, with the Miguel/Hawk fight easily taking top honors as the best of the season thus far. Of course, the Lull is also notable for advancing several important plots, namely the issues between Daniel and his wife, Demetri finally getting a win in training (well…sort of), and the ongoing love saga between Robby, Samantha, and Miguel. Bonus points for Stingray's out of nowhere victory. Paul Walter Hauser has been a fun addition to the season two cast and it was cool that they gave him the big victory.
Pulpo
The Tori/Samantha/Miguel/Robby saga took center stage and it helped create one of the best scenes in the Cobra Kai series in the season two finale. Even if you aren't into teenage melodrama, it's a simple story that the writers get right and everyone plays their part in it well. Another story that's been developing nicely is Eli turning into a bully. The Hawk becoming something that he was once tortured constantly by is a case of strong writing, and his feud with Demetri has been well-built. The Johnny/Daniel bonding moment once again highlighted the great chemistry between Ralph Macchio and William Zabka. It was also refreshing to see that the writers didn't come up with a forced way to cause tension between the two by the end of the episode.
No Mercy
Epic high school fight! No Mercy lived up to it's word when it was time for the kids to go back to school. However, Tori came to break Samantha in half and the built-up conflict paid off in the season finale. As always, the action in Cobra Kai remains top-notch. We see every ounce of movement instead of multiple cuts in one scene, which makes for a better fight scene visually. The big school brawl nicely interweaved several of the season's developing arcs.
Demetri finally got his revenge on Hawk, Miguel might've been murdered (though the visual of seeing Miguel fall backward in slow motion was kind of cheesy), and Sam got the better of Tori. The only negative was seeing the fight between Nathaniel and Bert. The actors did what they could do; however, we barely know each of these characters thus their "feud" felt like it came out of nowhere.
This episode was also notable because Johnny and Daniel finally locked horns. Once again, the conflict felt a bit forced. I understand Daniel's concern for his daughter; however, did he really think that Johnny would do something to hurt her? Johnny has never been portrayed as a rapist or pedophile, so the fact that LaRusso wasn't clear-headed about the situation following Robby's statement felt out of character. It was cool to see these two fight again, but I wish the writers had come up with a better way. Still, No Mercy was a strong episode that ended with a great cliffhanger.
Tell us what's wrong with this post? How could we improve it? :)
Let us improve this post!