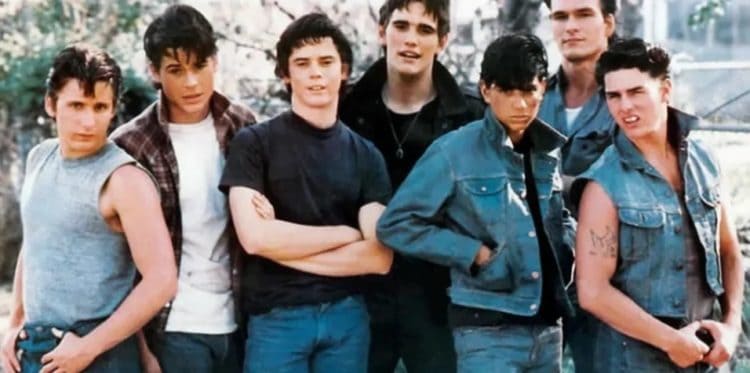 The one big reason we know of Ralph Macchio came back in the 80s when he played a weak young kid that routinely got his butt kicked by a bunch of karate-loving thugs that simply didn't know when to say that enough was enough. To be fair, neither did his character since he continued the fight as much as he could. But Ralph Macchio has been known before the Karate Kid movies and has done a few things since, not the least of which has been to revive the love the movie that made him so well known with William Zabka as they've brought back Cobra Kai and created a new round of conflict that's been tearing it up on YouTube. It's very fair to say that Macchio had his run early on and then kind of disappeared for a while since a lot of people didn't hear that much about him until Cobra Kai came along, but he's been around for a while, and he's always a fun actor to watch when he's on screen.
Her are his five best movies.
5. A Little Game
The ins and outs of this movie are pretty clear and it's a very touching story to be honest. When a family is facing hardships but wants to send their daughter to one of the best schools in the city it's obvious that it becomes kind of overwhelming, though the father, played by Macchio, does his absolute best to make things work. In the meantime the daughter attempts to earn friends and tries to fit into her school, but when it comes to gaining the respect of some girls it becomes obvious that chess, which can be used as a metaphor in many different ways, is her way in and is also the way towards gaining a better understanding of life and her place in it.
4. Crossroads
The legend of selling one's soul to the devil at the crossroads is one that's fairly old and has taken on a few different version throughout the years, but it's still just as intriguing as ever since it becomes a fitting story of greatness and the price that many pay to gain it. When Eugene and Willie manage to reach the crossroads it's discovered that Willie did indeed sell his soul to 'old Scratch' another name for the devil, and that the figure is fully ready to collect. When Eugene steps in however to speak the devil makes a bargain, that he beat another musician that he sold his favor to, or forfeit his own soul, as well Willie's, in the process. What comes next is one of the greatest guitar battles you might ever witness.
3. My Cousin Vinny
It's true that this is more of a Joe Pesci movie than Ralph Macchio's, but the fact that he's still a prominent character in the movie makes it count since he's one of the two being held accountable for a crime he didn't commit. When Vinny shows up however it's a little too obvious that he doesn't know what he's doing and is bound to make one mistake after another if not for his girlfriend, who helps him along the way while putting up with his antics and his continual bad behavior as he tries and continually fails to acclimate to the small-town atmosphere while trying to prove his cousin and friend innocent.
2. The Outsiders
This is the kind of movie that appeals to those that have always been seen as the oddballs, the people that others don't want to associate with, and have found comfort within their own group of individuals that know how they feel and come from roughly the same kind of background they do. A lot of people might only remember this from middle and high school since it was at one time a required bit of reading and was something that a few people felt the need to slog through just to get a grade. But if you remember this book and the movie fondly it's likely that you found some sort of kinship with the characters and discovered that there was more to them than you might have realized.
1. The Karate Kid
THIS is the movie that made Ralph Macchio one of the most favorite actors in show business for so long. The Outsiders was great, but this movie made him the star he was and still is. It did help that Pat Morita was there to serve as his friend and mentor, but now that Pat has been gone for a while, rest in peace, the story has become dependent on Macchio and Zabka in a big way since apart from Martin Kove they're the only ones that have any real connection to the story in a significant way. But this movie was by far the one that was the most important of the bunch since it started it all.
Who else can't wait for season 3 of Cobra Kai?