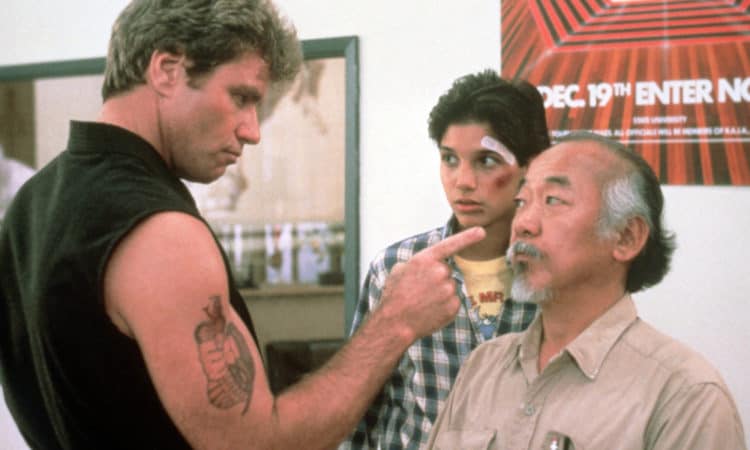 There's a reason why you think Martin Kove looks familiar. That's because he actually is. Kove had a big role in one of the biggest cult movies from the 80s: The Karate Kid. We've seen a lot of Martin Kove again recently with the rebirth of the movie into a The Karate Kid series on YouTube, and it's about time we start talking about him again. The actor disappeared from the spotlight for a while, so we all need a little bit of a refresher. So here are 10 things that you probably didn't know about Martin Kove.
1. Age
Kove looks great. You'd think that it's only been a few years since we saw him last because of just how great and young he looks. In fact, the actor was actually born on March 6, 1946. He's unbelievably 73 years old already. He was born and raised in Brooklyn, New York into a Jewish family. We can imagine that the reason why he still looks so young is probably because of all the martial arts he's practiced in his life.
2. Films
Even though Martin is arguably most famous for his role in Karate Kid,he's actually starred in a few other blockbuster hits. Kove also had roles in films such as Rambo: First Blood, Wyatt Earp, and more. Given that he's been acting since 1971, you can imagine how many films he's actually done in his career–so far. He's completed at least 50 films in his career, and he's not quite done yet. He's got more scheduled to come out in the next year or so.
3. Television
Apart from film work, Kove has also been featured on television many times. Starting in 1974, Martin has had guest roles in shows such as The Incredible Hulk, The Twilight Zone, Kung Fu: The Legend Continues, Criminal Minds, and The Goldbergs among so many others. Perhaps his biggest role on TV was as detective Victor Isbecki on Cagney and Lacey. He was featured in a total of 113 episodes throughout the course of 6 seasons on the show. He's currently back on a TV series with Cobra Kai, as he reprised his role of John Kreese from The Karate Kid.
4. Stage
Here's an actor that's performed on three different kinds of stages. It's a testament to just how much he actually loves the art. Kove is also a stage actor, and he's acted with various companies throughout New York and Los Angeles. Some of the companies he's worked for included the Lincoln Center Repertory Company, the Burbage Theater, and the MET Theater among a few others. Some of the plays he's done included Of Mice and Men, A Streetcar Named Desire, Moby Dick, and The Rainmaker.
5. Martial arts
There's only so much you can act when you're trying to portray a true martial artist. Martin Kove has studied various martial arts disciplines throughout his entire life, not only for acting purposes but for the sake of studying the art and sport altogether. He has studied Shihan Tak Kobota, Kendo, Tae Kwon Do, and some others. He even earned a black belt in Okinawa-te. Martin trained under Pat Johnson (who studied under Chuck Norris) for three hours each day when he was filming The Karate Kid.
6. Family
Martin Kove married Vivienne Kove in 1981. The couple had a set of twins, Rachel and Jesse. Martin and Vivienne remained married for 24 years before they got a divorce in 2005. Even after the divorce, Martin maintained a great relationship with his family. Jesse Kove has followed in his father's footsteps to become an actor. He has over 25 acting credits both in film and in television. Rachel Kove, on the other hand, has kept a lower profile in her life. She's pretty much stayed away from the spotlight of acting.
7. Favorite things
Just like the average person, Martin Kove has his preferences and favorites in life. He has an affinity with cars, and his favorite one as a child was the XKE Convertible Jaguar. He's also got a couple of favorite scenes among the movies he's filmed. One of them is the "No Mercy" scene with actor William Zabka. What's his favorite thing about acting? It's the fact that he can put his personality into the characters he's portraying.
8. Bucket list
If there were one thing that Martin can do in his career, it would be something simple. We now know that Martin's son Jesse is also an actor. The two have actually acted in a movie together already. It was a war film called Blood in the Sand. Martin would love to get another opportunity to do a film with his son, but this time, he wants it to be a western. Martin is a huge fan of the western genre.
9. Sean Connery
Martin Kove considers Sean Connery as the biggest influence in his career. The two are friends now and play tennis together, but there was a time when they were just acquaintances. During a pivotal time in Martin's life, it was Connery's advice that kept him going. Martin was trying to decide whether to stay at NYU or quit to act professionally. Whatever Connery said to Martin worked because he's had a prolific acting career since.
10. Once upon a time
Martin Cove may have been active in the industry for over three decades now, but he's not planning on stopping anytime soon. He's actually got a film coming out this month along with big actors such as Leonardo di Caprio, Brad Pitt, and Margot Robbie. The film is Quentin Tarantino's Once Upon a Time in Hollywood.