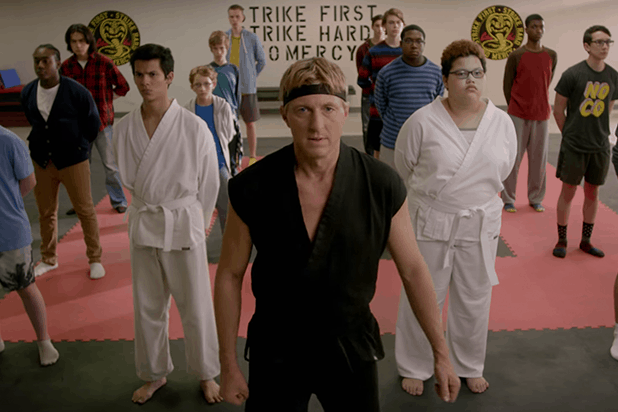 The first season gave us a reason to believe, but the second season raised the bar even higher. Cobra Kai has been given one prediction after another, but upon seeing season 2 and how it's developed many people can likely admit that it's beyond anything they were expecting. The feud that started three decades ago between Johnny and Daniel was thought to have ended with the first and possibly second movie, but with the re-emergence of Cobra Kai it's far too evident that hard feelings take a little longer to bury. Plus, when always controversial John Kreese enters the room you knew things were about to pop off in a big way.
Even better, as Dustin Rowles of Pajiba and many others are reporting, there WILL be a season 3 as it's just been announced. And why not? The second season ended in a way that almost assures that, in real life, things would finally end on a sour note for just about everyone save for Kreese, at least for now. Oh yeah, spoilers ahead if you haven't watched season 2 in its entirety yet, so look away if you didn't binge-watch it like the rest of us, because there's just too much to go over to not mention what happened and why the trailer did it justice, but thankfully saved a lot of the REALLY good stuff in season 2.
At the end of season 1 we were treated to the dubious return of John Kreese, one of the undisputed worst teachers in all of cinematic history. It's not that he didn't know what he was doing, it's that he's simply a despicable human being that knows how to manipulate and intimidate others into doing what he wants. And when you think about it, today's generation is just as susceptible to such tactics as any other. That's why it makes sense that a kid like Hawk would take up with Kreese almost immediately, while Miguel would start to harbor doubts about his teaching methods. Andrew Husband and Chris Longo from Den of Geek! make a good point by stating that Kreese, just like anyone, is another person, another character in the story, but what they also agree to is that when looking for the villain in the story he's been the guy that fits the bill without a doubt. In season 2 there were moments when he seemed almost human, at least until it was established that he was just as manipulative and grasping as he's always been.
As it's been predicted before the season opened Johnny had some major unresolved issues with Kreese but, seeing as how Kreese was the man that taught him how to toughen up and made him strong, he still has a soft spot for him. It seems fair to say that this soft spot will harden quickly when season 3 comes along since as those that have watched season 2 already know, Kreese has taken back Cobra Kai and regained the respect of those that were seeking some way to get back at a world that had abused them for so long. Unfortunately what he's doing is creating another wave of Cobra Kai that will see victory as the only outcome, no matter what it takes.
For Johnny and Daniel the hard truth that has yet to be faced is that their feud, for which neither of them are blameless, has spilled over and affected those who should have been insulated from it to begin with. What season 3 will bring is going to be interesting since it might very well turn enemies into allies to contend with a villain that wants to see them both humbled and driven into the ground. At this point the sensible thing, as many people seem to be thinking about already, is that this will be a fight that takes place on very different grounds and with much higher stakes than ever before. Some people might want to see Daniel and Johnny kick the crap out of Kreese and call it good vs. evil and the righteousness of a cause that's finally been able to unite two of the greatest icons in movie history. But others are wanting to see something different, especially considering that the fighting has already spiraled out of control and the age of the fighters makes one realize that if there's no personal growth or even realization that some fights don't need fists or feet to be won, then one has already lost. Season 2 has definitely heated things up to the boiling point and even allowed them to boil over. Now Johnny and Daniel have to worry about the mess that's been created, and the fallout that's going to come from it.
Season 3 seems to promise that things will finally come to a head somehow, though what form this final fight will take is still undecided.
Tell us what's wrong with this post? How could we improve it? :)
Let us improve this post!