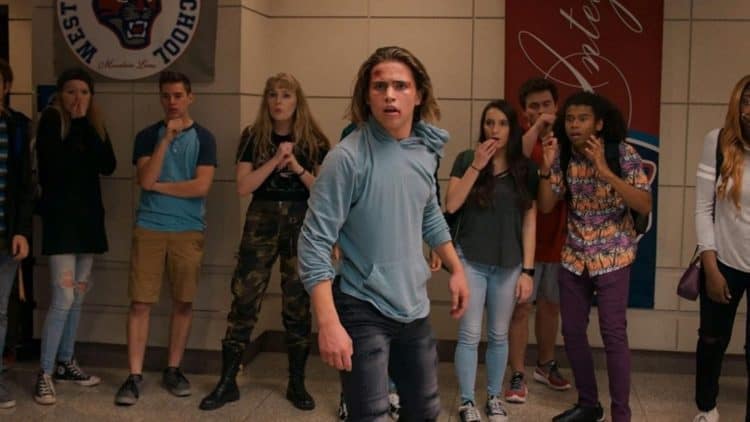 There are those times when the actors that take part in a movie or TV show are actually true to life for the most part, which is kind of interesting since it means we get to see at least a little part of who they really are. When it comes to Tanner Buchanan, who plays Robby Keene in Cobra Kai, he's pretty much a loner in real life as well as on the show, but thankfully he's not a troublemaker like his on-screen counterpart. It kind of fits though that Robby would be kind of a troubled kid since having Johnny as a father kind of begs the question as to whether Robby was ever bound to be well-adjusted. That might not sound fair initially, but from what we've seen of Johnny in the first two seasons it's reasonable to think that he had a lot of growing up to do, but it came kind of late since the moment Kreese stepped into the picture it was bound to happen that Robby would find roughly the same outlet for his pain and anger that Johnny did when he was younger. But off the set, Tanner is quite simply a loner for the most part. He's friendly with everyone and enjoys their company now and again apparently, and he's pals with Mary Mouser, who plays Samantha LaRusso, but apart from that, he tends to stay home, practice his lines and just chill. One might want to say that he's an introvert, but if he is there's nothing wrong with it since everyone has their thing.
Some folks are simply more comfortable heading home to chill after work, while others want to go out and unwind in other ways. The cast of Cobra Kai definitely earns their paycheck and their downtime since the show has been absolutely great over the past three seasons, as it went from a possibly one-note show to something that has spread to the next generation while being forced to deal with the sins of the past generations. Anyone who didn't see the buildup of the Miyagi-Do students eventually clashing with the Cobra Kai's doesn't remember the original story that well since Daniel and the Cobra Kai's of his day never got along, not even when Johnny was gone and Mike Barnes was brought in to take his place. It was definitely tragic to see Robby taken in after the accident that happened with Miguel, but the fact that he ran wasn't exactly surprising, but it was unfortunately realistic since many kids in his position would probably do the same thing rather than head to a juvenile detention center. But Robby's slip and eventual slide towards Cobra Kai was a bit hard to watch since it was kind of inevitable. Whatever happened between Robby and Sam wasn't bound to last unfortunately since Miguel and Sam still had feelings for each other, but we won't get into the teenage romance at this moment since that's a little too much drama to deal with in one article.
Getting back to the point, being a loner isn't the worst thing in the world since it's often done for a number of reasons, some of which many people won't admit but are kind of obvious. Being a loner isn't something that everyone can do, since the fact is that people are social animals and do need companionship now and again, but with loners, this is usually pretty conditional. It's not so much that a loner wants to be on their own all the time, but it's definitely easier for a lot of loners to function when there's a certain amount of space between them and those that they care about. Being a loner doesn't mean that one hates people, it simply means that a person likes having their personal space a little more often than the average person. Even a loner will seek out company now and then when things get a little too quiet, but otherwise, being alone with their thoughts isn't something that a loner fears or shies away from. Having been a loner for a long time, it's very easy to understand how the world can feel a little too tight when there are a lot of people around. In those moments when one is alone and has an entire space to themselves, it's easier to breathe at times and to just unwind and let whatever tension one might be feeling loosen and flow. Tanner has shown that he's capable of being around people and he's been out with his costars more than once it sounds like, but he prefers his own company or to simply be at home relaxing when the workday is done. That's something that many people can relate to since despite being social animals, there are times when human beings just need a bit of alone time to relax.
Tell us what's wrong with this post? How could we improve it? :)
Let us improve this post!