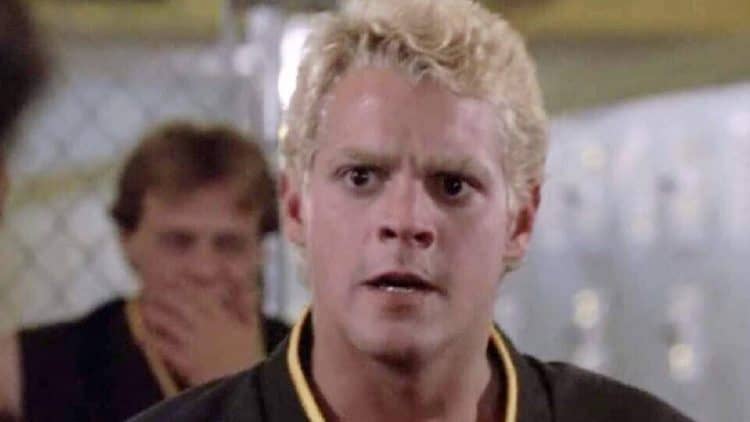 So, by now we've managed to see quite a few individuals from the original Karate Kid movies, but apparently, we're short one original Cobra Kai member, since Dutch didn't manage to make his way to the reunion in season 2 when Johnny and his old buddies decided to hit the road for a camping trip. At the time the explanation was that Dutch was in prison for some reason, but in reality, Chad McQueen, the actor that played him, simply couldn't spare the time. It wasn't a snub to be certain, but simply an admission that his life was simply too busy to take any time for filming. The story created for Dutch was convincing enough for a lot of people, but obviously it's been questioned as to why the actor couldn't be brought back when the rest of Johnny's Cadre was enlisted for the short outing that was devised in the second season. Even Rob Garrison, who played the terminally-ill Tommy, made the trip out, but sadly in the show, he passed away the day after their big fight and campout. It was only a matter of months after the show that Garrison passed away in real life as well, as he'd been fighting cancer for a while. The fact that he made it out was impressive and fully appreciated by the fans since it was interesting to see the old Cobra Kai's back in action.
The fact is that McQueen gave up acting quite a while ago and entered the world of race car driving, a passion his father, Steve McQueen, had enjoyed years before. He became a racer and was quite successful for a while until an accident that he was lucky to survive sidelined him and made it clear that he was better off running his own business than racing any longer. But even then, his free time has apparently been limited since then and any thoughts of coming back to offer himself up for a cameo or perhaps an episode haven't really been entertained yet. So far, bringing people back from the original movies has been a treat since we've seen Daniel's mother, John Kreese, a few of the other Cobra Kai's, Chosen, Kumiko, and even Yuna, the young girl who Daniel saved in the second movie during the typhoon that hit Okinawa. But there are some that have been a little more problematic than others since their reveal might be kind of difficult or too soon, or it might be tough simply getting the actors to agree to come on the show. Then there's also the thought that Dutch might be another wrinkle that Johnny couldn't deal with on his own since if anyone remembers, Dutch was even more intense than Johnny was, but he wasn't the star pupil. In a very big way, Dutch was like the mad dog of the Cobra Kai's that would fight pretty much anyone and didn't appear to care if someone got hurt. Maybe there's a good reason that his character is in prison, and maybe it's possible that Dutch hasn't really changed over the years, kind of like Johnny.
It's true that Dutch was a kid the last time he was seen in The Karate Kid, but seeing how little Johnny really changed over the years it's easy to think that Dutch might have been the same way and not learned that much as he grew to be an adult. Some people are creatures of habit that stick to what they know and don't expand their horizons as they grow up, finding it more comforting to simply stay as they are and within the scope that they recognize. But perhaps in season 4, we'll get to see Dutch for just a little bit, or not, it's hard to say since there's currently no concrete plan on what's to be done and there isn't even a broad idea of what's going to be happening other than a lead-in to the tournament that will decide the fate of Cobra Kai should Danny and Johnny's students manage to win. A lot of theories are already starting to take shape concerning the next season since there are still a lot of ideas that have yet to be realized. Terry Silver is one name that a lot of people want to see return, while Mike Barnes is another. Seeing Elisabeth Shue return for an appearance was great since it brought a lot of balance to the story and helped to kind of settle things between Johnny and Daniel, at least in part, and created another feeling of solidity as the past was used to help shape the present and possible future.
So if Dutch does return it would be a welcome sight, but at this time it's not for certain, no matter how badly people might want it to happen.
Tell us what's wrong with this post? How could we improve it? :)
Let us improve this post!