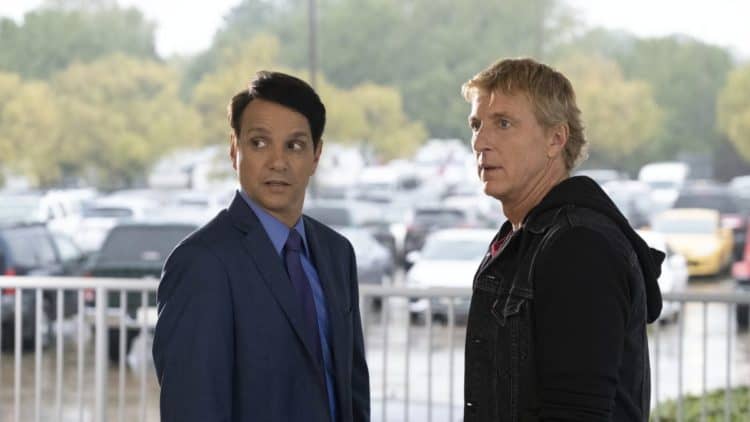 Season 4 of Cobra Kai can't come soon enough for a lot of people since season 3 has already been so epic that people are now chomping at the bit, at their fingernails, at anything that's put in front of their mouth to see a confirmation of who John Kreese was talking to near the end of the season, even if a lot of us are fully expecting to see the ponytail-wearing psycho known as Terry Silver emerge from the gold and black-lined shadows again, fully intent on keeping a promise to Kreese that he'd be there for him for anything. And yes, the flashbacks of Kreese that show how he became the psychotic, cruel, and over the top villain that he is today were greatly appreciated, and should easily reveal that Silver was there with Kreese and has kept his word throughout the years. This is the one big reveal that a lot of people are hoping to see since everything else is snapping into place without fail as Miyagi-Do and Eagle Fang are merging together, while Cobra Kai has gained a couple of individuals that are without a doubt ready to inflict the kind of damage that Kreese is wanting to see. The fact that we've been given a reason to feel at least a little sympathy for Kreese has been utterly destroyed by the fact that he took his pain and his trauma in a direction that continued to destroy instead of making an attempt to heal. It feels safe to say that if Kreese ever had a chance to change, it was passed up long ago, and since then he's been on a course of destruction without any way back.
The battle lines have been drawn and unfortunately, a couple of losses have been felt since Robby has taken on Kreese's attitude of striking hard and without mercy, while Tori is set on her course to destroy Samantha LaRusso, who some even think is a bit guilty of being a little too aggressive for her own good. That might be true, but at the same time, defending herself from a young woman that would gladly put her back in the hospital is a great motivator for Samantha to stop running and take care of business. The image of Demitri's arm being snapped by his former best friend was kind of disturbing, but it's hard to feel too sorry for Demitri since he's found an unexpected crush at school, he's improved in his skills, and his confidence has taken a serious boost throughout the season. The icing on that particular cake came when Hawk had a chance to break Demitri's arm again and finally realized that Cobra Kai was something he no longer wanted a part of, which then culminated in Hawk turning on the Cobra Kai's and apologizing to his buddy for everything. It's a bit of a quick turnaround in the middle of a fight, but it was definitely needed since with Hawk on their side the Miyagi-Do and Eagle Fang groups finally started taking the fight back to the enemy.
Season 4 is shaping up to be like the first movie, as the All Valley tournament is going to be used to decide things, but there's definitely a familiar issue to deal with, since Kreese hasn't said anything about keeping his students away from Johnny and Daniel's students, and Tori has made it pretty clear that Hawk and Miguel, as well as Samantha, will need to watch their backs. On top of that, the community has made it pretty clear how they feel about karate and the continuing dilemma that's been created since Cobra Kai reopened. Shutting down the tournament would have been a huge statement as to how people felt about karate, and the PC-infused feeling that came with this decision was enough to make a person grind their teeth since it brings to mind the image of wrapping kids in bubble wrap and hugging them to make the bad feelings go away, which was pretty close when it came to the new high school policy in season 3 following the insane brawl that put Miguel into a coma. But the whole idea of unity is what made season 3 so great, and despite any ribbing and poking that Johnny and Daniel will likely throw at each other in season 4, it's pretty easy to think that they'll continue to work together against a common enemy, especially since that enemy is calling for backup, and could possibly bolster his ranks with the disenfranchised and undeniably violent students that want a chance to hurt someone and get away with it.
There's currently no date set for season 4, but it does sound as though ideas are being floated around the writer's room, so it's bound to be a little while until we get any concrete details.