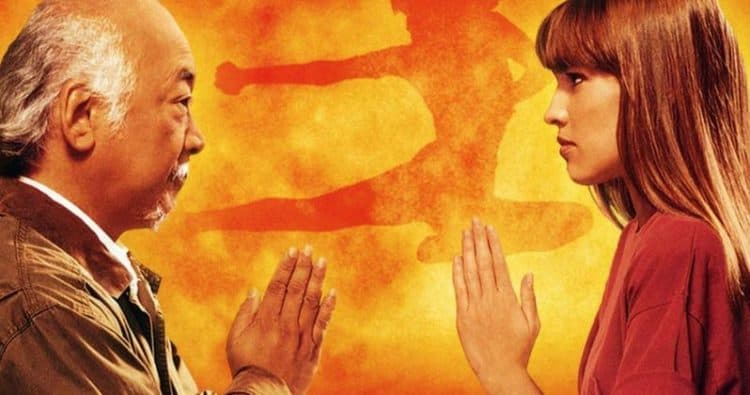 It's hard to say that it's likely that Hilary Swank's character probably won't show up on Cobra Kai at any point, and it'd be pleasing to see this idea disproved. But when one really looks at it, her character is a different part of Miyagi's life, and on top of that, if she kept up with her training it's likely that she might overshadow both Daniel and Johnny since she'd already been trained when Mr. Miyagi encountered her. Plus, apart from Mr. Miyagi, there's no real connection between her and Daniel or anyone else that has ever been firmly established. Of course, given that a writer could put her into the story using whatever plot device was necessary, it's likely that we could be arguing against this idea when it's already been decided that she might be showing up. After all, people are pulling for a couple of other characters to make their return and it'd be great to see as many as possible. If Mike Barnes from The Karate Kid III shows up then there's really no reason that Julie shouldn't be able to make her way back to the story, apart from the fact that the immutable fact is that the story is revolving around Johnny Lawrence and Daniel LaRusso, where it all started. Julie was kind of an afterthought, an adventure that involved Mr. Miyagi after Daniel had moved on with his life and gained the confidence he needed to push forward.
Again, it's hard to say that Swank might not be making her way back, but apparently, the writers have been talking about it, so the idea is in the mix. Even if she doesn't make it into season 3 though it's fair to say that if there's a season 4 that she might be a deciding factor that can step in and help out if Cobra Kai is still an issue at that point. At this time it does feel as though uprooting Kreese's Cobra Kai is going to take a concentrated effort, and without Mr. Miyagi there to even things out, it does feel like an uphill battle no matter that Johnny and Daniel are now grown. If Terry Silver is brought back one can assume that things will only get harder since he was a capable fighter as well, and someone that had money and the kind of connections that could make life miserable for anyone that stood in his way. There's also still a rumor of a possible connection between Terry Silver and Tory, but at the moment that feels kind of thin, to say the least. If a few of the theories that have been getting kicked around turn out to be true it's going to please a lot of fans of the original movies, but until then we're operating on the idea that the fallout of the second season is what's going to keep things moving forward, as Cobra Kai, operated by John Kreese, is going to become even more vicious and create even bigger problems than before.
Maybe we'll get to see the person that's bankrolling him and maybe not, but the point is the stuff has officially hit the fan and the story has gone off the rails at this point in the best way, as awkward as that sounds. The lines between good and bad have blurred so horribly at this point thanks to the feud between Daniel and Johnny that rooting for anyone became kind of hard to do at one point since Johnny's redemption arc took a serious twist when Kreese started taking control again and turned Johnny's students against him. One has to wonder what's going to happen when Miguel wakes up and starts to reconnect with Johnny again, as the Cobra Kai might do their best to convince Miguel that Johnny was responsible for his condition. All in all, there's a lot going on with the next season of Cobra Kai, so thinking that Julie might have a prominent part doesn't really factor in. There has been talk of her getting a cameo, but if that's the extent of it then it might be for the best, even though saying that is kind of like kicking myself in the nethers since seeing Julie coming in to fight against Kreese and Cobra Kai would be kind of nice. The only downside of the fact that she didn't have anything to do with Cobra Kai, and would be an outsider to the main story.
Those trying to justify putting her into the story in a full and concentrated effort are wishing for a lot since Julie's story was separate to be fair, and didn't really line up with Johnny and Daniel's. It has nothing to do with excluding her, as both stories follow very different narratives, and while it's possible that they might be written together in a way that makes sense, it feels better that they be left alone.
Tell us what's wrong with this post? How could we improve it? :)
Let us improve this post!