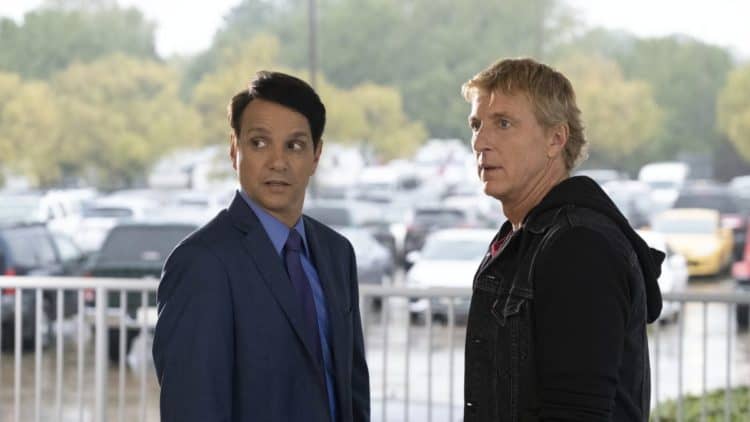 You just finished Season 3 of Cobra Kai, and you are looking for new series to binge-watch as we wait for Season 4 to be released. Few shows can match Cobra Kai's unique combination of martial arts action, comedy, and drama. Jon Hurwitz, the show's co-creator, revealed on his Twitter page that Season 4 is likely to premiere a year after Season 3. With all that time in between, here are ten similar action-packed series that you can binge on:
Wu Assassin
If you are looking for action and thrill like we got in Cobra Kai, this Netflix Original series is your best pick. Kai Jin, a young chef in Chinatown, San Francisco, has a supernatural encounter with a mystical spirit that appoints him the next Wu Assassin. He must now use his enhanced martial arts skills to recover the Wu Xing from five criminals who planned on using its powers to destroy the world. At some point, Jin even has to face off his father. It is not hard to get deeply engrossed in all the action and supernatural powers within the first episode.
GLOW
GLOW is the perfect comedy-drama series to watch next as it gives the same retro feeling we loved in Cobra Kai. From the creators of Orange Is the New Black, GLOW takes inspiration from the 80s real-life story 'Gorgeous Ladies of Wrestling.' The drama is set in 1985 and features actress Ruth Wilder (Alison Brie), who auditions for a professional wrestling promotion called GLOW. She constantly clashes with Sam, the show's director, due to his cynicism and unconventional approach to the work. GLOW places us in the era remembered for its iconic music, funky style, and lots of hairsprays. The series follows the cast's lives while exploring and debunking the stereotypes surrounding women, particularly at this period.
The Legend of Bruce Lee
The Legend of Bruce Lee is a recounting of the remarkable career of martial arts star Bruce Lee. Like Miguel in Cobra Kai, young Bruce decides to get into martial arts to stand up to bullies in his high school. Under the tutelage of Master Ye (Cheng-Hui Yu)and his British foe turned friend, Blair (Ted Duran), Bruce (Danny Chan) becomes a karate expert. We follow his life story from Hong Kong to Seattle as he grows from a troubled teenager to a Kung Fu legend. The series is a poignant tale of friendship, crime, and of course, Kung Fu. Thankfully there's an entire two seasons on Netflix to binge-watch over the weekend.
Into the Bad Lands
Into the Badlands is like no other show on Netflix. Picture a series set in a post-apocalypse world. Seven ruling barons make their wealth from agriculture, each growing different crops. Quinn (Martin Csokas), for instance, gets his vast wealth from growing opium. The barons are, at the same time, martial arts masters. If you liked Cobra Kai, then you will love this compelling adventure series with blood-stopping action.
Kingdom
Unlike Cobra Kai, Kingdom focuses on mixed martial arts rather than basic karate. Alvey Kulina (Frank Grillo) is a retired fighter who runs an MMA training gym. Like Johnny Lawrence, Alvey must overcome his struggles to lead his students to success. This drama series is filled with plenty of MMA action to engage viewers. It is also worth mentioning that Nick Jonas plays one of Alvey's sons in the series.
Marvel's Agents of S.H.I.E.L.D.
Agent Coulson returns after his presumed death to bring together a team of highly skilled agents. The group's primary focus is unclassified cases, the strange and unknown. There's a combat and espionage expert, two scientists, a pilot, and a martial artist on the team. There are numerous fight scenes in this show we are sure Cobra Kai fans would love.
The Umbrella Academy
Netflix hit series; The Umbrella Academy is based on a series of novels by Gerard Way. In 1989, there are forty-three babies born on the same day to different women. What's unusual about this is that none of the women was pregnant the day before. Billionaire, Sir Reginald Hargreaves, adopts seven of them and creates the Academy to prepare them to save the world. The family fractures when the children are in their teens, and the team gets disbanded. Once Hargreaves passes away, the surviving members reunite to solve a mystery around his death. They must work their different abilities and personalities, as well as survive the imminent global apocalypse.
Teenage Bounty Hunter
Jenji Kohan, the producer from Orange is the New Black, is also producing this comedy-drama series. Right from the first episode, Teenage Bounty Hunter will have you cracking up. Teenage twins Blair (Anjelica Bette) and Sterling (Maddie Phillips) accidentally score a job catching fugitives for cash. They balance their adventures with basic teenage life like school and dating. Although only one season is available on Netflix, no true Cobra Kai fan can turn away from this series.
Outer Banks
Outer Banks is a Netflix Teen Drama series about a group of friends on the barrier islands of North Carolina. John B (Chase Stokes) puts his friends up for a treasure hunt linked to his father's disappearance. The treasure in question is worth $400 million. The three-season series is a bit more intense than Cobra Kai. There are the usual love triangles and friendship drama common among teens, but there's also fighting, guns, drug possession, and murder.
On My Block
Not unlike Cobra Kai, On My Block is endlessly spellbinding. The young adult comedy follows a group of nerdy friends struggling to navigate high school. A balance of crazy youth discoveries amidst the harsh realities of life. You won't just enjoy this show; you'll be an extremely passionate fan.
Tell us what's wrong with this post? How could we improve it? :)
Let us improve this post!