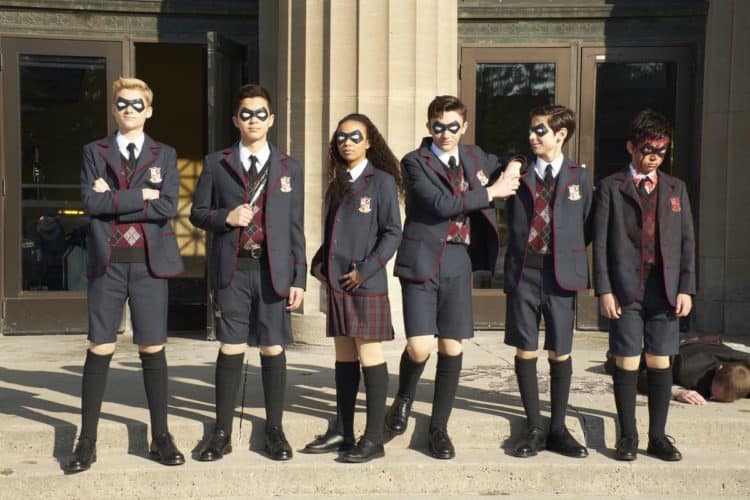 Throughout the history of superheroes and the many teams that they've been thrust into it's been made clear that making heroes out of kids is never the best idea since despite being easy to manipulate at times and also to teach and guide, they're not always the most stable when it comes to their emotions and their ability to comprehend the world around them. Of course this doesn't stop an eccentric millionaire from taking advantage of a freak occurrence when 43 women around the world give birth suddenly without showing any signs of being pregnant in the first place. When the kids are brought together they're taught to how act, think, and work as a team, but as they grow older their paths diverge and they begin to fall apart thanks to the many difference that divide them. So far news about the show, as relayed by authors such as Owen S. Good of Polygon, is that it will be coming back for a second season, which many fans can definitely appreciate. Until then however there's plenty of time to catch up and see what you might have missed.
Here are just a few of the cast members that you might have seen by now.
Ellen Page
Ellen is a person that you should know quite well since she's been around for a while and been one of the most recognizable faces in Hollywood for some time now. From Juno to Kitty in the X-Men she's been on screen enough to be considered as one of the elite and a woman that has earned her spot in the annals of history. Putting her in this show is just one more mark of favor that a lot of fans might have been looking.
Ashley Madekwe
Ashley has been tearing it up throughout the last several years with shows like Bedlam and Salem so Umbrella Academy is just one more successful notch in her career as she keeps moving ahead on a track that's seen her do great things. While it's true that she's had to try and change up her roles just enough to make them her own she's done so in a way that's been nothing less than impressive.
David Castaneda
David has been in show business for a while but it doesn't seem as though he's taken it all that seriously in previous years. Whatever woke him up has done wonders since that point he's become something of a rising star and is at this point someone that you might see as a true talent rather than just someone that pops up every now and again.
Cameron Britton
Cameron Britton really hasn't been around as long as some of the other people on this list but he's still managed to accomplish quite a bit in his time. If you've seen Mindhunter then you likely had the chance to witness his transformation into Ed Kemper, who was nothing short of creepy and kind of disturbing in a way that made a lot of people look up the actual history behind the show.
John Magaro
John is likely a face you've seen more than once since he does have quite a range to him despite the fact that a lot of his roles sound like the same person if you really listen closely. That being said his work in productions such as The Big Short and Orange Is The New Black have made him into a certified star since he's managed to create characters that you either liked or liked to shove to the side until they became important again.
Mary J. Blige
If you don't know who this woman is then it might be time to re-up on your entertainment knowledge since she's been simply outstanding when it comes to the music industry and has also managed to break into acting obviously and turn a lot of heads. So far Mary's acting career has been going pretty well and her ability to get people to tune in just because it's her on the screen is something that can be appreciated.
Aidan Gallagher
Aidan is another individual that's still fairly new to the business but has done a lot already since he's been a Nickelodeon talent for a while before coming to the Umbrella Academy. So far he's been one of the more endearing talents that's been seen, but given how much talent is being used by this show that still says a lot.
Tom Hopper
There's a few reasons why you might recognize Tom Hopper, but one is that the fact that he was on Game of Thrones for a short 4 episodes as the brother of Samwell Tarly, Dickon. Of course after Daenerys nearly obliterated the company that Jamie Lannister was commanding at the time Dickon didn't last all that long as he stood by his father and wouldn't take the knee.
Robert Sheehan
If you're wondering where you've seen Robert recently then you might want to remember the movie Mortal Engines. It didn't really raise a lot of eyebrows but it was fairly unique in design and did create some buzz. But it would seem that his time in Umbrella Academy is a little more recognized.
So far the cast for this show is nothing less than stellar as it involves a lot of very talented individuals.
Tell us what's wrong with this post? How could we improve it? :)
Let us improve this post!