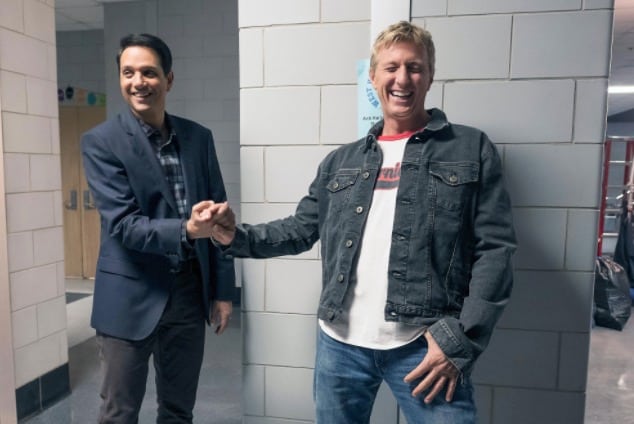 It's debatable if it would be awesome or not if Cobra Kai was just some elaborate hoax, but it would certainly put a lot of egg on the face of many people that are fully expecting to watch the highly anticipated series when it comes out. There are a few things to consider when thinking that this could be just a ruse, and one of them is the most obvious since it stands out like a glaring spotlight that shines on the entire trailer. After over thirty years of knowing each other Daniel and Johnny still don't like each other. How is that possible? It'd be like holding a grudge for no better reason than because you lost to someone at something that no one still living even thinks was the pinnacle of your life.
Seriously, can you recall the last sporting event you lost in high school? Chances are that some of us can but the idea that it shaped or somehow defined our lives thirty years into the future is the product of some seriously backwards thinking. There's also the fact that Johnny is the one that presented the trophy to Daniel in the original movie. He accepted that he'd been beat and managed to own up to it and present the trophy to his rival. Now that doesn't sound like something that would keep the intense hatred flowing after so long. But of course there's the resentment that seems to be boiling up in Johnny when it comes to how successful Daniel is and how he's not. But that seems more like an issue for someone that likes to blame others for his lack of success, not a person that managed to congratulate a fellow martial artist on his victory. It's almost like the show is re-writing history or at least taking on the look of something that picked the worst-case scenario and ran with it.
Keep in mind that Johnny did get choked out by his sensei right after the event was over. The jerk even trashed Johnny's trophy before assaulting him and his friends. From there it's really never known what happens to Johnny since by the second movie he's nowhere to be seen, and in the third movie he's just a memory. But now when Cobra Kai is back on the rise he's not exactly back to his old ways but he's taking up something that meant something in his life. Whether he's doing it for a good purpose or just to spite Daniel though isn't entirely known. All that really is known at this point is that he's reviving the Cobra Kai dojo and Daniel has a big problem with it. But why? It's not like Johnny's actively going after him in the trailers, and what harm could it do to instill some confidence in a bunch of kids that desperately need it? If the whole thing was a hoax it would be a very elaborate one by this point and would likely tick a lot of people off.
I'm not sure that 'awesome' is the word for it.
Tell us what's wrong with this post? How could we improve it? :)
Let us improve this post!