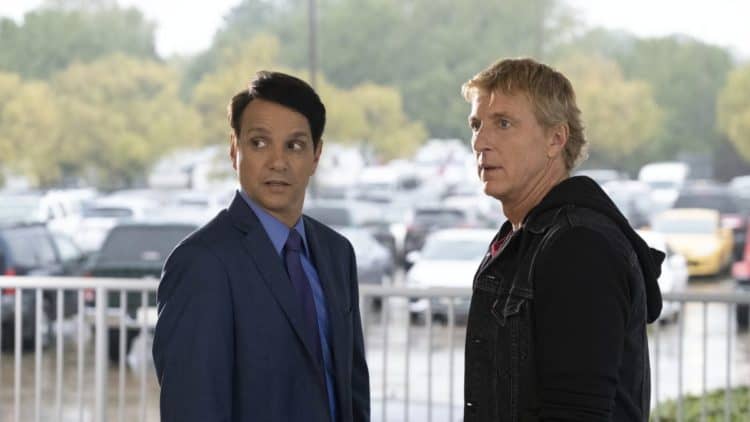 Let's get this straight right now, Cobra Kai has been GREAT. The show has been so on point that trying to criticize it at all means that a person must have nothing better to do in their life, but there are a few things that might be up for a change if everyone is being entirely honest. This is only because to a rational, thinking person, which we all like to think that we are, there are some things about the story that might make it even better if they would have happened. But then again, if the changes had been made it's likely that the story would have progressed in a very different manner and it could have gone so much worse at some point. The initial reaction to Cobra Kai was pretty positive, but as one might be open enough to think, there's always at least a little room for improvement here and there.
So with that in mind, let's talk about a few things that might have been done differently.
5. Samantha should have kept it friendly with Robby, but not romantic.
This was hard to get away from in the second season, but the fact is that Samantha and Robby were both in Miyagi-Do and had an attraction that kind of just came on. But Samantha still had feelings for Miguel, who kind of lost his way when he took Johnny's teachings to heart. It does feel to some folks as though Sam should have stayed close to Robby and tried to help him, but this love triangle became a huge problem in the second season, especially when Tory became involved since she's simply unbalanced, to begin with. That's a volatile mix that was bound to explode in a very messy way.
4. Johnny should have been allowed to kick Louie's butt.
It's kind of counterintuitive and would have been kind of a waste of time since it would have been a senseless beatdown, but it would have felt good at the moment and it might have created a redemption arc that played out sooner for Louie. But then again it might have brought Daniel and Johnny to blows even sooner and erased any of the possibility that they might have had to actually make a reasonable connection at one point. But hey, Louie instigated it quite a bit and kind of had it coming to him, especially since he couldn't match Johnny one on one and had to get outside help.
3. Amanda's approach to karate was a bit severe.
She was in full shutdown mode at one point when it came to karate, but it was easy to understand since her daughter ended up in the hospital and another kid ended up in a coma. It still feels as though she wasn't even interested in hearing what Daniel had to say if only to make a compromise that would have worked for both of them. She was simply ready and willing to tell him that karate was a thing of the past and a worthless endeavor, which made for even more tension since to be certain, she appeared ready to leave Daniel at one point rather than try to work with him to see what could be done.
2. Robby's smart enough to see the difference between Kreese and Daniel.
This is where it gets a little frustrating since Robby isn't a dumb kid and he knows the difference between being treated in a genuinely warm manner and being manipulated into something. The fact that his anger has taken over is pretty obvious since otherwise, it's kind of easy to think that he wouldn't even think about sticking with Kreese since the guy is a snake and it's kind of obvious. But the fact that he's standing there next to Kreese at the end of season 3 makes it obvious that he's just gone all-in when it comes to Cobra Kai, especially since even Hawk made the decision to switch sides, and he was about as hardcore as he could be.
1. Terry Silver should have been revealed at the end of season 3.
The same way that Kreese revealed himself at the end of season 1 is how Silver should have come back at the end of season 3, since now that the stakes have been set and it's evident that Kreese isn't going to let up, bringing Silver's chaotic energy into the mix would be absolutely perfect. But revealing him too soon would have kind of ruined the moment, which is why by season 4 it would be great to see him come back and mess things up as much as he knows how especially since he has another target to work with and kids to target in order to hurt both Daniel and Johnny.
To be certain, the show doesn't really need to change, but some folks are prone to giving ideas on how to reinvent the wheel, so to speak.