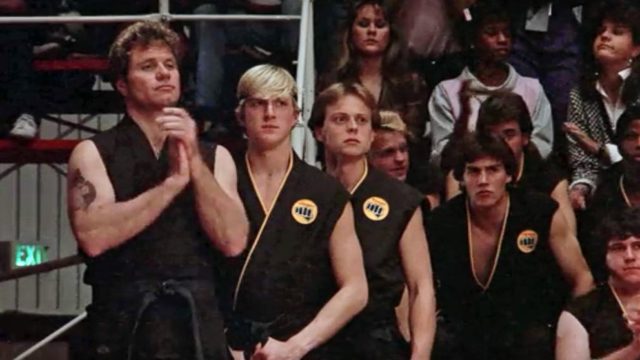 We saw a lot of Cobra Kai outfits in the Karate Kid didn't we? But to be honest we only ever saw a handful of them competing. It would be fair enough to say that in and out of the ring they gave Daniel Laruso an extremely hard time since he became a target more often than not. But Daniel isn't completely innocent after all, since not long after Mr. Miyagi and John Kreese set up their wager for the tournament, Daniel was using Kreese's order that he not be touched to his advantage. Put away the theory that Daniel was the bully, since in truth he was just weak underdog that started feeling a little too cocky. If the Cobra Kai had had their way he'd have been a regular at the local emergency room most likely.
So what happened to the members of the Cobra Kai that we did see?
Larry B. Scott as Jerry Robertson
He's better known for his role as Lamar Lattrelle on Revenge of the Nerds, but he was a Cobra Kai for a couple of scenes in the film. He was beaten by Bobby in the dojo and then by Daniel in the tournament. He kind of slipped in and out of the movie. These days Robertson is retired from acting.
Chad McQueen as Dutch
Dutch is perhaps the most disturbing of the Cobra Kai because he is notably the most violent. He loves to inflict pain and is always one of the first to openly confront Daniel when the moment arises. McQueen continued on with his acting until around 2010 when he opened up McQueen Racing LLC. The company helps to create high end motorcycles and works on various other operations.
Rob Garrison as Tommy
Tommy is the member of the gang that likes to cat-call Daniel the most and isn't quite as physical. When he hears Kreese telling Bobby to put Daniel out of commission however his attitude changes slightly. Rob is still a freelance actor and pays the bills by acting as a restaurant manager.
Ron Thomas as Bobby Brown
Bobby is perhaps the only Cobra Kai that shows more than an ounce of pity. After being ordered by Kreese to put Daniel out of commission Bobby can't help but to apologize profusely to Daniel. His reluctance to injure Daniel didn't win him any favors with Kreese later on in the parking lot scuffle either. Ron had kind of a spotty acting career after the Karate Kid II but made an appearance on Tosh.O in 2011. Not much is known of his career since then.
Willam Zabka as Johnny Lawrence
He was the guy you loved to hate. The dynamic between him and Daniel was shown as being simple and straightforward, but there were more moving parts in there than most people realized. Otherwise he might have gone slinking off after his (controversial) loss rather than demand to hand Daniel the trophy himself. Zabka had a hard time shaking the bad guy persona for a lot of years, but eventually he managed to outgrow it as he's been seen in several different venues as a guest star on TV shows or in commercials.
In the film the students of the Cobra Kai reportedly left John Kreese and his dojo for good. In real life, the Cobra Kai members have all been doing fairly well in their careers since then.
Save