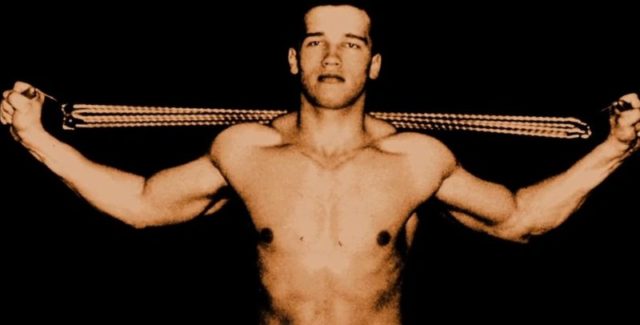 People might think they know everything there is to know about Arnold Schwarzenegger but there's always something else to learn. As a young man he wasn't quite the same person he is now, as he even admits to being something of a rebel in his community, bucking against the conformist traditions that his father was so keen on. That's no doubt what helped to make him who he is today and the reason why he's been seen as such a willful and determined individual. It's hard to make a person conform when they're so dead set against it.
Besides, not conforming is just another part of being human.
10. He started weight training at the age of 15.
He was already fit and active by the age of 14 but he was slim and not nearly as muscular as he would become after training for a while to become a bodybuilder.
9. He won his first Mr. Universe title at the age of 20.
That shows the amount of fight he has in him, at least part of it. He's been bound and determined to be someone great for a lot of his life, and has reached heights that his family likely would have never seen.
8. Arnold grew up in a strict Catholic family.
'Spare the rod and spoil the child' was not a popular saying in the culture that Arnold came from. He was punished regularly for just about anything that was seen as disrespectful.
7. His father favored his older brother over him.
His father was also suspicious as to whether Arnold was his child or not, and did not treat him nearly as well as he did his older brother.
6. His father wanted him to be a police officer.
Arnold's father is the one that took him to the movies ironically enough, as this is where Arnold got it into his head to be someone other than what his parents wanted him to be.
5. He went into competitive lifting when he was 17.
The dream of becoming like his favorite bodybuilders and actors was enough to get Arnold started on his path, and it took him further than he'd dreamed.
4. Arnold would break into a local gym to workout at night.
It would make him physically ill to miss a workout as he couldn't even look at himself in the mirror if he missed out.
3. The first movie he remembers seeing was a John Wayne movie.
Ever notice how the Duke was a big part of the earlier generations? He was definitely a humongous influence on a lot of people worldwide.
2. He didn't attend the funerals of his father or brother.
His brother died in a fatal car crash while his father died from a stroke. Arnold has given a few reasons over the years as to why he didn't make it for either funeral.
1. He served for one year in the Austrian army.
At one point he actually went AWOL so that he could compete in a bodybuilding competition and was sent to military prison for a week.
That's a level of dedication you don't see all that often.