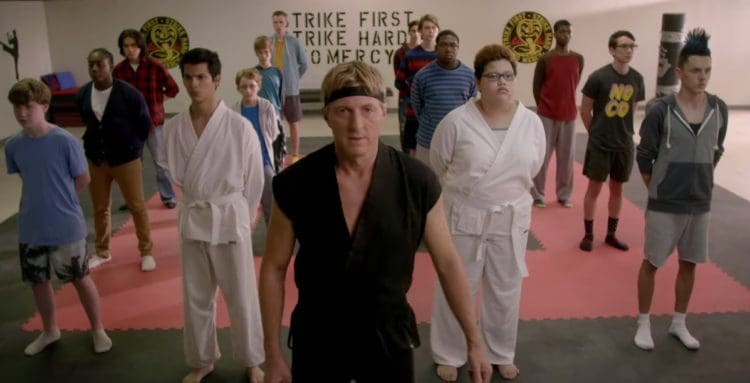 It's hard to think that anyone didn't know anything about Cobra Kai but then one does have to admit that not everyone gets into YouTube as much as the next person, and since Cobra Kai started up on YouTube Red it's fair to say that a lot of people that prefer Netflix might have missed out on the series up to this point. But since its inclusion to Netflix, it sounds as though the popular show has taken over in a big way, and the third season hasn't even come around yet, though it's being expected sometime in the next year since the first teaser trailer dropped not too long ago. So far the series has been nothing but great since it's pitted two of cinema's greatest enemies, Johnny Lawrence, and Daniel LaRusso, against each other once again, only this time as adults and with a great chance to muck things up since they now both have their own students and as anyone might have guessed, their rivalry has been adopted by those that have taken up their different styles. The whole concept of 'strike hard, strike first, no mercy' that Cobra Kai employs is a style of hard-hitting karate that a lot of people expect when it comes to self-defense, but Miyagi-Do, the style that Daniel has brought back to life, is far more docile in nature and yet just as ferocious when it comes to its use in a practical situation. The only problem is that within the series, the kids learning how to fight have taken on the old rivalry of their teachers and, using their own experiences in life, have made it into something that's become far more devastating than it might have ever been on its own.
The funny thing about this is that if anyone else was taking note, Johnny actually presented Daniel with the trophy at the end of the first movie, and he was saved from being choked out by his sensei when Mr. Miyagi decided to intervene on his behalf. Of course, this wasn't bound to make Johnny and Daniel best friends, but it was a nice touch to the movie that made it appear that Johnny had finally realized just how wrong Kreese really was in his methods. Seeing Johnny revisited decades later as a person that's gone nowhere in life and done nothing was kind of a flip that a lot of people might not have been ready for, especially since he was obviously a kid with the means to do what he wanted. Learning more about his background though really turned the narrative in a different direction since once upon a time Johnny was the kid that needed direction and a father figure that could help him fight back against the iniquities in his life. Unfortunately, that's all Kreese did was teach him to fight, he never taught him to be a fully-functioning human being, which was kind of obvious. When the world that Kreese had helped Johnny to build was shattered by one loss in a tournament it would appear that his life took a very twisting pathway that eventually led him to be a drunken handyman that had no prospects in life and had parted ways with his less than ideal stepfather.
Interestingly enough, Daniel became kind of a jerk in the first season since the moment that Johnny decided to teach Miguel and open his own school made a few things clear. The number one thing out of all of them was that somehow, Daniel hadn't moved on despite having a nice life, a good home, and a family that cared about him. The moment that he saw that Cobra Kai was coming back he was firmly against it and wasn't about to simply let Johnny get the dojo up and going again. What was working against Daniel however were Johnny's teachings, his skewed memory of the past, and the fact that thanks to his lessons, Cobra Kai became highly popular to the kids that felt picked on, left out, and ultimately bullied in every possible way. Miguel was the first, and after him, it became obvious that those that wanted to fight back were more likely to follow the tenets that Cobra Kai was built upon. The only problem was that after a while it became obvious that Johnny had changed in some way, as he recalled that Kreese had taught him less about life and more about fighting than was helpful. What's unfortunate was that by the end of season two, Johnny was too late to keep his students from falling under Kreese's sway, and he not only lost his dojo and his students, but he lost any chance at reclaiming happiness. Season 3 is going to be nothing short of great since it already shows that Daniel will hopefully be traveling back to Okinawa, and will possibly bring back another familiar face.