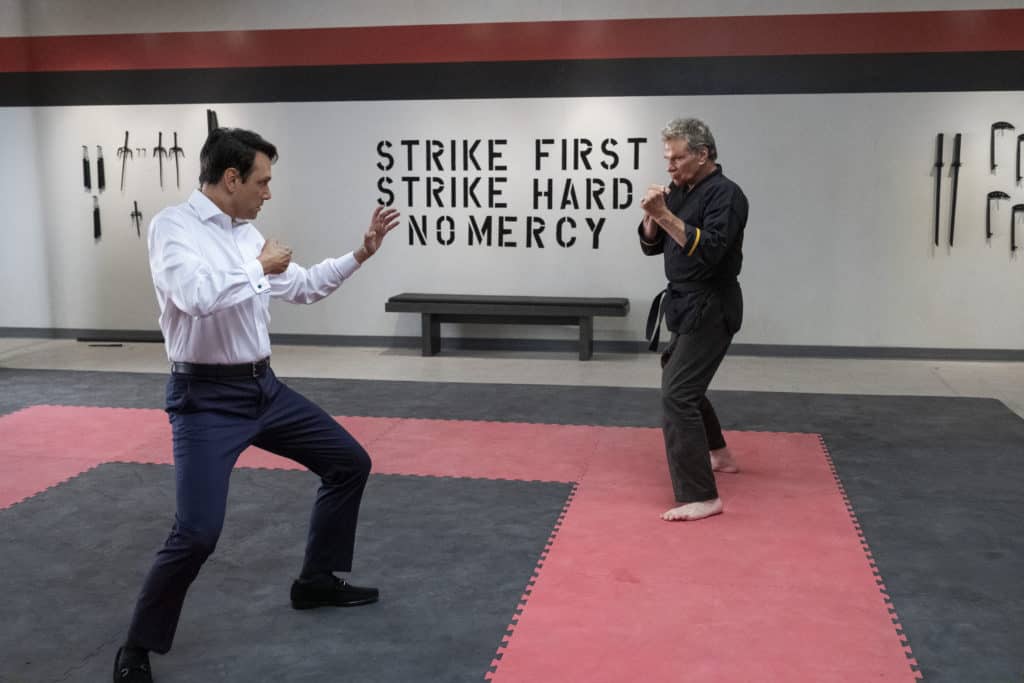 There are about to be spoilers, so if you haven't seen anything of Cobra Kai season 4 then you might want to go watch and then come back. But the latest season of one of the best shows to come around in a few years has stepped it up in a big and very unexpected way. Not only have Johnny and Daniel been at it again when it comes to their teaching methods, but bringing back Terry Silver was one of the worst mistakes that Kreese could have made, largely because Silver didn't want to come back in the first place, but when he did, he came back in a manner that was absolutely unhinged, and more than that, he took Cobra Kai to heart more than Kreese did. The ending of the season was a bit of a surprise, but the fact is that now Daniel has help, and if he and Johnny can coexist once again it would go a long way toward finally getting rid of Cobra Kai, or at least making peace with it. Here are five predictions for season 5 of Cobra Kai.
5. Kreese will end Cobra Kai for good.
Again, spoilers are coming, but since Terry set Kreese up to get hauled into jail, one can only assume that Kreese might make certain that Terry owes him a new debt, one that he'll end up collecting on in a big and decisive way. The only question is whether we'll see a showdown between Kreese and Silver, or if it will take a combined effort that will go toward the next point. But the feeling is that since Kreese took Cobra Kai away from Johnny, and now Silver took it away from Kreese, there's going to be a reckoning at one point that will end up either destroying Cobra Kai or will make it into a force that will evolve beyond Silver.
4. Kreese, Johnny, and Daniel will have to ally together to take down Silver.
This feels a little less likely, especially since Daniel now has Chozen at his side to help out. But it would be interesting to see a feeling that the enemy of my enemy is my friend, especially since Silver already spoke of recruiting others that could teach Cobra Kai. Maybe this means we'll get to see Mike Barnes back, but it's hard to say. That would certainly be another welcome face that the fans would love to see since he was another terror that brutalized Daniel for a while. It's simply amazing that Johnny was already so wrecked that he took no notice of this throughout the years, but considering how he ended up between the movies and the show, it's not hard to think he was going down in flames at an accelerated rate.
3. Daniel and Johnny will keep teaching martial arts.
Daniel already said as much since he mentioned while speaking at Mr. Miyagi's grave that he won't honor a bet with someone that has none. Apart from that, a loophole that might be used could be that they made the bet with Kreese, who's now incarcerated. It's kind of a weak loophole, but it's still one that might be worked with. Plus, it doesn't feel as though Silver would be the kind of guy that might hold to such an agreement since it wasn't signed and sealed, and therefore there's no record of it. Instead, he might use that as a means of teaching his students to go even harder on Daniel and Johnny's students.
2. Tory will start to doubt her place in Cobra Kai.
Given that she saw Terry speaking to the judge that oversaw her match with Samantha LaRusso, Tory is no doubt going to start losing confidence in Silver, especially since speaking to Sam's mother and finding that the woman actually cares enough to see how she's doing. Tory is still an aggressive young woman, but it feels as though she's starting to question her life, and whether or not she wants to be the type of person that enjoys hurting others for no better reason than to make them feel even an ounce of her pain. If she flips, that wouldn't be too much of a surprise.
1. Terry Silver will start terrorizing Daniel, Johnny, and their students.
This feels like a given since there's no quit in Silver unless his belief system collapses. And now that he's put Kreese in jail, and has assumed control of Cobra Kai, his main weakness is gone. There's no one to collar the dog any longer, meaning that there's no one to back him down. In fact, it's fair to say that there's no one that will be able to get Terry back to the peaceful existence that he had before Kreese came around. His girlfriend might try, but one has to wonder how much control she really has over him if any. Season 5 is going to take a while to get here, but it should be off the hook.
Tell us what's wrong with this post? How could we improve it? :)
Let us improve this post!