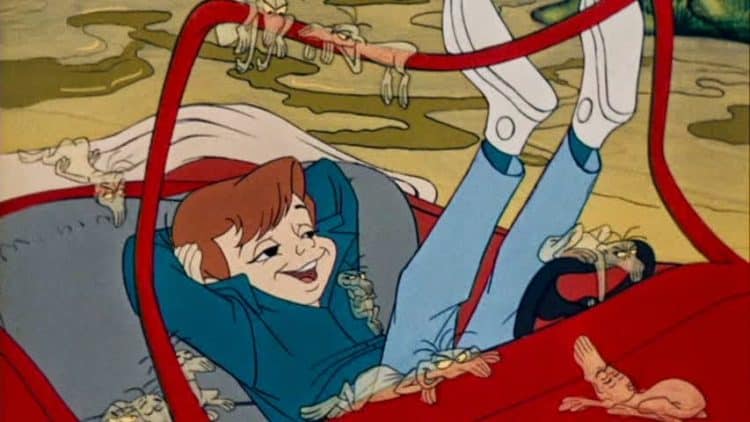 The Phantom Tollbooth was a film that was designed to teach as well as entertain. When Milo takes a trip through the tollbooth he finds himself transported to a place where anything seems possible and the most ridiculous ideas are sometimes the most tempting. In order to set this parallel world right however he has to rescue Rhyme and Reason so that Dictionopolis and Digitopolis can be fully restored and order can resume. As you might imagine his travels take him to many places, one of those being the Mountains of Ignorance, which are considered to be exceedingly dangerous. The entire trip is one that speaks to the ills, struggles, and triumphs of humanity and their continuing efforts to make sense of a world that sometimes seems poised to do anything but make sense. For kids in the 70's this was supposed to be one of the more fun and educational films around, but it didn't get a whole lot of play to be honest.
Sometimes it takes more than gimmicks to get the attention of the audience. But with that in mind, here are several things you might not have known about the film.
10. The film was released in 1970 but it was finished in 1968.
There were a lot of unspecified internal problems at MGM at the time that kind of halted the release of the film. It was released two years after it was finished in order to at least try to take advantage of better timing and a more accepting audience.
9. The fantasy novel was published in 1961.
A seven-year turnaround from novel to movie isn't all that long in some cases but it almost feels as though this one was pushed ahead of its time. Movies don't always tend to embrace the books they're based on, and this one might have benefited from a decade or more of staying on the shelf.
8. A lot of the story depends on clever wordplay.
How you use the English language really makes a difference since saying one thing could mean a completely different thing to someone else. In this film wordplay is used more as the rule in order to make people think than anything.
7. There were a lot of figures that appeared in the book and not in the film.
This seems pretty standard for a lot of films that are taken from a source novel, some things fit and others don't. But this could have been a part of the internal problems as omitting characters from a novel is necessary at times but can still cause conflict.
6. Despite not being a box office hit the film got a good review from critics.
It actually got a 0 percent on Rotten Tomatoes but was still considered to be a favorite movie of the people. The audience tends to decide what they think is popular either thanks to or in spite of the critics.
5. There's been a remake in the works for years and it seems to still be on track.
As of 2017 it was still in development and is looking as though it could come out eventually. It might be a pleasant nod to the past, but it will no doubt require some effort to make people remember it. The original movie didn't get hyped all that much to begin with and kind of faltered.
4. The author didn't care for the movie at all.
Some authors give over their novels to become films and are highly dissatisfied with what becomes of them. It does happen, but the director and the author usually have very different visions of what the story is all about and what course it should proceed along. This tends to create a very huge distraction unless the author simply gives up the rights, in which case they can disapprove all they want but can't do anything.
3. This was MGM's last attempt at animation mixed with live action.
They pulled out of such endeavors after this as it seemed to cause too many problems. Other companies took it up and have been doing just fine with as the technology has caught up and it's become a much more seamless transition between the two.
2. The author had no input on the film.
One has to wonder if the author would have made a different decision about giving up their rights to this film if they'd known what was going to become of it. But given that some authors simply need to get paid it's easy to think that the money was good enough to simply say "okay". Of course we'll never know at this point.
1. The director had a cameo in the film.
A lot of directors love to put themselves into their films as a clever way to be an even bigger part of it. For the most part it's a whimsical effort that plays along with the film.
Hopefully the remake will be coming out soon.