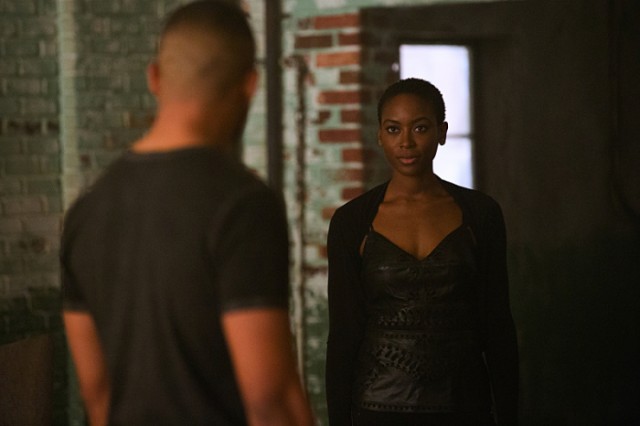 Unfortunately, this week's episode of The Originals continued the streak of an underwhelming third season. Just like on The Vampire Diaries, a slew of new faces are popping up, and it's almost too much to handle.
Take Lucien for example. He's the first vampire sired by any of the Mikaelsons, and of course, he's all Klaus. The flashbacks to 1002, when the Mikaelson siblings were masquerading as noble dignitaries, are enlightening, though. We see how Klaus and Elijah learn about their vampire abilities through trial and error. In fact, Lucien is turned into a vampire through pure accident. His heightened emotions make his rage outright monstrous. It was interesting to see Klaus as a more controlled and humble vampire before Lucien was turned, because, as he said, in many ways Lucien made him who he was. Klaus suddenly saw the bloody mess Lucien caused, and that must have triggered his own dark side.
Along with Lucien comes Tristan and Aurora, a brother and sister of the noble family that Lucien served. Through some story I'm sure we'll see next, Elijah sired Tristan. Coincidentally, he had the same identifying mark of punishment of slicing through a victim's cheeks that has been the running theme of the recent murders in New Orleans. Tristan just arrived back in town, but he had his loyal consort, Aya, there to do his dirty work. Lucien presumes this is Tristan's way of framing him and/or Klaus.
Honestly, all this talk of sire line wars sounds absurd. I'm more concerned by the prophecy that called for one friend, one foe, and one family member to take out each of the Mikaelsons. Is this supposed bad blood between the vampire lines really that serious? It is nice to see Klaus and Elijah working together again. Klaus sort of expects to be forgiven for every wrongdoing he's ever done, but Elijah won't be that easy to win over again. Deep down, I bet Elijah accepts that this is who is brother is, and it's who he'll always be. That doesn't mean he has to forgive or forget, but he is putting their differences aside to get to the bottom of their recent sires coming back to town.
Hayley and Jackson are taking their time to adjust to life in their human forms once again. Jackson really is perfect for her. He knows when she needs to blow off steam, and boy, did that boxing ring get steamy or what! Marcel built that ring in the old church, no less. If I didn't know any better, I'd predict that maybe they just made a little brother or sister for Hope. I know Hayley's a hybrid now, but Klaus' vampirism didn't stop him from impregnating Hayley so, technically, that could be a possibility.
Lastly , we had Cami and Vincent continuing their investigation alongside Detective Will Kinney. It was funny to see Lucien actually cooperate and go into the station with him. We've never seen the rational law and order side of all the violence on this show before. Cami and Vincent haven't had much else to do but speculate from the sidelines so far. At least Klaus acknowledges that Cami is his therapist and not just a friend who enjoys their "little talks"!
What did you think of this week's episode of The Originals?
[Photo via The CW]
Tell us what's wrong with this post? How could we improve it? :)
Let us improve this post!