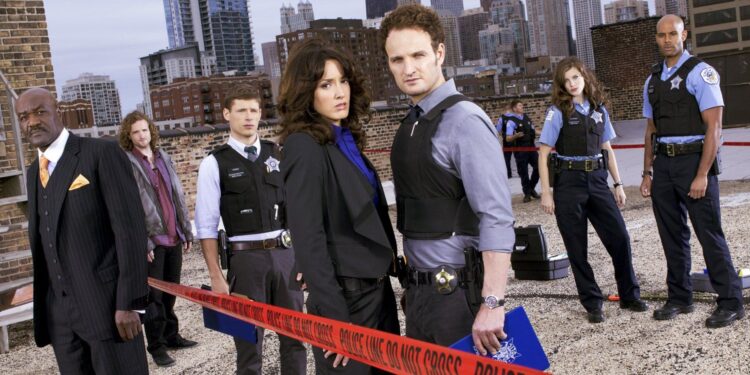 The Chicago Code was a short-lived crime drama that aired on Fox in 2011. It was created by legendary screenwriter Shawn Ryan, who worked on shows like The Shield, Last Resort, Timeless, SWAT, The Unit, Lie To Me, Terriers, and Mad Dogs. Unfortunately, The Chicago Code didn't emerge victorious in the ratings war, barely surviving a season. In an interview with Pop Culture Principle, Shawn Ryan shared his insights on the cancellation of the series, saying: "I can't say why it was canceled. I really liked the show. I thought FOX gave their best efforts to launch the show and put it in a position to succeed. We semi-succeeded, but we weren't undeniably successful and when you aren't undeniably successful, you are at the mercy of the executives and bean counters. I never got an answer to why the show was canceled. I certainly never got any complaints from a creative standpoint. That really was a passion project for me. To do a show that was very specific to Chicago and to sort of embrace the ethos and the way of life of those people and bring that to screen, I thought was something really exciting and jazzed me to come to work every day." Despite its cancellation, The Chicago Code still managed to feature an impressive list of cast members, many of whom have appeared in very popular shows since their time in the series. Here's an update on what the cast members of The Chicago Code have been up to since their time on the show.
Jason Clarke
Jason Clarke played Jarek Wysocki in the series, a homicide detective and the primary protagonist of The Chicago Code. Clarke has since appeared in notable film and TV projects since The Chicago Code. On the big screen, he's played roles in White House Down, The Better Angels, Dawn of the Planet of the Apes, Everest, and Pet Sematary. The actor is set to appear in an upcoming biographical film titled Oppenheimer, which will drop in 2023. He's also going to make an appearance in the movie Black Site, which is currently in post-production. On TV, he currently stars in the sports drama TV series Winning Time: The Rise of the Lakers Dynasty.
Jennifer Beals
Actress Jennifer Beals starred in The Chicago Code as Teresa Colvin, Chicago's first female police superintendent. After the series ended, she began appearing in 2013 in the hit series The Mob Doctor in a recurring role. In the same year, she snagged a lead role in Lauren. She would eventually earn herself lead roles in subsequent TV shows, including Taken, Swamp Ting, and The L Word: Generation Q, where she presently portrays the character of Bette Porter. In an interview with Collider, Beals explained why she took on the role in the show, saying: "I found it so interesting to play somebody who was walking into uncharted territory, in a way. She's really creating the template for this job – being the first female superintendent. I just thought it would be very interesting to take that walk into what kind of a leader she becomes in that position, and how she balances her personal life with the demands of that kind of job. I thought the relationship to Jarek (Jason Clarke) was also interesting. It's a very interesting line that we walk between intimacy and respect, and being able to tell the truth to one another, and goading one another, and making each other laugh. Of course, for me, working with (show creator/executive producer/writer) Shawn Ryan was a real lure because I really admire his writing and I admire the way that he works with his team of writers as well."
Matt Lauria
Matt Lauria played Caleb Evers in The Chicago Code. He made his TV debut years prior in the hit NBC sitcom 30 Rock. After starring in the canceled police procedural series, Lauria went on to work in Parenthood, a family comedy show where he appeared for 25 episodes as a recurring character, He then starred in 2014's Kingdom, snagging the show's lead role. He would perform in shows like Traitors, Into the Dark, Dickinson, Tell Me A Story, Little Birds, and CSI: Vegas.
Devin Kelley
Devin Kelley played the character of Vonda Wysocki in The Chicago Code. Kelley hasn't been very active after The Chicago Code, only appearing in a few shows since the series' cancellation. He's snagged recurring roles in Covert Affairs and Resurrection and starred in another short-lived series titled Frequency. Currently, he works in the show 9-1-1, playing Shannon Diaz.
Todd Williams
Todd Williams portrayed Isaac Joiner in The Chicago Code. After his stint in the show, he appeared in The Vampire Diaries, Switched at Birth, Teen Wolf, San Andreas, Criminal Minds, Good Behavior, 9-1-1, and All Rise, for which he's appeared for 9 episodes. In 2021, he had a recurring role in the show Panic. He also lent his voice in the 2020 action game Spider-Man: Miles Morales.
Billy Lush
Billy Lush played Liam Hennessey in the series The Chicago Code. A veteran of serious drama and crime action thrillers, he has appeared in Straw Dogs, Awake, CSI: NY, Vegas, Low Winter Sun, NCIS, Ray Donovan, and Gone Are the Days. He's also lent his voice to video game projects like Dishonored and Hitman: Absolution.
Delroy Lindo
Acting legend Delroy Lindo also starred in The Chicago Code as Ronin Gibbons, a Chicago alderman. A multi-award-winning actor, Lindo is most popularly known for his role in the series The Good Fight, portraying the character of Adrian Boseman. After The Chicago Code, he began appearing in shows like Believe and Blood & Oil. On the big screen, he appeared in The Big Bang, Cymbeline, Do You Believe?, Point Break, Battlecreek, Malicious, Da 5 Bloods, and most recently, The Harder They Fall. According to Entertainment Weekly, Lindo is in talks to join Mahershala Ali in Blade, Marvel's latest offering. "It remains to be seen who Lindo might be playing, but this marks the first big casting news for Marvel's new take on Blade. Bassam Tariq (Mogul Mowgli) is directing the film, with Stacy Osei-Kuffour (HBO's Watchmen) writing," reported the publication.
Mahershala Ali