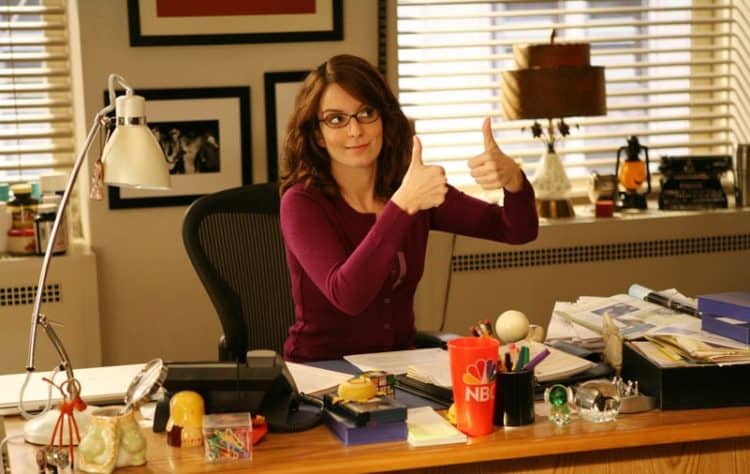 Everybody thought Tina Fey was funny, but no one really took her seriously until she created and starred in her own sitcom, 30 Rock. The show was based on Tina Fey's personal experiences as the head writer of Saturday Night Live. The title is a reference to the building where NBC is headquartered and SNL is aired, 30 Rockefeller Plaza in New York. 30 Rock features the life of Liz Lemon, played by Tina Fey, a head writer for a low-rating comedy sketch show called TGS with Tracy Morgan. Alongside her, Alec Baldwin, Jane Krakowski, Tracy Morgan, Jack McBrayer, and many others play supporting roles. Tina Fey solidified her status in show business as one of the funniest women in Hollywood, thanks to 30 Rock. The show was also a sort of revival for the career of Alec Baldwin. Tracy Morgan and Jane Krakowski, all veteran entertainers prior to 30 Rock, also saw a resurgence in their careers during 30 Rock's time on TV. The sitcom was such a hit that The Guardian declared it the best show on TV in 2008, writing, "30 Rock goes for broad laughs as well as employing a wry, East Coast kind of humour." 30 Rock made millions of fans happy, and it also made a few entertainers very wealthy. Here are the three richest cast members of 30 Rock.
Alec Baldwin ($60 million)
Alec Baldwin was already a superstar prior to joining 30 Rock, so it's hardly a surprise that he ranks third among the richest cast members of the sitcom. Baldwin played Jack Donaghy, a ruthless, unabashedly capitalist TV higher-up who often interferes with the affairs of Tina Fey's show. Before his work on 30 Rock, he appeared in a few episodes of Will & Grace and Friends. He also most notably played characters in films like The Departed, Along Came Polly, and perhaps his most infamous role as Blake in Glengarry Glen Ross. After 30 Rock, Alec Baldwin appeared in Rules Don't Apply and Boss Baby. He also frequently appeared as Donald Trump in a few episodes of Saturday Night Live. The actor was set to star in an upcoming Western titled Rust, but the entire thing was canceled when an accidental discharge of a prop gun killed cinematographer Halyna Hutchins on set. Baldwin has a net worth of $60 million, according to Celebrity Net Worth. According to Dirt, Baldwin and his wife, Hilaria, own multiple properties across the East Coast. "When the Baldwins do decide to leave Vermont, they could easily retreat to their 8-plus-acre spread in the sleepy Amagansett area of the Hamptons, or they could return to Manhattan's Greenwich Village, where the couple owns a huge penthouse composed of four contiguous units, including a 4,100-square-foot penthouse, at the low-key but high-toned Devonshire House in Greenwich Village."
Tracy Morgan ($70 million)
&list=PLyPlS1GDrsFZf8EvPa0CDz2YdYabC0Pc3
Tracy Morgan played the star of TGS, Tracy Jordan, in 30 Rock. Often unpredictable, the show's plots often revolve around Tracy Jordan's antics — or rather, how they can prevent his antics from happening. In an interview with Entertainment Weekly, Morgan described 30 Rock as the show that "rescued" him. "Being on that show kept me busy. I was sober then. I was able to do Tracy Jordan without having to have a drink. Tina Fey saw me partying at the after-parties of Saturday Night Live, so she [drew from] that. I didn't have to be in the picture — I could paint the picture. I got crazy without actually having to drink. And that saved me." Morgan's first regular appearance on TV was in Lawrence, a sitcom that starred Martin Lawrence. Later on, he starred in his own TV show, the Tracy Morgan Show, which ran for 16 episodes. While starring in 30 Rock, Morgan also hosted a prank show titled Scare Tactics. After starring in Tina Fey's sitcom, Morgan appeared in projects like Fist Fight, What Men Want, and Coming 2 America. He currently stars in the Jordan Peele-created sitcom The Last O.G. In 2014, a year after the final season of 30 Rock, Tracy Morgan was involved in a car accident that caused him to suffer multiple serious physical injuries. His friend and mentor, James Mcnair, died in the crash. Morgan sued Walmart, whose truck was involved in the car, and rumor has it that the suit was settled for $90 million, something that Morgan's lawyer has denied. Tracy Morgan's net worth, according to Celebrity Net Worth, is $70 million. He owned a $2.2 million house in New Jersey, which he sold in 2019. In 2015, he purchased a staggering $13 million, 22-room mansion in New Jersey.
Tina Fey ($75 million)
One of the most sought-after comedians in Hollywood, Tina Fey has a reported net worth of $75 million, according to Celebrity Net Worth. Prior to creating 30 Rock, Tina Fey was a featured cast member and writer for SNL. Tina described her time in the sketch comedy show as follows, according to NPR: "My first week, I completely froze," she says. "I couldn't think of anything. It was just too fast a gear shift. … So I had some pieces that I had written trying to get the job, and I ended up turning them in. And the next week, I think I was able to write something and turn it in. And the week after that maybe, I wrote something that made its way to the dress rehearsal." Even after her time in the sketch comedy show, Fey would return for future episodes, appearing as impersonations of real-life figures. After 30 Rock, Tina Fey created, along with former 30 Rock showrunner Robert Carlock, Unbreakable Kimmy Schmidt, a Netflix TV show about a cult survivor who tries to make it in New York City after spending 15 years of her life in a doomsday bunker. She also executive-produced Great News, a sitcom in which she also appeared in a recurring role. The show was canceled for two seasons. Tina Fey has also appeared in movies like Muppets Most Wanted, Sisters, and Wine Country. She also lent her voice to Soul and 22 vs. Earth. Most recently, she appeared in a recurring role in the hit Hulu series Only Murders in the Building, starring Selena Gomez, Martin Short, and Steve Martin. For someone who has an astounding net worth, Tina Fey doesn't have a lot of impressive real estate properties. Fey owns a $1.9 million apartment in New York City and a nearby office space that cost them $550,000. In 2009, they bought a $3.4 million apartment in the Upper West Side.Alec Baldwin
Tell us what's wrong with this post? How could we improve it? :)
Let us improve this post!