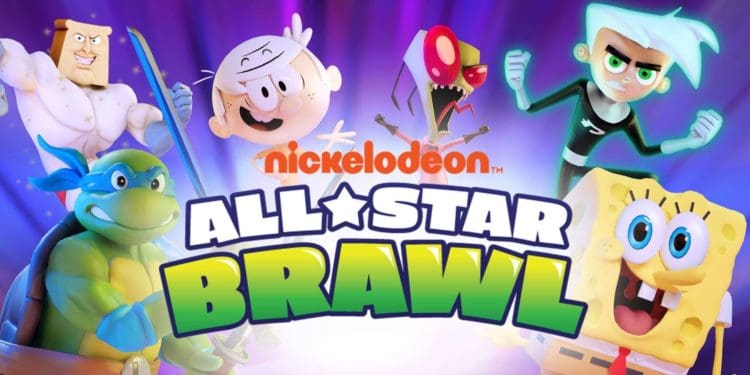 Nickelodeon has never been a stranger to video games, having at least one game with the Nickelodeon brand attached to it on every system from over the last decade. From racing games similar to Mario Kart to adventure games for Nintendo 64 featuring The Rugrats and even Rocket Power games that combine racing and skateboarding, among other things. Below, we're going to talk about the newly announced Nickelodeon All-Star Brawl fighting game and how it could compare to Super Smash Bros.
While we don't have all of the details of the highly-anticipated, recently announced Nickelodeon party fighter All-Star Brawl but just from the initial trailer and list of characters, as well as other details, we can tell that this may actually be worth while. As a fan of all video games, I like to wait until I truly play a game before I decide if it's actually worth it or not but that isn't always the case. Sometimes, of course, there is going to be a game that's a part of a franchise I can't help but be biased for or have the need to play but that's usually with good enough reason behind it. Regardless of how much I personally enjoy a franchise, there's always the chance of a game within the series that I just can't get behind.
Will All-Star Brawl Be Worth Instant Purchase
When it came to Nintendo's hit, groundbreaking, and on-going Super Smash Bros. series, I never had to think twice about acquiring the game. However, as technology increased and Nintendo threw their hat in the ring as a next-gen contender and I had to make a choice of Nintendo or my personal favorite Xbox, I obviously chose the latter. Nothing against Nintendo as I have a Switch now and intend to get my hands on the current Super Smash Bros. entry entitled Ultimate.
Super Smash Bros. Ultimate not only featured the most amount of characters to date with seemingly endless DLC, but also added many new mechanics and features that weren't in previous installments of the franchise. In case you weren't aware, Super Smash Bros. is a fighting game from Nintendo that takes characters from the entire Nintendo universe and pits them together in combat. From Pikachu and several other Pokemon characters to Kirby, Mario, Luigi and other Mushroom Kingdom characters to even the likes of Snake from Metal Gear Solid and Sonic the Hedgehog, Pac-Man and Mega Man. Currently the Super Smash Bros. Ultimate roster reaches 81 playable fighters from across several universes and this likely won't be the last game in the series.
All-Star Brawl and Super Smash Bros. Comparisons So Far
Nickelodeon can pull from a pretty impressive pool of characters from a number of different franchises and licenses as Nickelodeon has not only been around for quite a while but also partners with various companies to produce products beyond that. Upon launch, judging from the trailer and the upcoming release date, All-Star Brawl is going to have a stacked roster without DLC, and if Nickelodeon follows the trend of Nintendo, I'm sure the DLC could feel just as endless for them as it does with Smash. So far, characters from the last 20 years of Nickelodeon have been announced for All-Stars Brawl from Spongebob to Ren and Stimpy to Wild Thornberrys and Aaahh!!! Real Monsters.
Nickelodeon's All-Star Brawl can also be compared to Super Smash Bros. in the sense of stages to fight on as well. While we don't know if the stages will have transformative abilities or other effects like Pokemon Stadium or Kirby's Smash Bros. stages. Hopefully if Nickelodeon paid attention to things such as individual move sets, in-game items or purchases and other things such as overall uniqueness between characters, stages and even customization. It's hard to tell exactly how well Nickelodeon's All-Star Brawl will do until it has at least been out for a few week so, in order to truly test all of its features and make it stand out.
While nobody wants an exact Nickelodeon styled copy of Super Smash Bros., they do not wish to be disappointed so hopefully Nickelodeon pays attention to every detail, in order to simultaneously make it their own and rightfully inspired by Smash Bros. Unless Nickelodeon makes taking on a genre that's dominated so heavily by one game and surrounded by indie versions as well, and be ready to at least outperform them upon launch than this game is set to be a failure once released. Overall, I believe Nickelodeon will deliver at least to the extent of having fun with the game when it comes out, regardless of a future with DLC.