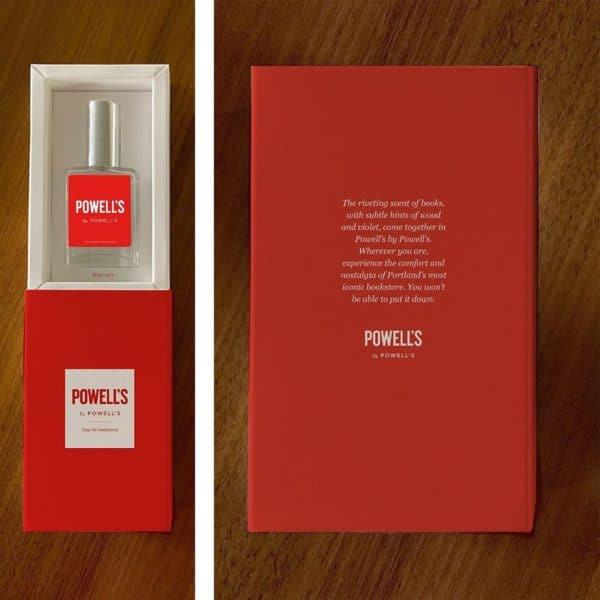 The effect that a scent can have on people is amusing really since by tickling the olfactory senses there are a lot of different reactions that people will display. But the smell of old books in a bottle is something that might make you shake your head and say 'What??' simply because the thought is that a lot of people like the smell of old books, apparently. Powell's, one of the most noted bookstores in Portland, Oregon, is currently selling a one-ounce bottle that combines several scents to give someone that 'sitting on a shelf for days/years' smell that some people can't help but enjoy. You know that smell, right? It's not so prevalent in a place such as Barnes and Noble since their books are new, but with Powell's, there are so many used books available and so many titles that are crammed on the shelves that one can't help but smell that aroma as they walk the aisles, looking for that one perfect tome that will fit perfectly in their collection, or that new story that just jumps out at them and says 'read me' almost in an Alice in Wonderland type of way. But $24.99 for one ounce? That's pretty steep for a lot of people, especially when a day spent in Powell's might be just as good and could allow a person to carry the scent with them for a while.
Things in Portland haven't really been all that great lately to be certain, but thankfully Powell's is still around, and for those that have wandered the aisles they might be thinking even now of that distinctive smell that permeates the place. It's not a bad smell, but it's also not something that might make a person feel weak in the knees either. Instead, it's a scent that speaks of countless pages of knowledge, wisdom, entertainment, and so many different voices that trying to hear them all at once would be a cacophony unlike anything ever heard by human ears. Just imagine if books could really speak, a bookstore might be the last place one would find an introvert then. But given that introverts do tend to find bookstores to be havens where they can sit, relax, and be surrounded by some of the best friends that an avid reader could ever have, tome after tome, the scent of old books is something that many people might have grown used to after spending so much time in the bookstore. Yes, it's very easy to wax on and on when talking about one's favorite place, but the aroma that comes with it almost feels like something that should be left in the bookstore, kind of like leaving a sand dollar on the beach when it's found, since taking it home kind of diminishes the whole wonder of it. That might sound a little purist, but the whole idea of going to the bookstore is, in part, to immerse oneself in that smell again as one seeks that perfect book that will make their trip so worth it.
Thanks to the pandemic it might be more difficult for a lot of people to get to the bookstore, so that's one reason why the scent makes sense considering that some people just need that fix every now and then, but the steep price for a single ounce of the stuff sounds kind of ridiculous to be serious. But hey, there are likely folks out there that would buy it either as a gag or because they do happen to love that smell that much. To each their own, right? Personally, I happen to like the smell just as much as others do since it brings back so many fond memories of walking through the bookstore and finding a story here and there that looks appealing. Powell's isn't the only place that has this smell after all since many used bookstores that deal in used books tend to have this fragrance and unless it's been overwhelmed by another odor within the story, it's something that might keep drawing people back if they find it agreeable since believe it or not, like many scents, old books tends to speak to a lot of people in a way that brings back those days when one could peruse the shelves for a while and just chill with a book before buying it when we didn't have to wear masks everywhere we went and worry over being six feet away from the nearest person.
Maybe one day we'll be able to get that smell again without having to worry about someone telling us to put our mask back on, but if a person is really craving that particular scent then it might be possible to get their fix by purchasing a bottle of this stuff. Of course, you could just pull your mask down inside a used bookstore and then put it back up.
Tell us what's wrong with this post? How could we improve it? :)
Let us improve this post!