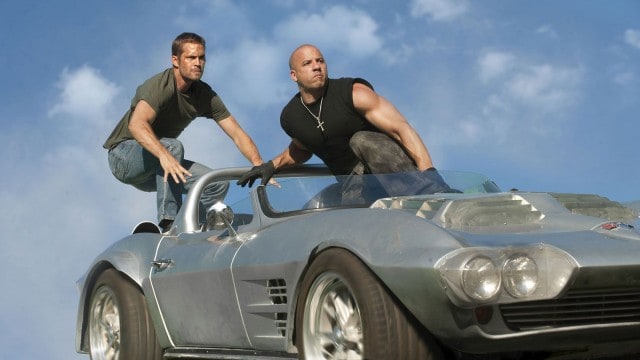 It's amazing what you can learn about people when you look online, especially when it comes to finding out just how they got famous in the first place. There are a lot of celebrities that owe their fame to other celebrities, some in small ways and some in monumental ways that don't seem possible of being paid back. It doesn't matter how it happens though, these people are here and they made their way forward with the help of someone else that cared enough to give them a shot. After showing what they could a lot of the people listed below have managed to convince people that they're worth the effort.
It just takes knowing the right person sometimes.
10. Vin Diesel-Steven Spielberg
Spielberg managed to get a hold of a short film that Diesel had done while he was still a struggling actor and from that deduced that Vin was worth the trouble. He later on cast him in Saving Private Ryan. And as you know by now Diesel's career just went soaring upward from there.
9. Johnny Depp-Nicolas Cage
Depp was actually trying to make it as a musician when someone introduced him to Cage. In turn Cage managed to convince Johnny that he had a lot of talent and offered to procure an agent for him. Since then he's still been into music but his acting career skyrocketed.
8. Dr. Phil-Oprah
Dr. Phil was Oprah's legal consultant at one point and time. She just happened to like him so much and thought that he had enough potential to run his own show. She gave him a chance and he exceeded her expectations.
7. Lisa Loeb-Ethan Hawke
Loeb was Hawke's neighbor and friend when he was filming the movie Reality Bites. He heard her song Stay and decided to pitch it to the director, Ben Stiller, who put it in without question. She was the only unsigned act to have a song in the movie.
6. Chris Pratt-Rae Dawn Chong
Chris Pratt was living out of a van and working at Bubba Gump Shrimp when Chong found him. She would later on cast him in her debut film. It might have taken a while for him to get noticed but now he's one of the most popular actors around.
5. Iggy Pop-David Bowie
Iggy Pop was a serious drug addict when Bowie took him under his wing. After Pop cleaned up he and Bowie collaborated on what would become two of Iggy's most popular creations, The Idiot and Lust for Life.
4. Ed Sheeran-Jaime Foxx
At one point Sheeran was sleeping on Foxx's couch. He had to prove himself by performing in front of a mostly-black crowd with a ukelele. He managed to win them over though.
3. Donald Sutherland-Christopher Plummer
Sutherland got advice to move from England to the US, but couldn't afford the airfare. When he reached out, Plummer managed to give him the $1,500 he needed to get to the US without any hesitation.
2. Terry Bradshaw-Phil Robertson
After playing football at Louisiana Tech, Robertson stepped aside to go duck hunting full time. This left the door wide open for Bradshaw, who would become a four-time champion with the Steelers.
1. Hugh Jackman-Russell Crowe
When Crowe turned down the role of Wolverine he mentioned his buddy Hugh for the role. Jackman has to be thankful for that since it escalated his career to new heights he might not have found on his own.
Knowing the right person at the right time is a big part of how some people get famous.