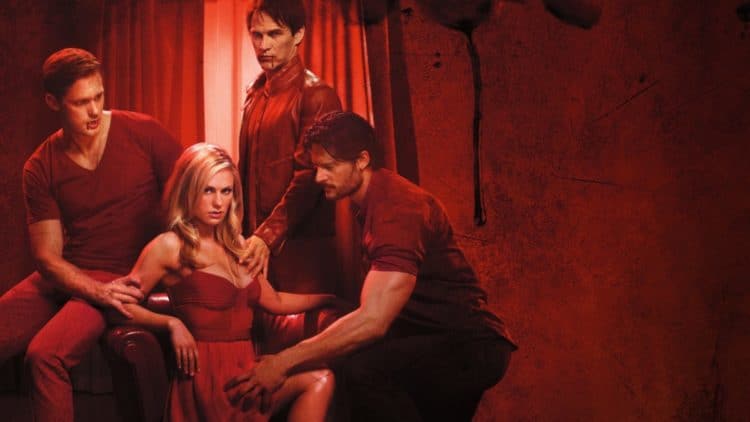 With the announcement that HBO is rebooting its beloved late-2000s/early 2010s supernatural, southern gothic series True Blood, a bit of anticipation mixed with a collective sigh of confusion has taken over the show's fandom. It seems silly to reboot a show that has only been off the air roughly 8 years or so, but alas, this is happening. While waiting and hoping that the reboot can match the campy entertainment of the original, it is still fun to reminisce about the unforgettable characters of Alan Ball's and Charlaine Harris' making. Although not a great series in terms of prestige, and despite featuring one of the worst series finales of all-time, True Blood was a superb guilty pleasure. Sookie Stackhouse was the primary protagonist of the series, but she was far from perfect, and in fact, she made some pretty terrible mistakes throughout the series' 7 seasons. Most of these mistakes came due to her frequently mismatched couplings throughout the show. Sookie had 4 primary relationships throughout the show, and then there is Sam Merlotte, who gets an honorary mention…well, sort of. Here is a ranking of which grand and passionate relationship was truly Sookie's best. Oh, and Warlow.
Eric
Coming in at number 1 is sure to polarize a lot of differing opinions, but Eric simply makes the most sense to me despite his ultimate incompatibility with Sookie. Eric Northam's animalistic nature for both brutal violence and knee-weakening explosions of lust quickly made him a fan favorite. That, and his coolly reserved attitude that was backed up by a razor sharp wit and deadpan sense of humor. At over 1,000 years of age, Eric had a tenacity for brutality, sex appeal, and leadership skills throughout his millennia of life as a vampire. So why was he the best of all Sookie's love interests? Well, there is certainly a case against this. When you really examine Eric's long history as a vampire, and take into account his great loves during all these centuries, Sookie is the polar opposite of what he looks for in a lover. When the dust settles on the series, we get the feeling that Sookie was just another in a long line of passionate loves that Eric experienced throughout his long tenure on Planet Earth. Sookie was also ambivalent towards Eric, and even though it may upset some people to hear this–Bill was in fact her great love–but more on that catastrophe in a moment. For me, Eric was the most charismatic, loyal, and downright engaging of all Sookie's love interests.
Alcide
Alcide Herveaux was a werewolf who also happened to be perhaps the most stable relationship Sookie ever had throughout the series. Unlike Eric and Bill, while with Alcide, Sookie did not have to wait for nightfall to see her beloved–and the two were also just well-matched with one another. There are moments during their pairing when it seems like Sookie is getting a bit bored with Alcide, and this is only natural after living the last few years of her life on the edge of danger where passion exists closely with self-destructive hedonism. Alcide was a decent guy, in addition to being drop-dead gorgeous–which was a trait shared by all of Sookie's love interests. It still stings the way everything ends with Alcide, and if it weren't for the way writer's took things, it is almost certain Sookie would have settled into a stable life with Alcide.
Bill
It is almost asinine to attempt to place Bill Compton at third place. After all, nobody can dispute that he was Sookie's number 1–even when she was with Eric and Alcide–but there are some major problems with this relationship. In season 1, practically everybody was going crazy about Sookie and Bill back in 2008, and in those early seasons, it was easy to see why based on their perfect chemistry with one another. But Bill started to become a lousy partner once we arrived in season 3 onwards. Apart from the long-running Bill/Lilith drama, his entire demeanor changed once we arrived at season 4. It wasn't so much his deception of Sookie, which was a major part of it of course, but it was also his self-righteous sense of entitlement and hypocritical virtue that was just hard to take after a certain point. By the time we arrive at the final season, I could care less that Bill was begging to meet the true death since his character died a long time before that. Also, why ask Sookie to do a thing like that?
Warlow
In season 6, Sookie learns that she is betrothed to an ancient vampire/fairy hybrid named Warlow. Warlow is mysterious and polarizing at first, but then oddly charming, sweet-natured, sexy, and then…one of the worst characters in the history of the series in a split second. There isn't much to say here apart from how Sookie and Warlow's relationship plays out, but for a brief bit, the two are sort of together, so he has to make the ranking.
A Case for and Against Sam Merlotte
Sookie and Sam never got together in the series, although that was a different case altogether at the end of Harris' book series. Sam was perfect for Sookie in many ways, but there is also something about him that makes him a bit suspect in how he presents himself towards her. At the beginning of the series, Sam is Sookie's boss, but he is also borderline infatuated with her, and the results come off as very creepy–even though he does genuinely care about her well-being. As the series progresses and Sam grows more jealous of Sookie's seeming disinterest in him, he also becomes a bit of a jerk. There was never any inclination on Sookie's part to get with Sam, even though she does jokingly ask why they never got together late in the series. Ultimately, Sam and Sookie being together just would have been boring, and it was always going to be either Bill, Eric, or Alcide anyway by the end. Actually as it turns out, it was none of them.